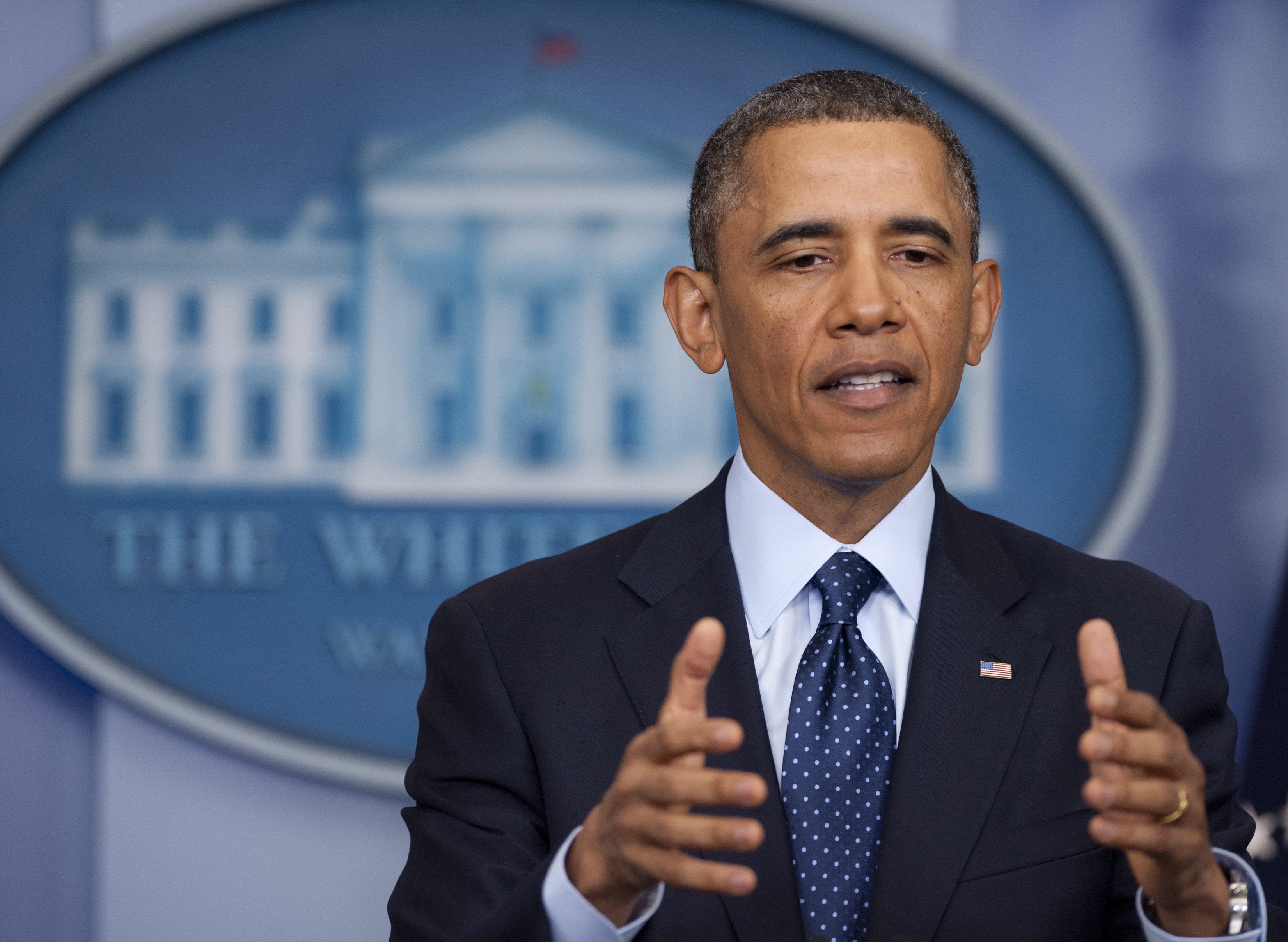 Sequester: "It's just dumb," Obama says
As the sequester starts to take effect, President Obama said today that the economic impact the nation will see in the coming months is "happening because of a choice Republicans in Congress have made."
Mr. Obama held a private meeting with congressional leaders from both parties this morning to talk about the sequester, which will slash $85 billion from the budget this fiscal year and $1.1 trillion more over 10. There's widespread agreement the indiscriminate cuts will take a toll on the economy and hit the wrong part of the budget. They go into effect today, however, because the president and Congress failed to agree with a budget savings plan with which to replace them.
"This is not the apocalypse. It's just dumb," Mr. Obama told reporters in the White House briefing room today, following his meeting with House Speaker John Boehner, R-Ohio; House Minority Leader Nancy Pelosi, D-Calif.; Senate Majority Leader Harry Reid, D-Nev.; and Senate Minority Leader Mitch McConnell, R-Ky.
"I don't anticipate a huge financial crisis, but people are going to be hurt," he added. "The longer the cuts remain in place, the greater the damage to our economy... Every time we get a piece of economic news over the next month, the next two months, the next six months, we'll know that economic news could have been better if Congress had not failed to act."
Mr. Obama said he is "prepared to to do hard things and to push my Democratic friends to do hard things" when it comes to modifying programs like Medicare in order to achieve budget savings.
However, he said he can't "do a Jedi mind-meld" to force Republicans to meet him part way by agreeing to closing tax loopholes.
"I put forward a plan that calls for serious spending cuts, serious entitlement reforms
goes right at the problem that is at the heart of our long term problem... so far we've gotten rebuffed because what Speaker Boehner and the Republicans said is, we cannot do any revenue," the president said, when asked whether he takes any of the blame for the ongoing gridlock. "So what more do you think I should do?"
In today's meeting, according to Boehner's office, Republican leaders told the president they're willing to close tax loopholes, but not as part of a plan to replace the sequester. Any revenue generated by closing tax loopholes should be used to lower tax rates and create jobs, they said.
"This discussion about revenue in my view is over," Boehner said to reporters outside of the White House this morning after the meeting. The speaker also chided the Senate for failing to pass a plan to avert the sequester, even though the GOP-led House managed to pass two sequester replacement plans last year. Yesterday, the Senate rejected two competing plans to replace the sequester, a Democratic plan and a Republican plan. The Democratic plan managed to win the support of a simple majority -- though without any GOP support -- but it failed to get the votes necessary to break a filibuster.
Boehner also told told the president this morning he intends to hold a vote in the House next week on another bill -- called a continuing resolution -- that will extend the regular budget for federal government operations. The current continuing resolution is set to expire on March 27, and if Congress fails to pass a new one, the federal government would partially shut down.
"I'm hopeful that we won't have to deal with the threat of a government shutdown while we're dealing with the sequester at the same time," Boehner said to reporters. "The House will act next week, and I hope that the Senate will follow suit."
Mr. Obama was evasive today when asked whether he would sign a continuing resolution bill that keeps the sequester in place. He only said he would of course sign a bill that keeps spending at its current levels, which were agreed to in the Budget Control Act.
"I made a deal for a certain budget, certain numbers," he said. "There's no reason why that deal needs to be reopened. It was a deal that Speaker Boehner made as well and all the leadership made. And if the bill that arrives on my bill is reflective of the commitments that we previously made, then obviously I would sign it because I want to make sure that we keep on doing what we need to do for the American people."
In the coming weeks, Mr. Obama said he would be reaching out to Republicans who in private say they are willing to close tax loopholes in order to avert the sequester, as well as Democrats who'd rather make "smart" cuts to entitlements like Medicare than let the sequester happen.
"There is a caucus of common sense up on Capitol Hill," he said. "It's just it's a silent group right now, and we want to make sure that their voices start getting heard."
Thanks for reading CBS NEWS.
Create your free account or log in
for more features.