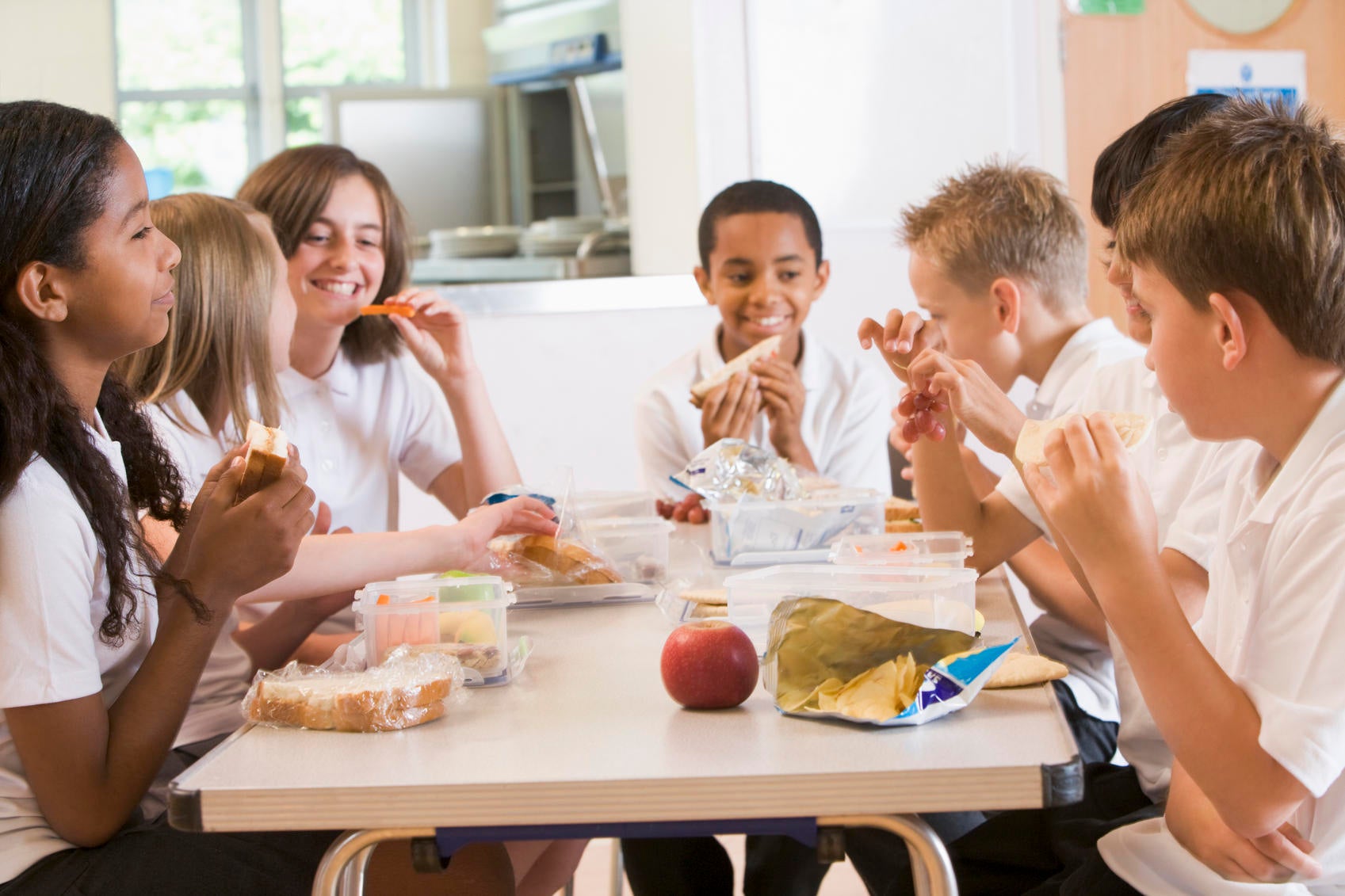 5 worst things to pack in your kid's school lunch
With the school year getting underway, it's a good bet many parents are staring down about 180 days of school lunches ahead with a feeling of dread. Are the ready-made kids lunches calling to you from the refrigerator section of your grocery store? Are those little prepackaged crackers and cupcakes singing a siren's song from the snack aisle?
You've got choices to make, say nutritionists. Will sodium, nitrates, saturated fats and sugar be doled into those lunch boxes and bags each morning or will it be foods rich in vitamins, fiber, protein and healthy fats?
CBS News asked nutrition experts which school lunch options would be best to avoid – and what to try in their place. They shared their top 5 worst picks, and offered some healthy packing strategies, too.
Deli meat sandwiches
The first thing registered dietician Despina Hyde said she'd do away with is processed meats.
"They're full of chemicals – nitrates and added sodium. And the fats in them are particularly unhealthy for us. They even add colorings," said Hyde, who works with NYU Langone's Weight Management Program.
"Spend a little time on Sunday and roast your own turkey or meats and then slice them up for sandwiches, or shred them to put in a wrap," she suggested.
Hyde also recommends slicing up plenty of vegetables for filling sandwiches and wraps. Try spinach for more nutrients than lettuce (though lettuce is still a healthy choice), cucumber slices, pickles, even thin slivers of apples.
"So you're packing more nutrients into your kids' lunches," said Hyde.
For spreads, skip the fatty mayo and swap in hummus for creaminess, or an avocado spread or guacamole. Mustard, a little vinegar and salsa are all mostly fat-free and pack a lot of texture and flavor.
Choose a whole wheat bread with no more than 100 calories per slice, and at least 3 grams of fiber per slice, and read the label to be sure there's no corn syrup or sugars added as sweeteners.
If your kids are craving a sub sandwich, ask the deli counter folks at your grocery store about low sodium meats and cheeses, and skip the heavy condiments, said nutrition expert Nancy Copperman, assistant vice president of public health and community partnerships at Northwell Health, in Lake Success, New York.
Add little bags or cups of easy-to-eat vegetables, such as red pepper strips, baby carrots and sliced cucumbers, to boost your child's vegetable intake.
Peanut butter and jelly sandwiches
Don't fret, peanut butter lovers. You don't have to give up your PB&Js entirely. Just be sure you're making a healthy version, Hyde told CBS News.
"It's obviously a favorite, but a lot of the nut butter spreads have additives as well as sugar," Hyde explained.
Read the ingredients label and choose a peanut butter or almond butter that just has nuts, and maybe a little salt. Make sure there are no added sugars or hydrogenated oils, Hyde said.
As for the jelly, she advised, "Jelly is a huge source of added sugar too, so I recommend swapping that for thin slices of fruit – bananas, strawberries and sliced apples, even mashed blueberries."
There are some jams and jellies that don't use any sugar​ – almost like an unsweetened compote – and those are OK, said Hyde, but they can still be high in natural sugars so don't pile on.
"I caution parents not to use jellies with artificial sweeteners such as sucralose or stevia – chemical artificial sweeteners," she added.
You can skip the bread altogether and give your child nut butter with apple slices for dipping, along with some whole grain crackers, Copperman told CBS News.
Pre-made sandwiches, wraps, and boxed kids' lunches
They come in all flavors: Bologna, ham, peanut butter and jelly, and kits that let you assemble your own pizza. Hyde said they're full of sodium and preservatives to give them a long shelf life. The boxed versions often come with sugary desserts and artificially sweetened juices, too.
"Everybody thinks that wraps are healthy just because it's a wrap. But if you start looking at nutrition facts labels, you see that they have over 500 milligrams of sodium," Copperman told CBS News.
Kits that come with dipping sauces can be super salty, too. Some dipping salad dressings can have 350 to 400 milligrams of sodium in just a tablespoonful, Copperman added.
Mayo-rich salads and sandwiches
Traditional egg salad and tuna salad sandwiches are a bad idea for a few reasons: Mayo is loaded with saturated fat, and it can spoil if it's not kept cold enough. So can eggs and fish.
Hyde said if your kids have a hankering for tuna or egg salad, you can make a healthier version. Try mixing up plain Greek yogurt, a dash of lemon or lime juice, and some mashed avocado as a mayonnaise substitute.
Instead of canned tuna, "salmon is a great lower mercury alternative," she added.
Most importantly, pack the sandwiches with ice packs or freeze your child's water bottle the night before and slide it into the lunchbox in the morning so it keeps things cool until lunchtime, at which point the water in the bottle will have melted and be ready for drinking.
"Kid-friendly" yogurts
There are lots of fun yogurt products on the market nowadays with psychedelic colors and flavors, and packaging all decked out in cartoons. Many come with a sidecar of crushed cookies and candy to mix in. But STOP! Don't be fooled into thinking these yogurts are health foods.
"A lot of parents pack yogurt but it is one of the biggest sources of sugar in the American diet," Hyde said.
Switch your kids over to plain or very lightly sweetened yogurt and pack some fruit on the side.
"A serving of fruit is about one cup, but for some kids that's a lot, so give what they can eat," said Hyde, who recommends three 3-cup servings of fruit a day.
And again, if serving yogurt or any other milk products in lunch boxes and thermal sacks, keep things nice and chill with a cold pack. Don't send perishable foods to school in a brown paper bag or kids could be at risk of foodborne illness​. Even mini cartons of milk can be frozen the night before and will defrost enough to drink by school lunchtime.
Tips for healthy packing
Keep your food prep surfaces at home clean where you pack lunches, and wash your hands first. Toss little packets of hand wipes into kids' lunchboxes or backpacks and encourage them to use them before and after eating.
Tell children not to save perishable leftovers for an afternoon snack. "An hour-and-a-half is the rule of thumb for leaving food out," said Copperman.
If you pack hot foods, invest in a good quality thermos. "If you give them hot soup or leftovers, make sure the containers really hold heat," she advised.
When it's time to clean up, kids should toss any wrappers and trash at school, so bacteria won't grow inside lunch sacks and boxes. Wash their reusable lunch bags daily or wipe down with antibacterial spray each evening before the next day's use.
Finally, encourage your kids to join you in packing lunches as a family, and they may be more likely to make healthier food choices over time.
Thanks for reading CBS NEWS.
Create your free account or log in
for more features.