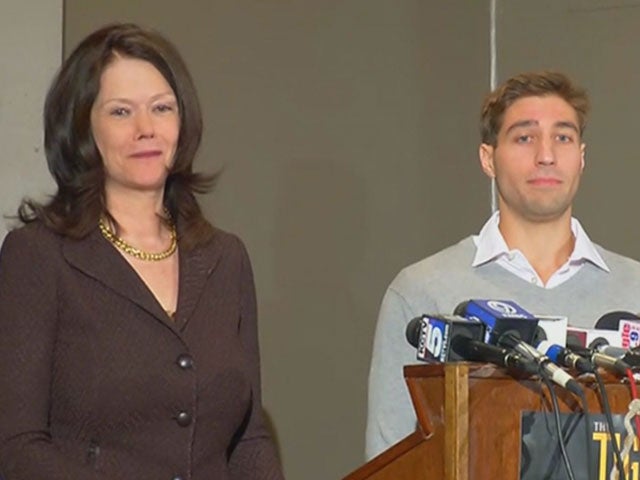 Saving Ryan Ferguson: One lawyer's story

Ryan Ferguson's release from prison last week after nearly 10 years of incarceration exposed a disturbing truth about the American criminal system: how difficult it is to overturn a conviction, even one based on tainted and possibly perjurious testimony.
Because of the odds against getting a conviction reversed and the incredible amount of work involved, few lawyers will take a case like Ferguson's, certainly not pro bono. Kathleen Zellner, a civil rights attorney with a reputation as a fighter, did both. Last week, Ferguson became her 15th wrongfully convicted client to walk out of prison.
Ferguson was convicted of second-degree murder in the college town of Columbia, Mo., on Dec. 5, 2005. There was no physical evidence that tied him to the brutal, bloody murder of sports editor Kent Heitholt. The crime scene contained unidentified fingerprints, a hair in the victim's hand and bloody shoeprints, but none matched Ferguson.
He was convicted primarily on the word of two witnesses. The star witness was Charles Erickson, a high school classmate of Ferguson's who claimed the two men committed robbery and murder together. At trial, Erickson came across as a confident witness, although there were serious questions about his credibility. He was an alcohol and drug abuser who became a suspect more than two years after the murder when he began telling friends that he might have been involved. In a disturbing videotape of his police interrogation, Erickson seemed to know few details. At Ferguson's trial, Erickson's testimony often contradicted the evidence found at the scene. He claimed they killed Heitholt to get drinking money, but the victim's wallet was not taken and the bars had already closed for the night. Still, jurors believed that Erickson had to be telling the truth at trial. After all, why else would he be willing to go to prison himself? He had agreed to a 25 year prison sentence in return for his testimony.


The other witness was Jerry Trump, a janitor who arrived at the crime scene shortly after Heitholt was murdered. Although Trump had earlier told police that he could not identify anyone he had seen near the crime scene, his recovered memory and a dramatic identification of Ferguson at trial made for riveting testimony. One juror told me after the trial that Trump's identification was all he needed to convict Ferguson of murder.
The jury took only a few hours to convict Ferguson and sentence him to 40 years in prison.
Few people in Columbia questioned the verdict or Ferguson's guilt until after CBS News "48 Hours" aired its first report in early 2006. After seeing the show, Christine Varner, Trump's supervisor, came forward and said she was shocked by Trump's trial testimony. He had told her and another colleague that he could not identify anyone at the crime scene.
For the first time since Ferguson had been arrested and charged with murder, people in the community began to wonder if perhaps Boone County made a mistake. Ferguson's father, Bill, created a website where supporters could connect and get information about the case.
Ferguson's father, who began his own investigation after his son's conviction, returned time and time again to the crime scene to see if there was something the police missed. He uncovered discrepancies in police reports and became convinced the doubts about his son's conviction would lead a court to review and overturn it. That didn't happen. A post-trial motion failed. A direct appeal failed and so did a subsequent appeal.
By late 2009, when attorney Kathleen Zellner agreed to take Ferguson's case, it was a case, she says that "was substantively and procedurally on life support". Ferguson appeared to be a lost cause.

Zellner makes a living taking the cases other lawyers don't want. In 2004, She took the case of Kevin Fox, an Illinois father wrongfully convicted of killing his daughter, and not only proved his innocence, but also won him a multi-million dollar settlement.
In Ferguson's case, Zellner began by launching an exhaustive reinvestigation. She and her team focused their attention on a witness who put himself at the crime scene, but was never properly investigated by police or asked to testify at Ferguson's trial. She obtained the cooperation of the state's star witness, Erickson, who had, by then, recanted and admitted that he had fabricated his trial testimony.
She hired forensic experts to re-examine the evidence in the case, undermining even more the story that Erickson told at trial.
Convinced that the other crucial witness against Ferguson, Trump, had also lied at trial, she used a strategy that had worked for her in past cases: she sent her investigator to meet with Trump and work on his conscience until he was finally willing to admit that he had made up the story he told jurors.
In April 2012, Zellner won a habeas hearing for her client. Both Erickson and Trump took the stand, and under oath, admitted they had fabricated their trial testimony. She presented pathology and police procedure experts. Her team got William Haws, the prosecution's investigator, to admit, under cross examination, that he never made a report of his interview with Trump's wife, Barbara. That interview was crucial because Barbara Trump contradicted the story her husband later told at court. The prosecution's investigator knew before trial that Trump's testimony was questionable but this information was never given to the defense. When the hearing concluded, Zellner was confident that she had not only destroyed the evidence against her client, but proved the prosecution had concealed evidence from Ferguson's trial defense team.

Zellner, who estimates she has spent more than a million dollars of her own money on Ferguson's case, knew from experience the uphill battle she faced to win this appeal. Yet, six months later, when, once again, this court ruled against her client, she was deeply disappointed and concerned. After everything else failed, she did what some legal experts would say was impossible: she convinced the Missouri Western District Appellate Court to take another look at Ferguson's case. Zellner and her team drafted a 154-page petition that methodically took apart the state's case: the timeline and evidence.
On Sept. 10, Zellner threw her "Hail Mary" pass and presented her case to the three judge panel. They listened. In an extraordinary 54-page decision, released on Nov. 5, 2013, the court ruled that Ferguson had been denied a fair trial and vacated his convictions for murder and robbery. The judges not only found that the prosecution concealed evidence at Ferguson's trial, but that the omission was so serious that it resulted "in a verdict that is not worthy of confidence".
Faced now with no evidence to tie Ferguson to the murder of Kent Heitholt, the Missouri Attorney General announced on Nov.12th that he would not retry him. Late that afternoon, Ferguson finally walked out of custody a free man.
Zellner and her team have proven that, with enough resources and determination, there are no " lost causes". They gave Ferguson back his freedom, a future and most important, his life.

Thanks for reading CBS NEWS.
Create your free account or log in
for more features.