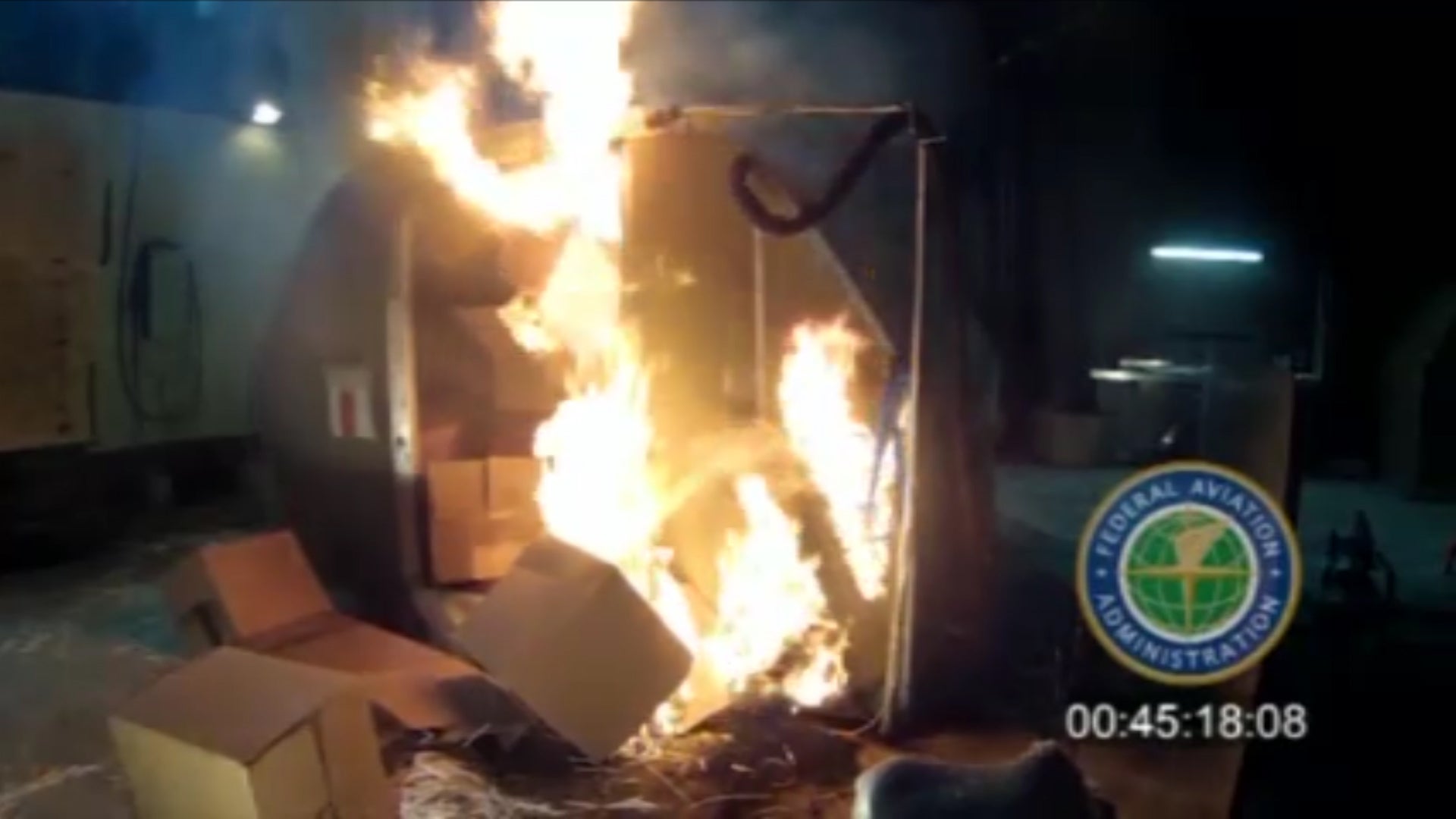 Safety of lithium-ion batteries questioned after phone recall
The next few months will be busy for Samsung – as it replaces 2.5 million brand new smart phones recalled last week because their batteries can catch fire.
The same type of battery is used in all kinds of devices.
The FAA has been concerned about the fire danger posed by lithium-ion batteries for years – a video shows the impact of a fire in a simulated cargo hold.
The agency and airlines are now warning flyers not to use or charge the recalled Samsung Galaxy Note 7 on board aircraft because of a fire danger linked to its batteries.
Lithium-ion batteries power as many as 95 percent of rechargeable electronic devices including cell phones, tablets, laptops, children's toys and even electric cars.
"The more energy into a small amount of space, the more likely something bad will happen if it's operated incorrectly," said Princeton University assistant professor Dan Steingart.
Steingart studies lithium-ion batteries. He said the danger comes if they're overcharged or overheated.
"It's like causing a little firecracker to go off within the battery," he said. "And then if you have one firecracker surrounded by many other firecrackers, and if the firecracker goes off, it will trigger the other ones to go off, pop pop pop."
Most lithium-ion batteries are made in Asia, and the vast majority work without an issue, unless there is a manufacturing flaw, as in the Samsung recall.
Recalled hoverboards often included cheaply made batteries that weren't designed for that kind of use – which greatly increased the risk of overheating and fire.
"The only warning sign is it will get too hot, if you happen to be holding it, your phone in hand or holding it in your pocket you may notice that, and the right thing to do is to turn the phone off," said George Crabtree, who is with the Argonne National Laboratory.
In 2015, 3.5 billion passengers flew, and the FAA received reports of 11 smoke or fire incidents involving a lithium-ion battery, many in checked bags. As of April, lithium-ion batteries are not allowed to be checked or carried as cargo on commercial flights
Thanks for reading CBS NEWS.
Create your free account or log in
for more features.