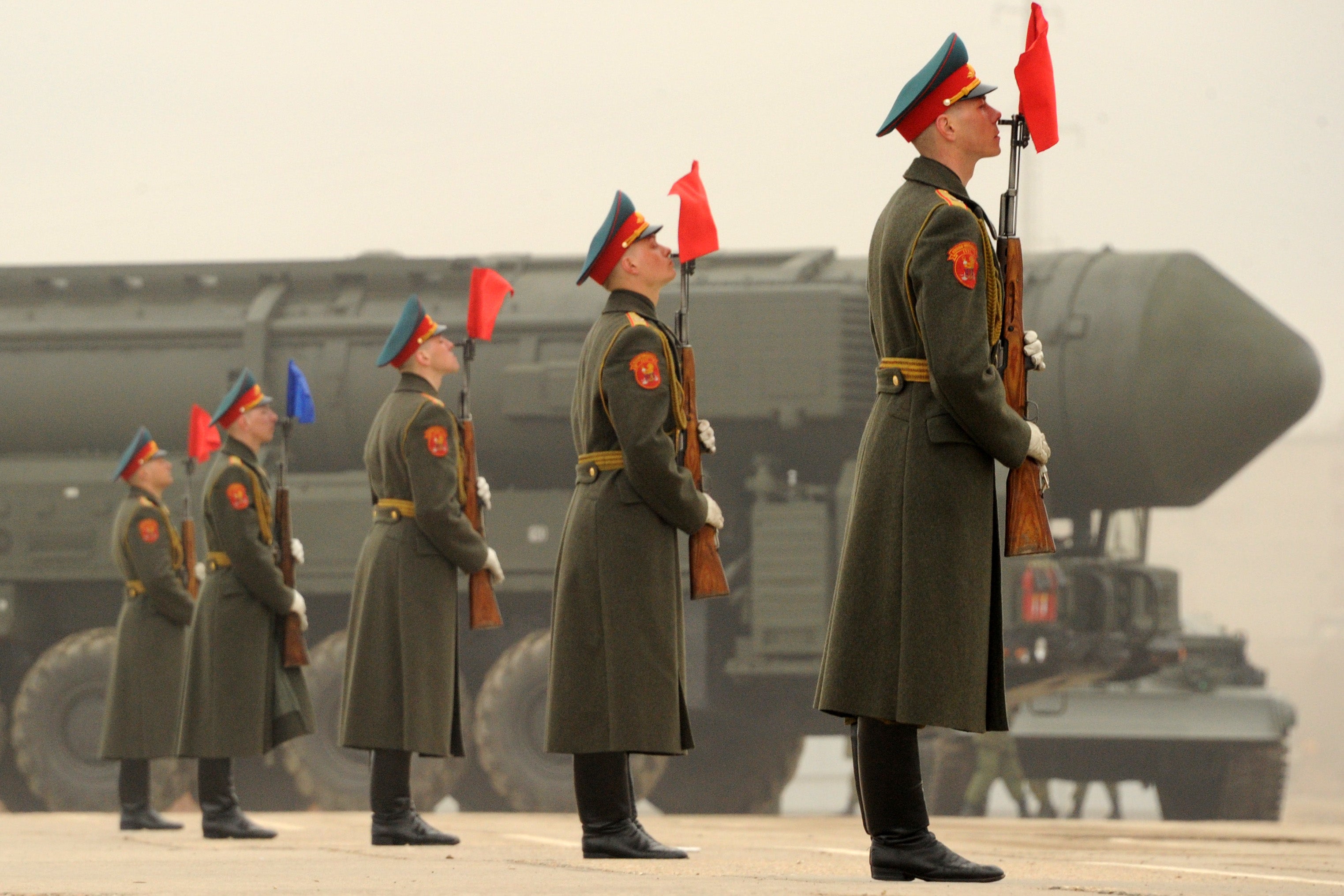 Russia test-fires ICBM amid tension over Ukraine
MOSCOW -- Russia said it had successfully test-fired an Intercontinental Ballistic Missile (ICBM) on Tuesday, with tensions high over its seizure of control in the Crimea and its threat to send more forces to its neighbor Ukraine.
A Pentagon official told CBS News that the U.S. detected the launch of the Russian ICBM near the border of Russia and Kazakhstan. Notifications were made ahead of time in accordance with normal procedures. The official said the launch is viewed as non-threatening and is not connected to what is going on in Crimea.
It is unclear exactly what kind of ICBM was launched and how long ago the U.S. was notified about the test.

The state-run news agency RIA cited Defense Ministry spokesman Igor Yegorov as saying the Strategic Rocket Forces launched an RS-12M Topol missile from the southerly Astrakhan region near the Caspian Sea and the dummy warhead hit its target at a proving ground in Kazakhstan.

National Security Council spokeswoman Caitlin Hayden called it a "routine test launch of an ICBM."

"As required under the New START Treaty, Russia provided advance notification of this launch to the United States," Hayden said. "Such advance notifications are intended to provide transparency, confidence, and predictability and to help both sides avoid misunderstandings. Russia and the United States routinely flight test their ICBMs and SLBMs."

Russia conducts test launches of its ICBMs fairly frequently and often announces the results, a practice seen as intended to remind the West of Moscow's nuclear might and reassure Russians that President Vladimir Putin will protect them.

Russia and the United States signed the latest of a series of treaties restricting the numbers of ICBMs in 2010, but Moscow has indicated it will agree further cuts in the near future and is taking steps to upgrade its nuclear arsenal.

Putin has emphasized that Russia must maintain a strong nuclear deterrent, in part because of an anti-missile shield the United States is building in Europe which Moscow says could undermine its security.

The 60-foot long RS-12M, known in NATO parlance as the SS-25 Sickle, was first put in service in 1985, six years before the collapse of the Soviet Union, and is designed to carry a nuclear warhead. Its range is 6,000 miles.
The launch comes on the same day that U.S. Secretary of State John Kerry walked the streets where more than 80 anti-government protesters were killed last month, and promised beseeching crowds that American aid is on the way.

Kerry met in Ukraine with the new government's acting president, prime minister, foreign minister and top parliamentary officials. Speaking to reporters afterward, Kerry urged Putin to stand down and said the U.S. is looking for ways to de-escalate the mounting tensions.

"It is clear that Russia has been working hard to create a pretext for being able to invade further," Kerry said. "It is not appropriate to invade a country, and at the end of a barrel of a gun dictate what you are trying to achieve. That is not 21st-century, G-8, major nation behavior."
Kerry made a pointed distinction between the Ukrainian government and Putin's.

"The contrast really could not be clearer: determined Ukranians demonstrating strength through unity, and the Russian government out of excuses, hiding its hand behind falsehoods, intimidation and provocations. In the hearts of Ukranians and the eyes of the world, there is nothing strong about what Russia is doing."

He said the penalties against Russia are "not something we are seeking to do, it is something Russia is pushing us to do."

Meanwhile, Putin accused the West of encouraging an "unconstitutional coup" in Ukraine. He said that Moscow reserves the right to use its military to protect Russians there but hopes it doesn't have to.


Putin declared that Western actions were driving Ukraine into anarchy and warned that any sanctions the West might place on Russia for its actions there will backfire.

"We aren't going to fight the Ukrainian people," Putin said, adding that Russian military maneuvers involving 150,000 troops near Ukraine's border had been planned and were unrelated to the current situation in Ukraine. He ordered the troops back to their bases Tuesday.

The U.S., meanwhile, announced a $1 billion aid package in energy subsidies to Ukraine, which faces a looming financial disaster. NATO members met in Brussels and said the alliance would hold talks Wednesday with Russian officials about Ukraine. World markets rose, buoyed by Putin's apparent efforts to de-escalate tensions.

"We are going to do our best (to help you). We are going to try very hard," Kerry said in Kiev. "We hope Russia will respect the election that you are going to have."
Tensions remained high in Crimea, with troops loyal to Moscow firing warning shots to ward off protesting Ukrainian soldiers. Heavily armed Russian forces have taken over the strategic peninsula, surrounding its ferry, military bases and border posts. Two Ukrainian warships remained anchored in the Crimean port of Sevastopol, blocked from leaving by Russian ships.

The new Ukrainian leadership in Kiev, which Putin does not recognize, has accused Moscow of a military invasion in Crimea, which Putin denies.

"Those unknown people without insignia who have seized administrative buildings and airports ... what we are seeing is a kind of velvet invasion," Russian military analyst Alexander Golts told The Associated Press in Moscow.
Thanks for reading CBS NEWS.
Create your free account or log in
for more features.