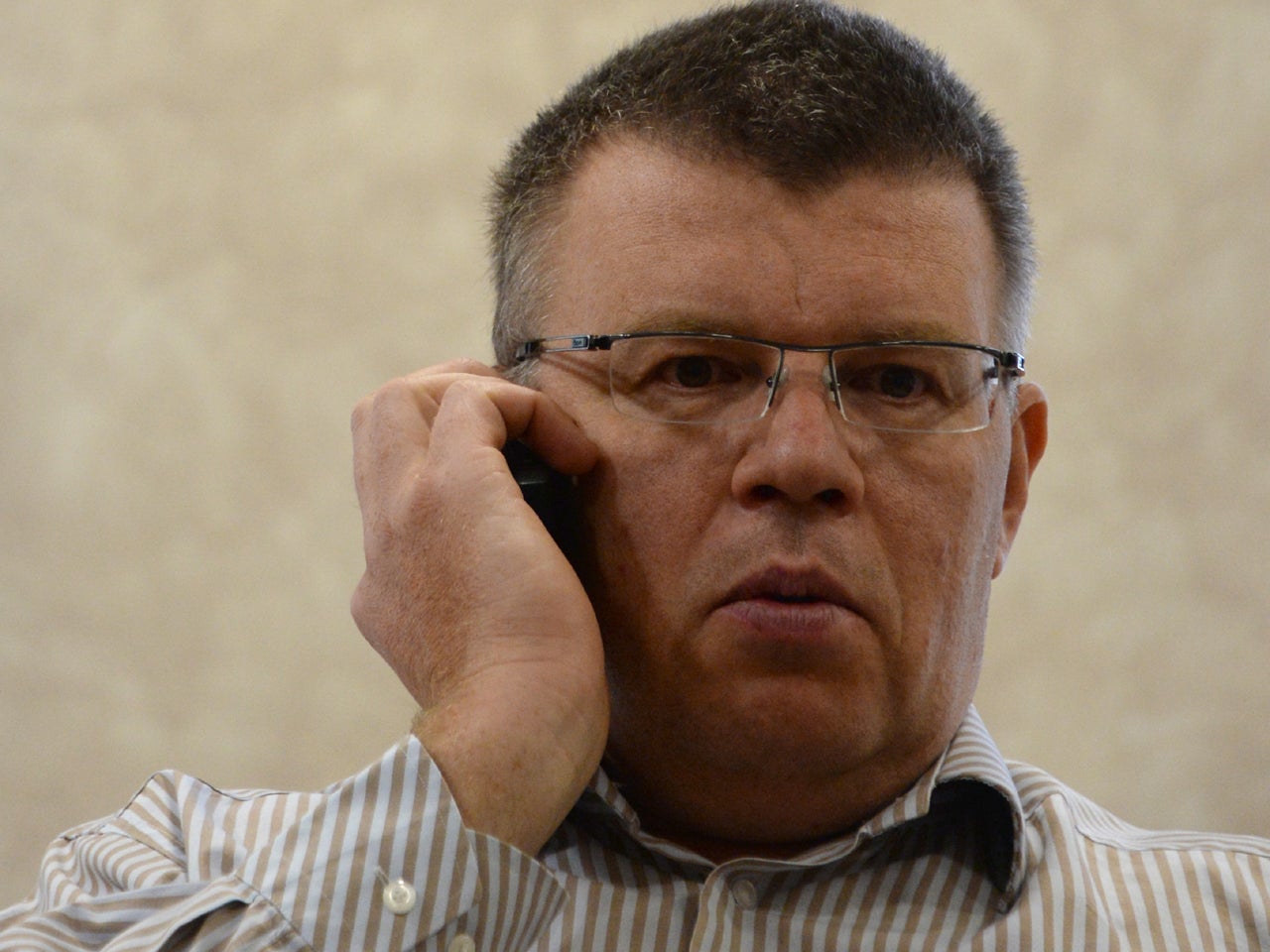 Russian doping official planned book before sudden death
MOSCOW - The former executive director of the Russian anti-doping agency planned to write a book on drug use in sports shortly before his sudden death, a former colleague and Britain's Sunday Times newspaper reported Sunday.
Sunday Times sportswriter David Walsh, renowned for his coverage of cycling champion Lance Armstrong's doping, reported that Nikita Kamaev wrote to him in November offering to reveal information on doping covering the last three decades since Kamaev began work for a "secret lab" in the Soviet Union.
Kamaev's former boss at the RUSADA agency, Ramil Khabriev, told Russia's Tass agency that Kamaev planned a book but abandoned it because an "American publisher" had demanded too much influence over its contents.
Kamaev died Feb. 14, aged 52, of what the Russian anti-doping agency called a "massive heart attack."
In Walsh's account, Kamaev was quick to contact The Sunday Times after a World Anti-Doping Agency commission accused RUSADA of helping to cover up doping by top Russian athletes as part of a systematic, state-sponsored program of drug use.
According to the newspaper, Kamaev said he had collected unpublished "actual documents, including confidential sources, regarding the development of performance enhancing drugs and medicine in sport," plus communications with the Russian Sports Ministry and International Olympic Committee. It is not clear whether Kamaev ever provided any documents.
Walsh wrote that Kamaev first made contact on Nov. 21, three days after WADA declared RUSADA non-compliant, effectively shutting down its operations. Kamaev remained at RUSADA until December before resigning.
Walsh said that Kamaev wanted him to be his co-author but that the book plans did not proceed further. Walsh added he was reluctant to work with Kamaev because of the latter's poor English and former role overseeing the drug testing agency at a time when the Russian government gained more influence over drug testing.
The mention of a "secret lab" in the e-mails reported by The Sunday Times echoes a charge in the WADA commission's report that Russia operated a concealed site for screening Russian drug test samples before the material officially entered the RUSADA system.
Former RUSADA director general Khabriev painted a different picture in comments to state-run news agency Tass, suggesting Kamaev was exploited by unnamed Americans keen to tarnish Russia's reputation.
"Some American publisher was ordering this book from Nikita Kamaev," Khabriev said. "He asked my advice about whether it was worth doing. I couldn't block him from doing it, especially if he had something to share."
Khabriev added that "15 days before his death he said that he didn't want to write it any more, said that the main theme was being imposed on him. In the end, he sent them away."
In public, Kamaev had been sharply critical of the WADA report, saying it was too heavily based on information from athletes who had themselves been found guilty of doping and was biased against Russia.
"Some of the issues have a particular acuteness and are, if you like, politicized," he said at the time. Accusations that agents from Russia's FSB security service infiltrated the doping lab for the 2014 Winter Olympics in Sochi were the product of an "inflamed imagination" and better suited to a spy movie, he added.
As part of the fallout from the WADA commission's report, Russia was banned from global track and field competition, and will miss out on Olympic athletics competitions in August if it is not reinstated.
The IAAF, track's world governing body, insists Russia must reform its anti-doping procedures and investigate past offenses in order to be readmitted.
Kamaev died 11 days after another former senior RUSADA official, Vyacheslav Sinev. The founding chairman of RUSADA, Sinev was 58 and had long-term health problems, RUSADA spokesperson Nataliya Koshel told The Associated Press.
The death of the doping officials has spawned the usual round of conspiracy theories around the Kremlin. Despite official denials, it hasn't helped that people who could cause the Putin regime public embarrassment often die prematurely.
In February of last year, Boris Nemtsov, a leader of Russia's opposition and an outspoken critic of President Vladimir Putin, was shot and killed in downtown Moscow. In January, a British judge said President Vladimir Putin probably approved a plan by Russia's FSB security service to kill former agent Alexander Litvinenko in London.
Thanks for reading CBS NEWS.
Create your free account or log in
for more features.