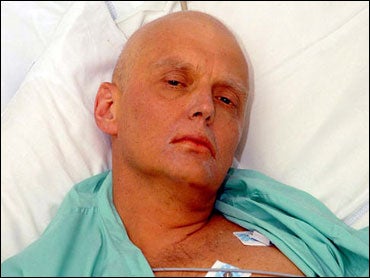 Who Killed Alexander Litvinenko?
The story would be fit for a spy novel if it weren't so implausible. A Russian ex- KGB agent turns against the Kremlin and flees Moscow. He continues his attacks from exile in London, until he is poisoned with a rare radioactive isotope and dies a slow painful death.
As correspondent Bob Simon reports, this is the real life story of Alexander Litvinenko, the first-ever victim nuclear terrorism.
---

Two weeks after he was poisoned, Litvinenko no longer looked like the healthy man he once was – he looked like an ordinary man in his death throes.

Friends of Litvinenko paint him as a martyr, murdered to silence his criticism of Russia's president, Vladimir Putin. But a darker picture emerged from interviews 60 Minutes did with people who knew him, a portrait of a desperate man fighting for attention and for money, by dealing in the only commodity he knew: information, secrets.

Marina Litvinenko, his widow, was with him the evening he first felt ill. They were preparing to celebrate their anniversary and the fact that they had just become British citizens.

Asked what the first sign was that something was wrong, Marina Litvinenko tells Simon, "Just noticed it just before midnight, after eleven. It started just like a simple sickness. He told me 'Marina, I feel like, quite, not good.'"

She thought he was just sick but says this was unusual, since her husband never got sick.

Litvinenko kept himself in good shape. But just days after those first signs of illness, he was hospitalized. At first, doctors thought he had an intestinal problem, a virus. But by the second week in the hospital, Marina Litvinenko knew something very strange was going on with her husband, who she calls "Sasha."

"Sasha started to feel very bad," she remembers. "His skin became very yellow. When I arrived on Monday, he couldn't open his mouth at all. It was so scary."

And it got worse. Litvinenko's hair fell out in clumps. Doctors realized he had been poisoned, but weren't sure by what. They didn't have a clue. All Scotland Yard could do was seal off his room and try to protect him.

But it was too late. The poison was eating him away from the inside. Police believe it had been administered sometime during the day of Nov. 1, a day on which when he met at least four people.

One was Mario Scaramella, a self-styled Italian investigator who he met at a sushi bar in central London. Scaramella told 60 Minutes he warned Litvinenko that both of them were on a Kremlin hit-list. Litvinenko had sushi, Scaramella ate nothing. Scaramella is now in jail in Italy on unrelated charges.

After lunch, Litvinenko came to a hotel in London's posh Mayfair district, where he met three Russians, all former security agents, to discuss what Litvinenko described as "a business proposition."

One source told 60 Minutes they talked about gathering information on prominent Russians, information they would sell to western investors considering doing business in Russia. They met in the hotel bar but Litvinenko didn't drink; he only had a cup of tea. But authorities say that was one cup too many. They believe the fatal dose of poison was slipped into his teacup.

That was November 1. In the evening, three weeks later, Marina prepared to leave the hospital.

"Then I told him, 'Sasha, I have to go home. And he told me, 'Marina, I love you so much.' And I just say, 'Oh, Sasha. I didn't hear it so long time. I'm very happy you tell me again.' It was his last word to me," she remembers. "It was like saying goodbye to me."

Litvinenko died the next night. It was only then that doctors determined what precisely had killed him: a little known radioactive isotope called polonium 210. Tasteless, odorless and lethal, a tiny speck is all it takes to kill. Traces of the polonium were found at the sushi bar, the hotel, and a trail of other places and people – from jetliners to a soccer stadium, from barmen to cops to Marina Litvenenko. So far, 14 people have shown signs of contamination.

Grief-stricken and enraged, Litvinenko's father, Walter, spoke to reporters through a translator. "My son died yesterday and he was killed by a little tiny nuclear bomb. It is so little, so small you couldn't see it," he said.

In a statement Litvinenko dictated to a friend a few days before his death, he left no doubt about who he thought had planted the bomb.

"You may succeed in silencing one man, but the howl of protest will reverberate, Mr. Putin, in your ears for the rest of your life," the statement read.

Marina Litvinenko didn't care about any howl of protest. She was just interested in who had killed her husband, and she believes the president of Russia was involved.

In one way or another, Marina Litvinenko says the Putin government is "absolutely" responsible for her husbands death. "And everything that happened now is dependent of president. And I believe it couldn't happen without his notice."

"Couldn't happen without his knowledge?" Simon asks.

"Yes, Knowledge. Yes, I can't say it's his order, but without his knowledge, it couldn't happen," she claims.

Putin has denied these allegations, but Litvinenko has been on Putin's radar since 1998. Putin ran what is now known as the FSB, formerly the KGB. Litvinenko was a loyal agent who investigated organized crime and corruption in Russia.

But then Litvinenko and several colleagues denounced the intelligence agency for corruption.

At a press conference in Moscow, the dissident agents all disguised themselves – that is, aside from Litvinenko. But Litvinenko's daring landed him in jail. When he was released in 2000, he fled from Moscow with Marina and their son Anatoly. Once in London, Litvinenko became a vocal critic of the intelligence agency and its infamous ruthless methods.

"When he got to England, did you expect him to continue his political activities here?" Simon asks billionaire Boris Berezovsky, Litvinenko's backer

"Yes, from the beginning," Berezovsky says.

Berezovsky supported Litvinenko in London with money, a house, and an appetite for negative information on the Putin regime. Over the years, Litvinenko publicly accused Putin and his intelligence agency of several acts of terrorism; most recently the assassination of a prominent investigative reporter in Moscow, this just weeks before he was poisoned.

"It was absolutely clear for me that he is strong fighter against of regime. He has his clear understanding that regime is criminal and he want to present his understanding to Britain, to west in general and no one is able to stop him," Berezovsky says.

Asked if Litvinenko was working for him, Berezovsky says, "Yeah, initially he worked just for me."

Berezovsky, one of the ultra-rich and powerful Russians known as oligarchs, knew what it was to have enemies in Russia. In 1994, a car bombing in Moscow nearly killed him and decapitated his driver. This was followed by other attempts.

Once, Berezovsky says, Litvinenko, the loyal intelligence operative, was ordered to kill him. "He got an order to kill me and he came to me and informed me about it," he recalls.

Berezovsky fled to London in 2001, and set up housekeeping in a heavily guarded estate near Windsor castle. By his own estimate, he has spent more than $100 million to attack the Russian government, its intelligence agency, and President Putin himself.

"Do you think that Litvinenko's relation to you further endangered his life?," Simon asks.

Yes. Unfortunately, I should say yes," Berezovsky acknowledges.

And Berezovsky says Litvinenko saved his life once again in London. If Litvinenko hadn't been targeted, Berezovsky is convinced, he would have been.

As long as Scotland Yard is continuing its investigation, Berezovsky told 60 Minutes he doesn't want to talk about who ordered the murder.

But this is what he said about the Russian intelligence agency and Putin.

"He's absolutely, absolutely bandit, from my point of view, yeah, and they, they, they decide to kill him," Berezovsky says.

Asked who is "they," Berezovsky tells Simon, "I don't want to create any problem for those who investigate this story. If you want, I might just use the, the English joke 'If it looks like duck and quack like duck, it means duck.' That's it, what I may tell you now."

Berezovsky told 60 Minutes something else as well: that he had recently reduced his financial support of Litvinenko.

In the months before his death, Litvinenko needed money; he needed a job and spoke of having found one. What was that job? Litvinenko spoke to Julia Svetlichnaya, a Russian graduate student, who sought out his help on a book she was writing. But what he wanted to talk about were his plans concerning those rich and powerful Russian oligarchs.

"He told me that, at that moment, he's doing a project for blackmailing one of the Russian oligarchs which resides in UK," Svetlichnaya tells Simon. "He thought that it was actually an o.k. thing to do because this particular person, as Litvinenko claimed, had a connection with the Kremlin, had a connection with Putin. And so in his view it, was o.k. to blackmail him."

Julia said the blackmail scheme didn't surprise her, given what she knew of Litvinenko's past. "That's what he did: gather information on people. So it didn't sound out of place completely to me, the blackmail story. He mentioned blackmail in a very casual, casual manner. Every time I met him, he somehow told me he needs money. He needs to make a living. He's got children to feed," she explains.

Marina Litvinenko says she didn't know what her husband was doing, but that she knew her husband. He was not a blackmailer. "Never, never. Sasha wasn't a person in this way," she tells Simon.

Julia and Litvinenko met several times last spring. One meeting was in London's Hyde Park. The two walked around for hours, Julia said, because Litvinenko insisted that professionals keep moving so no one can eavesdrop on their conversations.

"I would say that he was interested in talking to anyone who would listen to him," she remembers.

"You describe him as a man who is something of a blowhard," Simon remarks.

"I believe that's what he was," she says.

She also thinks he was exaggerating his own importance and that he wanted everybody to take him seriously.

"The bottom line is that it's hard to see any reason for Litvinenko to be killed for his own sake. Litvinenko was not a big player," says Mark Galeotti, who knows the players.

He met Litvenenko and knows many other Russians in that shadowy world. A former advisor to the British Foreign Office, NATO and American intelligence agencies, Galeotti now studies Russian intelligence and organized crime at Keele University.

"There are many ways to kill a man. Using an obscure radioactive isotope is a rather uncommon way. Why do you think this way was chosen?" Simon asks.

"Essentially it's because of the theater of assassination. If all you want to do is silence someone, then you push them under a bus, you arrange an apparent mugging that's gone wrong, or something like that," Galeotti says. "If you're going to carry out a killing using a radioactive isotope like this, you want it to be a big story."

Galeotti believes there was a message in the method of the murder. "It's clearly a warning to the exiled who clearly have aligned themselves against the current regime in Russia, in many cases," he explains.

The warning carried a lot of weight: a radioactive corpse in a lead-lined coffin. The man inside may have been just a pawn caught up in a struggle between larger forces. And that could be the ultimate tragedy of Alexander Litvinenko: that he had to die to get the attention and the dignity which had always escaped him when he was alive.
Produced By Michael Gavshon and Michael Rosenbaum
Thanks for reading CBS NEWS.
Create your free account or log in
for more features.