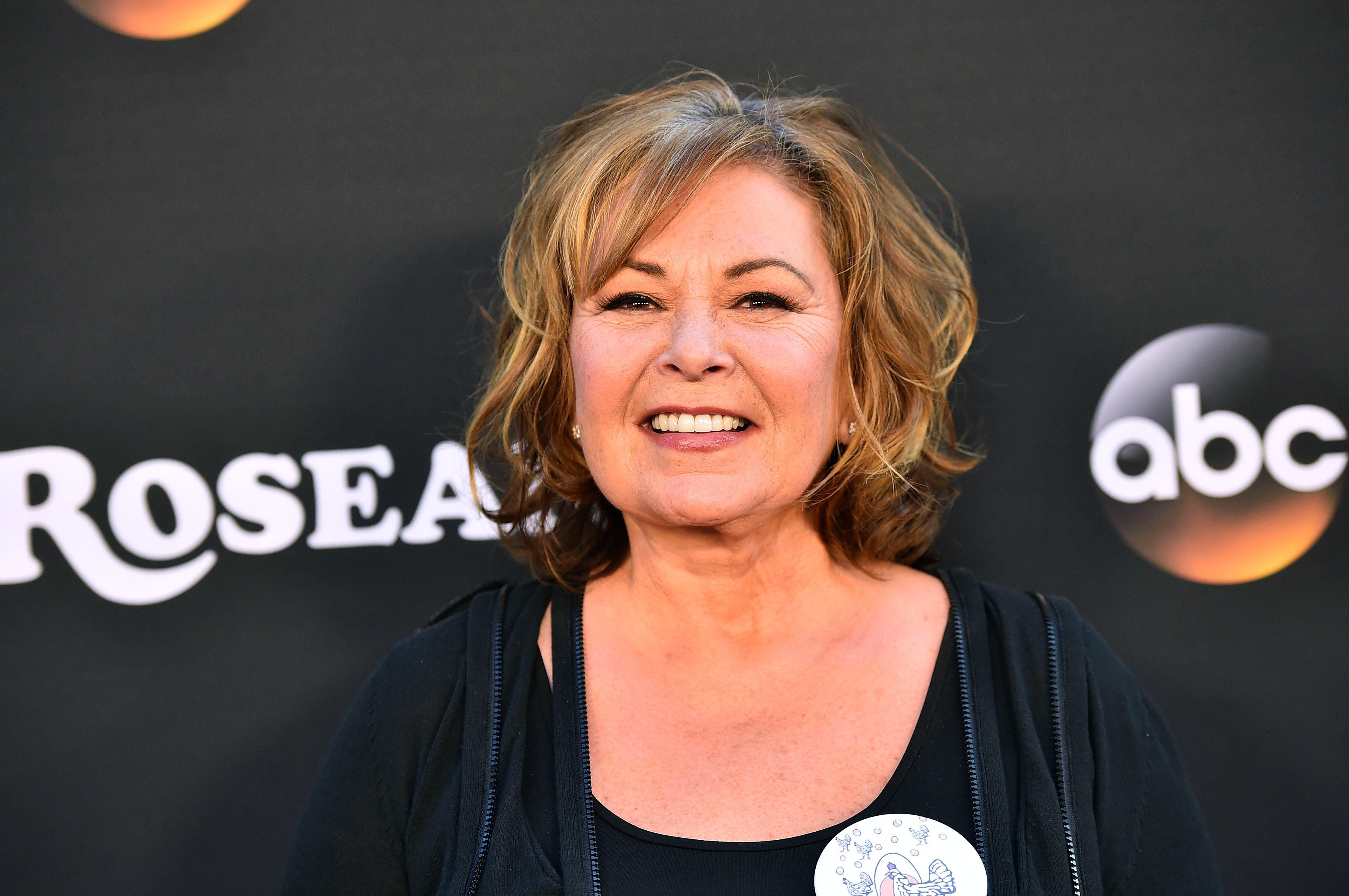 Roseanne Barr compared Susan Rice, another black Obama official, to an ape in 2013
Roseanne Barr returned to Twitter Tuesday night and issued a new apology for her racist tweet about one of former President Obama's closest confidants. She said, "I'm sorry 4 my tweet," but also wrote, "I'm tired of being attacked & belittled more than other comedians who have said worse." ABC moved quickly to pull the plug on Barr's No. 1 sitcom after she tweeted that senior Obama adviser Valerie Jarrett, who is black, was a combination of the Muslim Brotherhood and "Planet of the Apes."
But it's not the first time the comedian has compared an Obama official to an ape. Former U.S. Ambassador to the UN and national security adviser Susan Rice shared a tweet from Barr back in 2013 that said, "susan rice is a man with big swinging ape balls."
The president of ABC Entertainment called Barr's tweet "abhorrent, repugnant, and inconsistent with our values." Following Barr's tweet, she was also dumped by her agents, and three other networks pulled reruns of "Roseanne" off the air. ABC, now facing a gaping hole in its fall schedule, stands to lose millions in advertising dollars and hundreds of jobs.
Jarrett told a town hall last night she received a personal apology from Disney CEO Bob Iger.
"He said that he had zero tolerance for that sort of racist, bigoted comment, and he wanted me to know before he made it public that he was canceling the show," Jarrett said.
Tuesday night, after re-tweeting several bizarre posts from fans who came to her defense, Barr tweeted: "guys i did something unforgiveable so do not defend me. It was 2 in the morning and i was ambien tweeting-it was memorial day too-i went 2 far & do not want it defended."

Late night hosts weighed in.
"You know who I blame for this? Donald Trump. That's who," Trevor Noah, host of "The Daily Show," said.
ABC's own Jimmy Kimmel said, "Roseanne compared an African-American woman – a former adviser to President Obama – to an ape, which did not sit well with ABC management or anyone with a brain, really."
The "Roseanne" reboot on ABC drew 25 million viewers its first week. President Trump has credited the show's high ratings to a perceived focus on issues that resonate with his supporters.

"Entertainment Tonight" co-host Kevin Frazier said that by trying to reach Trump supporters, ABC took a huge risk on Barr who, outside of her support for Mr. Trump, traffics in right-wing conspiracy theories.
"I think they knew what they were getting into with Roseanne," Frazier said. He added that while it was the first attempt by a network to try and catch the Trump train, it was "wildly successful" and likely won't be the last.
"The Talk" co-host Sara Gilbert, who plays Roseanne's daughter Darlene and is also an executive producer of the show, tweeted "I am disappointed in her actions to say the least." Fellow comic Rosie O'Donnell called Barr's tweet "racist and childish" but added, "I love Roseanne quite a bit."
Thanks for reading CBS NEWS.
Create your free account or log in
for more features.