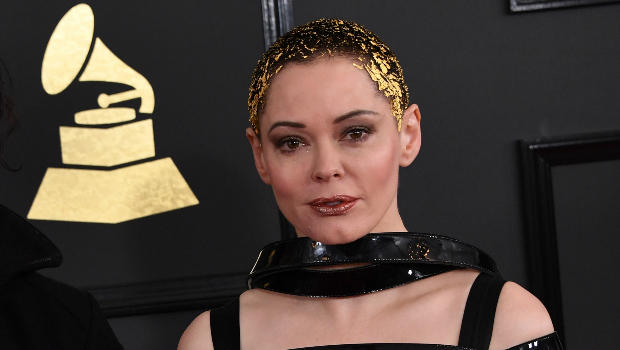 Rose McGowan arrest warrant issued stemming from drug charge
WASHINGTON -- An arrest warrant has been obtained for actress Rose McGowan for felony possession of a controlled substance.
The felony charge stems from a police investigation of personal belongings left behind on a United flight arriving at Washington Dulles International Airport on Jan. 20. Police say the items tested positive for narcotics. The Metropolitan Washington Airports Authority Police Department obtained the warrant on Feb. 1.
Police say they've attempted to contact McGowan so she can appear in a Loudoun County, Virginia, court. The warrant has been entered into a national law enforcement database.
The actress apparently tweeted about the arrest warrant where she asked, "Are they trying to silence me?" She then wrote that it was "a load of [expletive]."
McGowan has been one of the leading voices against sexual harassment in Hollywood, and tweeted earlier this month that she was raped by a man with the initials "HW." The Hollywood Reporter said McGowan confirmed she was referring to disgraced media mogul Harvey Weinstein.
Meanwhile, a "Me Too" social media movement -- which went viral after actress Alyssa Milano shared it on Twitter -- reached dozens of countries and millions of people. Twitter confirmed to CBS News that more than 1.7 million tweets included the hashtag "#MeToo," with 85 countries that had at least 1,000 #MeToo tweets.
On Oct. 15, Milano shared a tweet explaining that if people who have been sexually assaulted or harassed tweet "me too," it might "give people a sense of the magnitude of the problem." Millions responded, including high-profile celebrities like America Ferrera, Rose McGowan, Evan Rachel Wood, Gabrielle Union and more.
The movement was actually created 10 years ago by black female activist Tarana Burke. She told Ebony she came up with it in 2007 to let young women of color who survive sexual assault know that they are not alone.
Thanks for reading CBS NEWS.
Create your free account or log in
for more features.