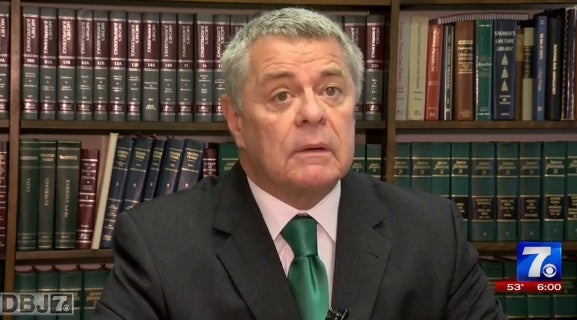 Va. mayor rejects Syrian refugees, refers to Japanese internment camps
VIRGINIA -- The mayor of Roanoke asked agencies to suspend relocating Syrian refugees to the area in the wake of the Paris terrorist attacks and other threats.
Mayor David Bowers said in a statement Wednesday that relocation efforts by governmental and non-governmental agencies should be stopped "until these serious hostilities and atrocities end" or are brought under control.
In his statement, Bowers cited Friday's attacks in Paris that killed 129 people and wounded more than 350, and the Oct. 31 bombing of a Russian airliner over Egypt's Sinai Peninsula, killing all 224 on board. The Islamic State of Iraq and Syria (ISIS) has claimed responsibility for both.
"I'm reminded that President Franklin D. Roosevelt felt compelled to sequester Japanese foreign nationals after the bombing of Pearl Harbor, and it appears that the threat of harm to America from Isis [sic] now is just as real and serious as that from our enemies then," Bowers wrote.
Bowers reassured residents that law enforcement and public safety agencies in Roanoke are prepared to protect them "from harm and danger from this present scourge upon the earth.
"In this regard, at least for a while into the future, it seems to me to be better safe than sorry," he said.
During an interview Wednesday with CBS affiliate WDBJ, the mayor said, "I think people are worried, people are fearful, and this is a scourge upon the earth and we need to stand up against it."
President Barack Obama wants to bring 10,000 more Syrian refugees to the United States during the current budget year. The federal government controls immigration, leaving states and cities with no say in stopping it, despite efforts underway by governors and House Republicans.
Bowers' reference to Japanese internment camps sparked an outcry. More than four decades after World War II, the U.S. government issued a formal apology and paid reparations to former Japanese internees and their heirs.
Actor and activist George Takei posted a detailed response on Facebook to the mayor's letter. In the statement he wrote that his family spent four years in the internment camps because they happened to look like the people who bombed Pearl Harbor.
"It is my life's mission to never let such a thing happen again in America," he said.
Buzzfeed News reported that as a result of the mayor's comments, he lost his spot on Democratic presidential candidate Hillary Clinton's Virginia Leadership Council.
Bowers had been on the Virginia committee since early October, but a Clinton source told the website he is no longer on the committee. A Clinton campaign spokesman slammed Bowers' comments in a statement, according to Buzzfeed.
"The internment of people of Japanese descent is a dark cloud on our nation's history and to suggest that it is anything but a horrible moment in our past is outrageous," spokesman Josh Schwerin told Buzzfeed.
State Democratic Party chairwoman Susan Swecker called Bowers' comments "absolutely wrong" and state Republican Party chairman John Whitbeck said they were "offensive and ignorant."
American Civil Liberties Union of Virginia Executive Director Claire Guthrie Gastanaga said she was appalled that Bowers asked agencies "to single out refugees on the basis of their race, ethnicity, or nationality. It is an effort that plays into the very fear that terrorists seek to inspire, and threatens the principles for which the United States stands."
In a statement, Gastanaga also criticized Bowers' comments about the internment camps, which she said was "a dark stain on America's history that Mayor Bowers should learn from rather than seek to emulate."
Bowers, a Democrat who announced last week that he will not seek a fifth term as mayor next year, didn't immediately return a telephone message Wednesday.
Several Republican state lawmakers said they are working on legislation that would prohibit state agencies from assisting Syrians to resettle in Virginia for the next two years. They also called on Democratic Gov. Terry McAuliffe to refuse the resettlement of Syrian refugees for that same period.
Republican lawmakers said a two-year freeze on resettlements is necessary to ensure that no Syrian terrorists are relocated to Virginia.
McAuliffe has rejected those requests.
McAuliffe spokesman Brian Coy said Virginia has only a "consultative role" with the federal government "but the decision to send refugees to Virginia or any other state is not one over which states have any control."
Coy said the state's role is to offer advice on where refugees be resettled in the state, and to offer services to the refugees once they've arrived. Those services are entirely funded by the federal government, Coy said.
There were 25 Syrians resettled in Virginia in the last fiscal year, Coy said, and none during the current fiscal year.
Thanks for reading CBS NEWS.
Create your free account or log in
for more features.