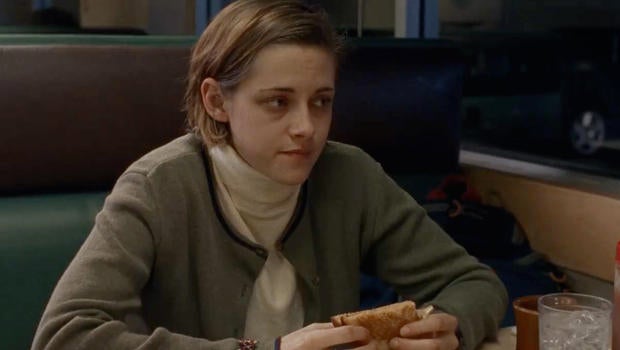 Review: The interrupted lives of "Certain Women"
A film of small rather than broad strokes, "Certain Women" is a triptych of character portraits featuring women who strive to make connections, in part because their lives are mired in routine or disappointment.
Written and directed by Kelly Reichardt, who adapted the short stories of Maile Meloy, "Certain Women" tells three intersecting tales set in Montana. The narrative is less concerned with inciting events than with the stuff that happens in-between -- moments of contemplation or anticipation -- all in the midst of a landscape that magnifies distances. [At a press conference during the New York Film Festival, actress Laura Dern remarked that what most interested her about the characters was life that happens "when no one's watching" -- when the true narrative is revealed.]
Laura (played by Dern) is a lawyer who has been trying for months to shake a client seeking a lawsuit against a former employer for an injury suffered on the job. The fact that Laura is a woman, she fears, means the injured party won't take her legal opinion at face value, and will only accept the same advice if it comes from a man.
Whatever gender-based discrimination may mean for her lawyer-client dynamic, it is turned on its head when the man takes a security guard hostage at gunpoint. Laura accedes to his wishes when she steps into the crime scene, and makes a moral choice on how best to help her client's cause.
Michelle Williams plays Gina, a transplant who is planning, with her family, to build a house in the Montana countryside. She and her husband visit an older local man, Albert (Rene Auberjunois), to inquire about purchasing some sandstone to use in the construction of their home. But Albert's faculties are iffy, and Gina's husband seems more interested in protecting Albert from being taken advantage of, than in backing his wife in the deal. Small aggressions in their relationship come to the fore.
Lily Gladstone plays Jamie, a young rancher working a horse farm, who finds herself by chance in a night class at a local school, where a young attorney, Beth (Kristen Stewart), is teaching a course in school law. Jamie is almost inscrutably drawn to Beth, accompanying her to a diner, and then returning to the class again and again.
In these three case studies, the characters are either striving to make connections, or -- in the case of Stewart's attorney -- opening herself up enough to become, unwittingly, an object of attraction.
Reichardt, whose past films include "Old Joy," "Night Moves," "Wendy and Lucy" and the western "Meek's Cutoff" (the last two of which also starred Williams), is among the quietest of filmmakers. The silence of scenes is magnified by the humbling Montana landscapes (expertly shot in 16mm), a combination that only accentuates the inner life of the characters. The routine of Jamie's daily care of the horses becomes familiar to us, and we feel Laura's patience with her client slowly draining away. We also sense, through the interconnectedness of the stories, the secrets that supporting characters carry in the background from one setting to the next.
The actresses are all splendid in their roles: Stewart as the self-absorbed, impatient teacher, Gladstone the moon-faced admirer, Williams the acquisitive caller, and Dern as the lawyer struggling to empathize. Their longings drive them into situations where their selfish motives collide with a cold snap of reality, quietly.
After screening today at the New York Film Festival, "Certain Women" will be released theatrically nationwide by IFC Films on October 14. Rated R. 107 mins.
To watch a trailer click on the video player below.
For more info:

More reviews from the 54th NYFF:
Thanks for reading CBS NEWS.
Create your free account or log in
for more features.