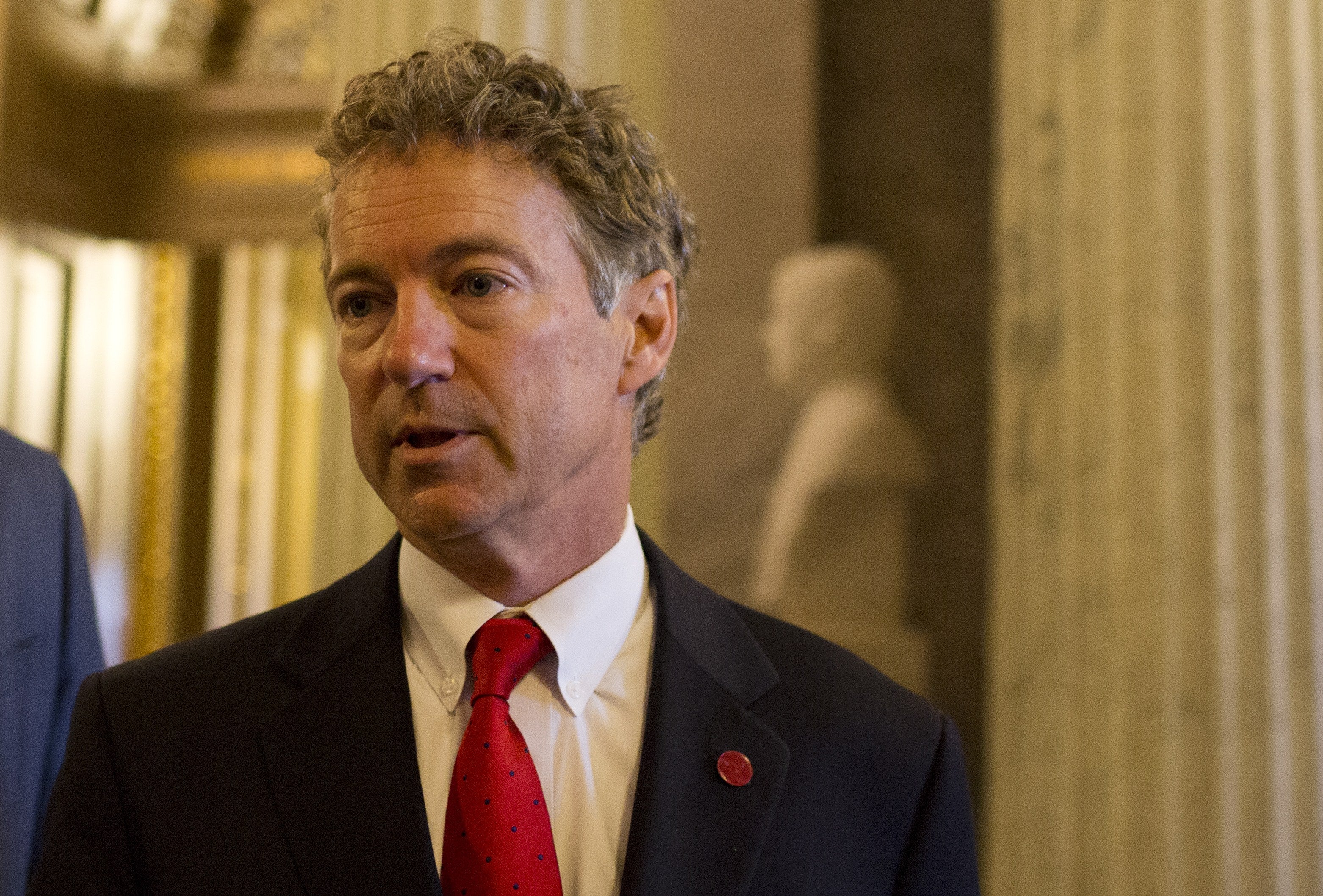 Republicans torch Rand Paul over surveillance lapse
The Senate failed on Sunday to pass a temporary extension of the National Security Agency's (NSA) spying authority, allowing several surveillance programs - including one that collects and stores phone records from nearly every American - to expire just as Congress debates a broader bill to reform them.
Now, the senator who forced that expiration, Kentucky's Rand Paul, is under fire from fellow Republicans who say he's putting his political ambitions and his presidential bid ahead of U.S. national security.
"I know what this is about. I think it's very clear -- this is, to some degree, a fundraising exercise," Sen. John McCain, R-Arizona, told Politico. "He obviously has a higher priority for his fundraising and political ambitions than for the security of the nation."
"Unfortunately I think it's part of the presidential campaign," said Senate Majority Whip John Cornyn, R-Texas, according to the Daily Beast. "This really does raise the risk to the public. It does eliminate one of the tools that the intelligence community has to identify homegrown terrorists. It just seems to me at least reckless to not allow at least a temporary continuation of the bill while we have this debate. But that's not the way it's working."
"I don't stand with Rand on this," said Sen. Mark Kirk, R-Illinois. "I want to make sure the ability to monitor terrorists continues uninterrupted."
"I think he's nestled in with a very large bunch of very radical people - from the left to the right," added Sen. Orrin Hatch, R-Utah, of Paul's crusade. "I don't know if he feels comfortable being with all those leftists...But he has a right to do what he's doing."
Even Senate Majority Leader Mitch McConnell, a fellow Kentuckian who has endorsed Paul's presidential bid, expressed frustration about the procedural roadblock. Without naming Paul specifically, McConnell torched the "campaign of demagoguery and disinformation" being waged by opponents of the NSA's surveillance programs during a fiery floor speech.
The three provisions that expired Monday morning were part of the Patriot Act, a broad series of intelligence reforms put in place after 9/11 with the goal of giving the government the tools it needed to prevent another attack.
McConnell initially pushed for the Senate to pass a clean extension of those provisions, but opposition to that measure forced him to settle on a compromise proposal that had already cleared the House.
That bill, called the USA Freedom Act, would compel the phone companies to collect and store the phone records, instead of allowing the NSA to hold them. The government could still access the records via a secret court order, but it would need to request that access on a case-by-case basis.
As the midnight deadline approached on Sunday, Paul leveraged the Senate rules to delay consideration of the USA Freedom Act until later this week. McConnell then pushed for a clean, short-term extension of the expiring provisions to allow Congress time to work out the broader reform bill. But Paul blocked that measure as well. As a result, the three provisions lapsed at midnight Sunday.
"I think there are some legitimate debates going on in the country over who should hold the documents," said Sen. Roy Blunt, R-Missouri, according to Politico. "I think there aren't very many people in Sen. Paul's place that believe that none of these provisions need to be extended or held onto in some way."
Paul, though, has offered no quarter to his critics.
"People here in town think I'm making a huge mistake. Some of them I think secretly want there to be an attack on the United States so they can blame it on me," Paul said during a floor speech Sunday. "I'm completely convinced that we can obey the Constitution, use the Fourth Amendment as intended, spirit and letter of the law, and catch terrorists."
McConnell has set up another procedural vote on the USA Freedom Act on Tuesday. The Senate will try to pass an amended version of that bill this week and send it back to the House for final passage.
Paul conceded Sunday that final passage appears likely, but he said he hoped his efforts would spark a broader conversation about the relationship between privacy and security.
"As we move forward, the Patriot Act will expire tonight. It will only be temporary. They will ultimately get their way. But I think the majority of the American people actually do believe government has gone too far," he said. "I frankly think that the Bill of Rights and the constitution are very popular, very important, and I will continue, as long as I have breath and as long as I'm here, to defend them."
Paul's critics were proven right on at least one count, though: he is touting his opposition to government surveillance to boost his presidential campaign. His Twitter feed is trumpeting his blockade of surveillance proposals and directing viewers to donate to his presidential campaign. And a video posted to YouTube by the campaign on Friday includes roughly 15 seconds of a lengthy anti-surveillance Senate floor speech from last month.
That video may be a violation of Senate rules, which state, "The use of any tape duplication of radio or television coverage of the proceedings of the Senate for political campaign purposes is strictly prohibited." If the video is determined to be a violation, it would be up to the Senate Rules Committee to ask the campaign to stop using it.
Thanks for reading CBS NEWS.
Create your free account or log in
for more features.