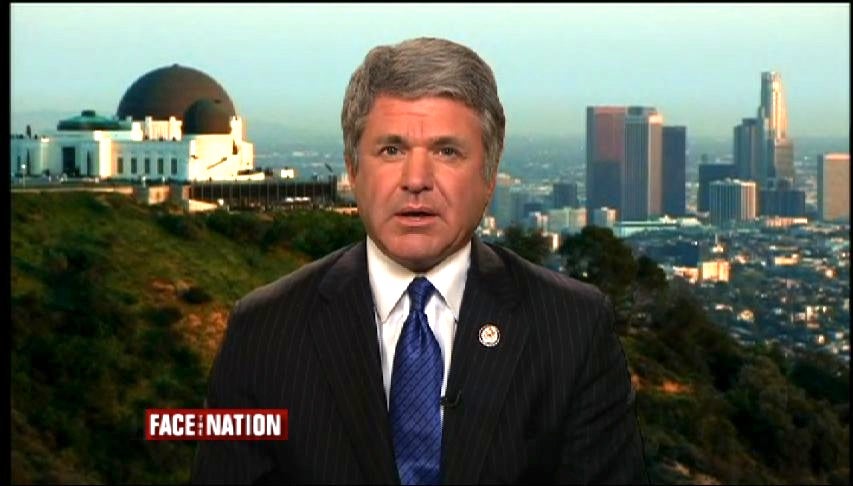 Rep. McCaul calls Sochi terror threat the greatest he's seen
Security at the 2014 Winter Olympics in Sochi continues to be a top concern for Americans traveling to Russia, though lawmakers and other public figures are trying not to cause a mass panic by urging people to stay home.
"I would say we should not scare people from attending the Olympics. It's a time honored tradition. If we do not support our team and show up, I think the terrorists are winning and that's what they're trying to do here," said Rep. Mike McCaul, R-Texas, chairman of the House Homeland Security Committee, on whether or not he would advise his own family to travel to Sochi. Still, McCaul, who visited the site of the games earlier this month, called the security threat "the greatest I think I've ever seen because of the proximity of the terrorists to the Olympic village."
In particular, McCaul said al Qaeda leader Ayman al-Zawahiri has called for a global jihad against the Olympics.
"There's never been this connection between Pakistan, Afghanistan and Chechen rebels before. Although, some would argue there's been support. But for the first time, Zawahiri coming out and endorsing, blessing and calling for this global jihad against the Olympics, wow, that gives me great pause."
CBS News' security correspondents were unaware of a direct threat against the Olympics from al-Zawahiri, but McCaul spokeswoman Charlotte Sellmyer pointed to information from SITE Intelligence Group that the al Qaeda chief had released a new audio speech praising Chechen jihadi fighters as part of the global umbrella of jihad.
McCaul said the U.S. has diplomatic security corps, FBI agents and other officials to help with security. In his opinion, the perimeter of the games and the Olympic Village are secure, and susceptible areas likely lie outside Russian President Vladimir Putin's so-called "ring of steel."
"I don't think it's a time to be an alarmist and cancel. If this thing gets worse, maybe we would consider that," McCaul said. "But remember, this ring of steel has got 100,000 security officials. I saw them down there, the Cossacks. You had the special forces, the military. This is quite a fortified event. Putin is putting everything he has from a security standpoint down there."
The one area where he said the Russians could do more is by increasing intelligence and military sharing, including technology to jam explosive devices that the U.S. has offered, but Russia has not accepted.
Retired figure skating champion Brian Boitano, who is a part of the U.S. Olympic delegation said that the athletes' safety should be the top priority, but that to cancel the Olympics "would be absolutely devastating" from their perspective. The terrorist threat will just be another distraction that elite athletes have to block out.
As to the question of whether families should travel there, Boitano said, "I would want my family to make their own decision. I would totally understand if they decided to stay home, but for me as an athlete I would always choose to go."
Thanks for reading CBS NEWS.
Create your free account or log in
for more features.