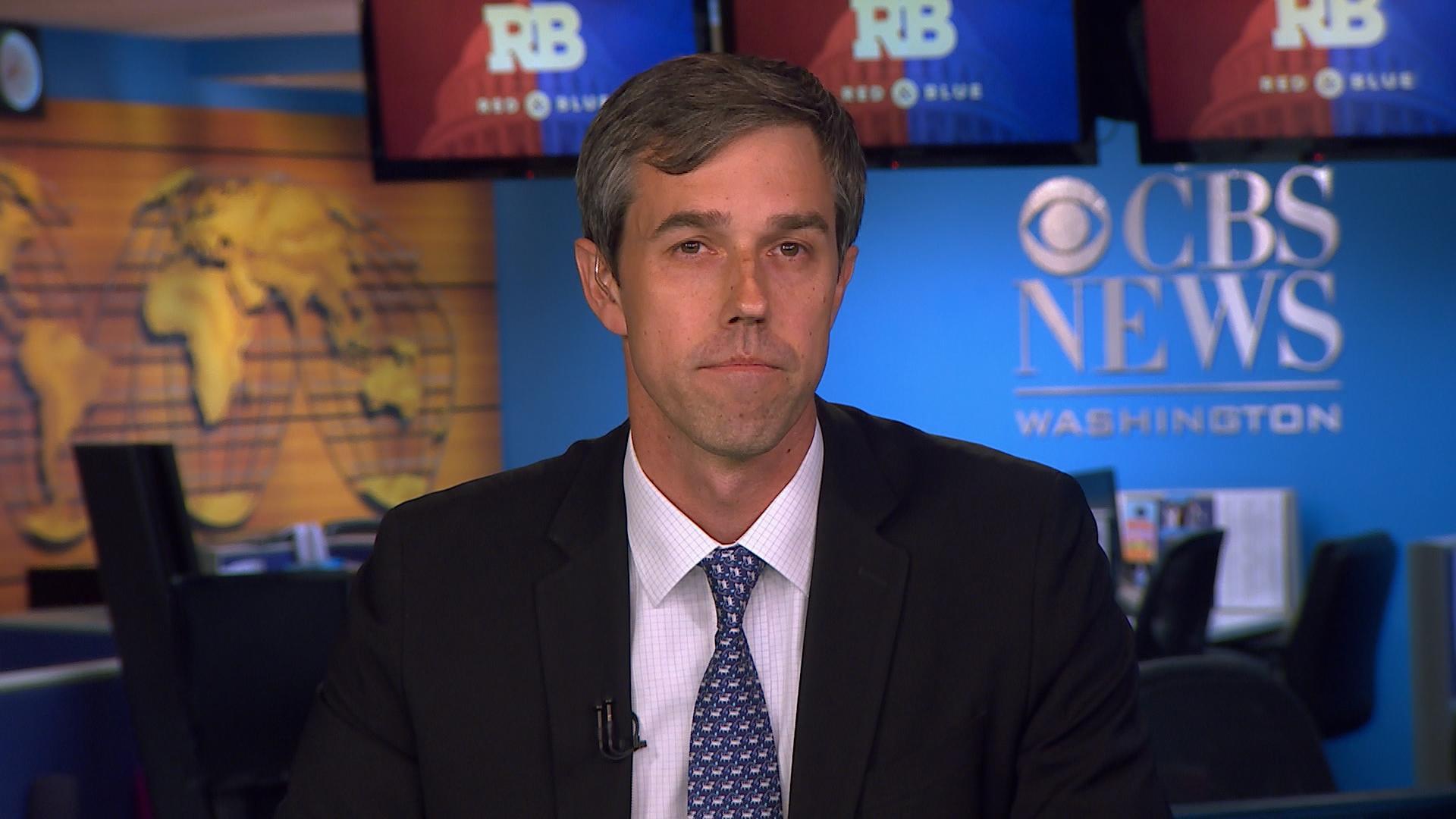 Rep. Beto O'Rourke could mean blue wave hits deep red Texas in Senate race
In spite of his early cash advantage, Democratic Rep. Beto O'Rourke has been reminded plenty of times that he faces long odds of taking Sen. Ted Cruz's Senate seat from him. However he said he's listening to the people all across Texas and isn't taking anything for granted in the race for Senate.
"I'm running a grassroots campaign ... all across the state. We don't want to know what people outside of Texas say about our campaign. I want to listen to you ... you're a Texan, an American ... a human being is most important to me," O'Rourke told CBSN's Elaine Quijano in an interview Monday on "Red & Blue."
The 45-year-old Democratic Texas representative was first elected to the House in 2012 and officially became the first Democrat in Texas to file for the U.S. Senate race in late November 2017.
Between Jan. 1 and Feb. 14, O'Rourke raised $2.3 million while former GOP presidential candidate Cruz raised just $800,000, according to the Federal Election Commission.
"I feel pretty confident," O'Rourke said. "There's something I've never seen happening in Texas ... Republican, Democrat, Independent ... are getting off the sidelines and into the game ... they know that everything that matters to them and their families is on the line right now and they're getting involved. Turn out is up over 100 percent in the Democratic primaries so far during early voting and it's down in early Republican voting. This bodes well for what we're going to see in the November election, but we aren't taking anything for granted."
O'Rourke added that his campaign is running without political action committees (PACs) and solely supported by the people he wants to represent.
He mentioned that the average contribution for the O'Rourke campaign is $25. "That the right way to win," he added.
The school shooting in Parkland, Florida, on Feb. 14 that killed 17 people, sparked debates over what can be done by Congress to prevent other mass shootings. President Trump has called for a ban on bump stocks -- the devices that turn semi-automatic rifles into automatic rifles -- and he has shifted focus of the debate away from guns toward the role mental health plays in mass violence.
Mr. Trump has also floated the idea of potentially raising the age limit for purchase of semi-automatic weapons to a minimum age of 21 -- a limitation that the National Rifle Association (NRA) opposes. Suspected gunman Nikolas Cruz used an AR-15, an automatic weapon, in the Florida massacre.
O'Rourke called out the leadership and the courage of the Parkland students and others across the U.S. that have stressed the need for change.
"They are done with the thoughts and prayers, they are demanding action and I think they are going to force it," he said. "I think the opportunity is open to us -- Republicans and Democrats alike -- to move forward on allowing the CDC [Centers for Disease Control and Prevention] to study gun violence, having universal background checks ... and banning the sale of assault weapons."
"It's going to take a lot of bipartisan work, but it's work that we have to begin now and we are going to be forced to do it by these kids who are the conscious of this country and display the courage that Congress is currently lacking," he added.
O'Rourke said AR-15 style weapons were designed for the battlefield and "they have no place in our streets and in our schools."
Another polarizing issue facing Congress this year: What happens to the legal status of the roughly 800,000 so-called Dreamers part of the Deferred Action for Childhood Arrivals (DACA) policy?
Monday, the Supreme Court rejected the Trump administration's appeal, which attempted to get SCOTUS to intervene in a lower court's order that requires the federal government to continue accepting DACA renewal applications. Allowing the legal battle to run its course in the courts means that Congress has more time beyond the original March 5 deadline to act. Two lower courts blocked the ending of DACA, and the decision has not yet been reviewed by an appeals court.
"I think it gives us more time to work -- Democrats and Republicans alike -- to make sure that not only those Dreamers are protected from deportation, but that they can contribute to their full potential as citizens," O'Rourke said. "I also think we need to move forward with the 'original Dreamers' ... the parents of those Dreamers to make sure they are also able to stay in this country with their families and contribute to the success and safety of our communities and our country."
Meanwhile, as O'Rourke wins the support of many Texas Democrats seeking an upset in the November 2018 midterm elections, Democratic congressional candidate Laura Moser, founder of the Resistance-style text message service "Daily Action," has been openly scorned by her party. The Democratic Congressional Campaign Committee (DCCC) released an opposition research memo regarding Moser's fitness for office, which described her as "a Washington insider, who begrudgingly moved to Houston to run for Congress."
"I don't think the DCCC, the DNC ... any of those in Washington D.C. have any place in our campaign or election in Texas," O'Rourke said. "I think this is up for Texans to decide ... that's why I'm only listening to Texans and doing it in town hall meetings where we ask folks and to please show up."
"The fact that you're an American, a Texan, a human being ... matters most to me before we even think about party identification and certainly what any of the party bosses in Washington D.C. have to say about this," he added.
---
Watch O'Rourke's full interview by clicking the video at the top of this page. CBSN's "Red & Blue" streams Monday through Thursday at 9 p.m. ET.
CBS News' Peter Martinez contributed to this report.
Thanks for reading CBS NEWS.
Create your free account or log in
for more features.