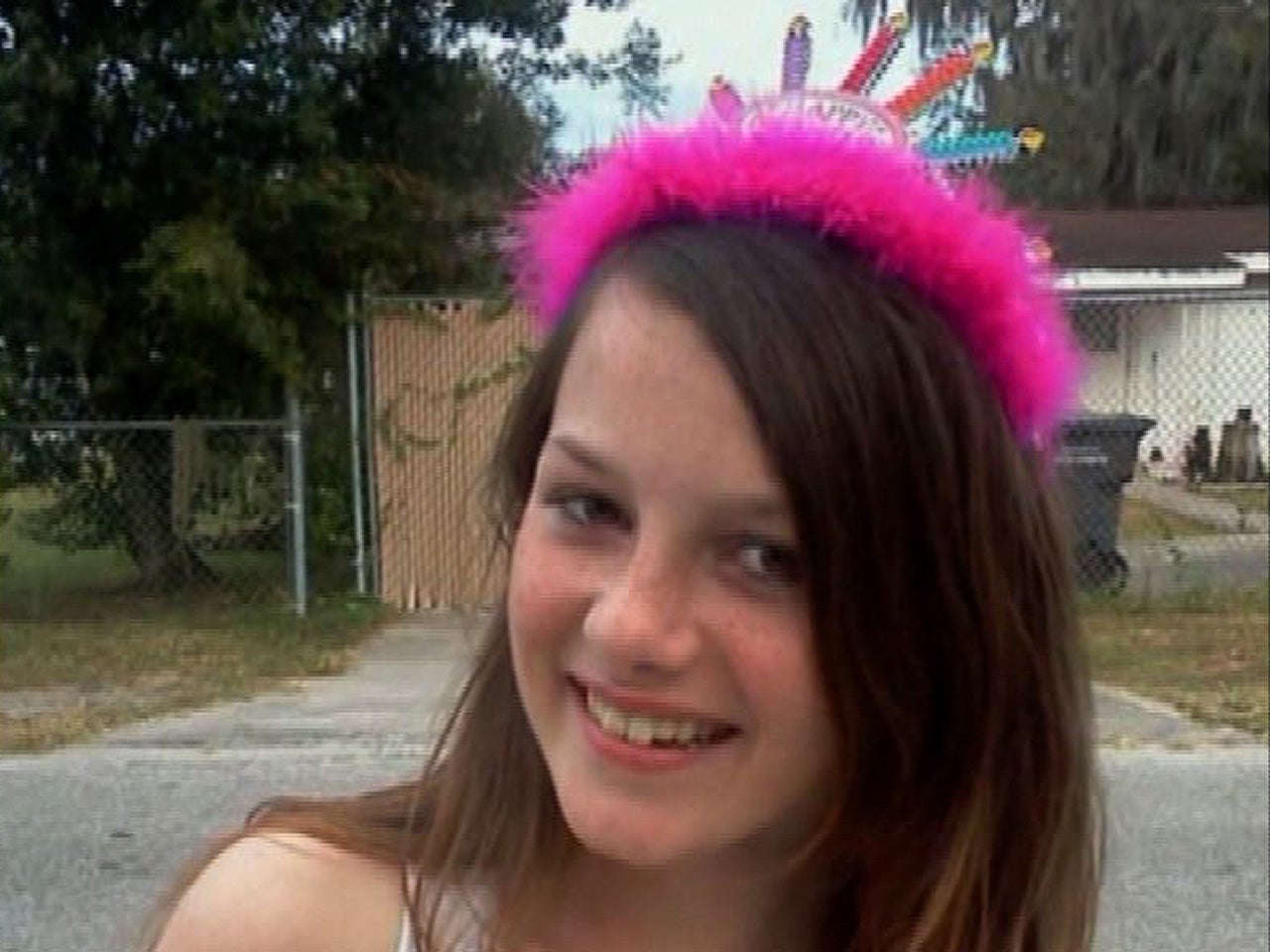 Rebecca Sedwick Case: Bullied girl and her tormentor both grew up in "disturbing" family situations, says sheriff
(CBS) - The 12-year-old Florida girl whose suicide prompted the arrests of two young girls who allegedly bullied her grew up in a "disturbing environment," not unlike the one her accused bully was raised in, says Polk County Sheriff Grady Judd.
According to Judd, bullying "only contributed" to the death of Rebecca Sedwick, who died last month after jumping from a tower at an abandoned cement plant near her home. Two girls, ages 14 and 12, have been charged with stalking Sedwick - the first time such charges have been used in relation to teen bullying, experts say.

The girls allegedly encouraged others to fight Sedwick, and sent her electronic messages encouraging her to kill herself. Crimesider is not naming either of the two suspects due to their young age.
Judd told CBS News' Crimesider that he charged the girls with stalking because what they did to Sedwick went beyong bullying into harassment and intimidation, but he also said that Sedwick had problems at home that may have contributed to her state of mind on the day of her death. According to Judd, Sedwick slept not on a bed at home, but in a recliner. Her sister, said Judd, slept on the couch, and the girls' clothes were kept in "grocery sacks" in the living room.

Sedwick's mother, Tricia Norman, has been in trouble with the law since at least 1995, when she was charged with multiple counts of writing bad checks, according to Polk County records. In 2005, she was again charged with writing bad checks, as well as fraud and probation violation. The records reveal that Norman apparently has several aliases, including Tricia Craig, Tricia Howard and Tricia Jones.
Norman is now being represented by the law firm of Florida's former and perhaps future governor, Charlie Crist. David Henry, the lead attorney on the case, told Crimesider that Rebecca's father was not involved in the family's life and that Norman "was doing her best" with her children. Henry said that Norman has moved from Polk County since Rebecca's death, and is not currently employed, but has previously had jobs as a medical assistant and in customer service.
According to Judd, while the 12-year-old charged in the case has expressed remorse, the 14-year-old and her parents "don't seem to get it." Judd described the family as being "like a Jerry Springer episode" with a "survival of the fittest mentality."
The teen's mother, Vivian Vosburg, was arrested last week on child abuse charges after the sheriff's office became aware of an online video apparently depicting Vosburg punching two young boys.
"The way she treated those kids was horrendous," says Judd. "The family is just kind of out of control. And children live what they learn."
Judd says he has received overwhelmingly positive feedback from his community - and people as far away as Hawaii and Alaska - for his decision to charge the girls for their alleged bullying. He told Crimesider that he hopes lawmakers will consider legislation allowing schools to be more pro-active when it comes to bullying so that we don't have to "criminalize children." Judd says he'd like to see schools able to mandate that a child caught bullying take counseling or anger-management classes, and have their phone taken away until they do.
And while Judd says he is pleased that the Sedwick case seems to have drawn attention to the problem of bullying, he has no love for the attorneys "busting in here" to get involved. Jose Baez, who famously won an acquittal for Casey Anthony, announced Wednesday that he is representing the 12-year-old charged with stalking Sedwick. And according to attorney David Henry, Crist's law firm and Sedwick's mother are considering lawsuits aimed at the two girls who have been charged, their parents, and "as many as 15 other kids" for their roles in bullying Sedwick. Henry says they are also looking at whether the school and the abandoned plant where Sedwick took her own life may also be liable in some way.
"I would much rather see them actively involved in stopping bullying than looking for people to sue," says Judd.

Thanks for reading CBS NEWS.
Create your free account or log in
for more features.