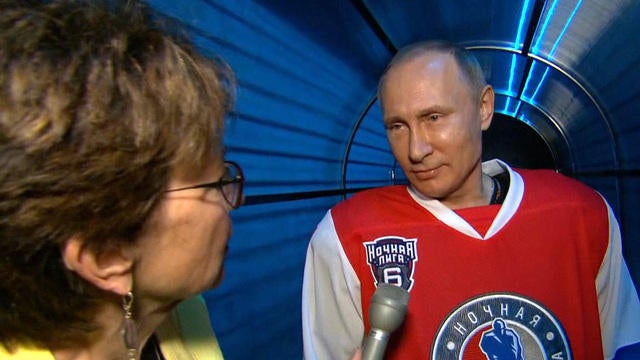 Putin reacts to Comey firing: "We have nothing to do with that"
Russian President Vladimir Putin said the firing of former FBI Director James Comey will have "no effect" on U.S.-Russia relations, reacting for the first time to President Trump's dramatic ouster of the man leading the probe into Russian meddling in the 2016 campaign.
Putin spoke with CBS News correspondent Elizabeth Palmer shortly before taking to the ice at a hockey game in Sochi. Palmer asked the Russian leader how Comey's firing would impact already frosty relations between the two nations.
"There will be no effect," Putin said, with press aide Dmitry Peskov translating. "Your question looks very funny for me. Don't be angry with me. We have nothing to do with that."
"President Trump is acting in accordance with his competence, in accordance with his law and Constitution," Putin said. "What about us? Why we?"
He then invited Palmer to join him on the rink.
"You see, I am going to play hockey with the hockey fans. And I invite you to do the same," Putin said.
Putin's comments came shortly before Russian Foreign Minister Sergey Lavrov met with Mr. Trump at the White House. The Russian Foreign Ministry tweeted a photo showing Ambassador Sergei Kislyak present as well.
After the meeting with Lavrov, Mr. Trump ushered reporters into the Oval Office, where he was unexpectedly seated across from former Secretary of State Henry Kissinger.
"He was not doing a good job," Mr. Trump said of Comey when asked why he fired him. "Very simply, he was not doing a good job."
Mr. Trump's firing of Comey sent shock waves through Washington when news of the decision broke Tuesday evening. In a letter addressed to the FBI director, Mr. Trump wrote that Comey was terminated "effective immediately."
In a memo outlining the rationale for Comey's dismissal, Deputy Attorney General Rod Rosenstein faulted Comey for his handling of the investigation into Hillary Clinton's use of a private email server.
Congressional Democrats, however, immediately claimed Mr. Trump's firing of Comey was meant to blunt the FBI's investigation into Russian meddling in the 2016 campaign. They immediately reiterated calls for the appointment of a special prosecutor to investigate connections between Russian operatives and the Trump campaign.
Thanks for reading CBS NEWS.
Create your free account or log in
for more features.