Some Ferguson-related protests turn rowdy on Day 2
A day after the grand jury decision clearing Ferguson police officer Darren Wilson in the shooting death of Mike Brown, vast demonstrations by thousands of people stretched far beyond the small St. Louis suburb and included dramatic, and even dangerous incidents.
From New York, where protesters blocked a tunnel entrance to New Jersey, to smaller cities like Topeka, Kan., where they staged a protest on the state capital steps, the outrage was heated and consistent.
However, the protests remained largely peaceful.
NEW YORK
Thousands of people marched for a second night in Manhattan, gathering in Union Square before splitting into several smaller groups, chanting "No justice, No peace." Some held signs saying "Jail killer cops" and "Justice for Mike Brown."
One group marched uptown to Times Square, meandering between lanes of traffic as police followed.
The protesters, who seemed to grow in number as the night wore on, disrupted traffic on the FDR Drive and congregated at the entrances to the Williamsburg and Manhattan bridges and the Queens Midtown Tunnel.
Commissioner William Bratton said police were giving protesters "breathing room." "As long as they remain nonviolent, and as long as they don't engage in issues that cause fear or create vandalism, we will work with them to allow them to demonstrate," he said.
MINNEAPOLIS
Two rallies in the Twin Cities drew several hundred people on Tuesday. But a scary moment took place when a car struck one protester and then burst through a pack of other protesters when they quickly surrounded it.
Police said a woman suffered minor injuries and was taken to a hospital by ambulance. Footage from a KSTP-TV news helicopter appeared to show at least one person being driven over as the car left the scene near the city's 3rd Precinct police station.
The driver called police soon after to report the incident, and police spokesman John Elder said the incident was under investigation.
About 200 protesters later gathered on the state Capitol steps in St. Paul and marched without incident.
BOSTON
Several hundred people marched from Dudley Square in Boston's Roxbury neighborhood down Massachusetts Avenue to the South Bay area. State police blocked a ramp leading to Interstate 93 to prevent the group from attempting to go on the highway.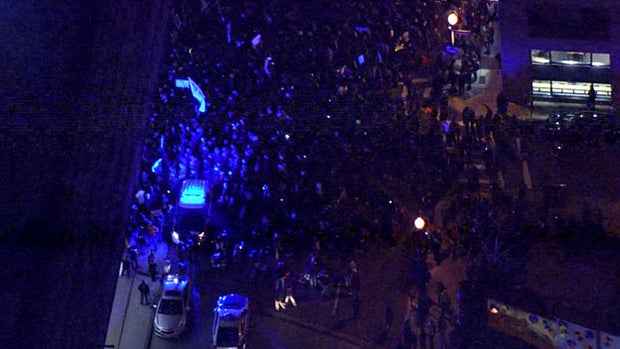 Earlier Tuesday, dozens of political, religious and community leaders in Boston signed on to a statement calling for unity and peaceful demonstrations in response to the grand jury's decision.
The statement released by Mayor Martin Walsh's office also called for a meaningful discussion of racial disparities that will lead to lasting change. Walsh and Massachusetts Gov.-elect Charlie Baker were among those who attended the forum.
ST. LOUIS
About 20 minutes away from Ferguson, protesters disrupted downtown traffic for several hours by blocking major intersections, an interstate highway and a Mississippi River bridge connecting the city to Illinois.
Riot police arrested several demonstrators who sat in the middle of Interstate 44 near the Edward Jones Dome. They used pepper spray to disperse the crowd.
Demonstrators also swarmed the steps of the federal courthouse, overturning barricades while chanting, "You didn't indict. We shall fight."
LOS ANGELES
Protesters flooded the U.S. 101 freeway Tuesday night, carrying barricades that they laid across lanes and bringing traffic to a halt.
Within a few minutes, Highway Patrol and LAPD officers chased the few dozen protesters off the freeway and corralled them on an overpass, where one of the barricades was thrown on to the freeway below.
There were no immediate reports of any arrests. The protesters had broken away from a larger, primarily peaceful group of hundreds who had marched for miles through city streets since mid-afternoon, converging on police headquarters.
OAKLAND
A group of protesters vandalized police cars and businesses in the city's downtown, smashing windows at car dealerships, restaurants, and convenience stores on a second night of protests.
The crowd briefly shut down two major freeways, and set several trash bins on fire across a major street before police in riot helmets forced them to disperse.
Police said protesters assaulted officers with rocks, bottles and other objects.
Several arrests were made.
In San Francisco, about 40 demonstrators holding signs that read "Arrest Darren Wilson" protested in the Mission District.
WASHINGTON
Thousands of people gathered in the nation's capital Tuesday for a march that began in Mount Vernon Square.
One group lay on the ground to stage a "die-in" in front of Metro police headquarters. The group planned to occupy various buildings in the district over 28 hours, which protesters say is the amount of time that elapses before a black male is shot by police.
SEATTLE
Hundreds of high school students walked out of classes and rallied at the University of Washington or marched to the downtown federal courthouse.
The protest came a day after demonstrators threw canned food, bottles and rocks, and police responded with pepper spray and flash-bang grenades. Five people were arrested. Demonstrators included the rapper Macklemore.
HOUSTON
About 100 demonstrators chanting demonstrators marched in the streets near the University of Houston campus.
The demonstrators marched along Martin Luther King Jr. Boulevard south of downtown Houston, occasionally blocking traffic along the busy street Tuesday afternoon. Police say that despite occasional traffic disruptions, the demonstration was peaceful.
CLEVELAND
Several hundred people marched down a freeway exit ramp to block rush-hour traffic while protesting the Missouri developments and Saturday's fatal shooting of a 12-year-old boy by an officer.
"The system wasn't made to protect us," said one of the protesters, 17-year-old Naesha Pierce, who stayed up until 3 a.m. watching television coverage from Ferguson. "To get justice, the people themselves have to be justice."
Police diverted traffic but took no action against the protesters as they sat in a major intersection.
They were demonstrating after the death of Tamir Rice, who was shot when police responded to a 911 call about a gun at a playground. Police later determined the boy had a pellet gun that looked like a real firearm.
CHICAGO
Dozens of Chicago protesters upset with developments in the Ferguson, Missouri, police shooting case spent hours camped out at the doors of Mayor Rahm Emanuel's office, chanting slogans demanding justice over what they describe as unjustified police violence against black youth in Chicago.
The demonstrators had planned to remain at City Hall throughout the day and overnight, but left the building when police warned that they would be arrested. They are holding teach-ins on political issues and healing circles for people to discuss experiences with violence in Chicago.
TOPEKA, Kan.
About 50 people holding signs turned up at the state Capitol in Topeka on Tuesday evening for a peaceful rally. A half-hour before the scheduled start, two protesters were shooed from the Statehouse steps and told they had to hold their rally on the sidewalk.
A similar number showed up at a Wichita church in response to the grand jury's decision Monday.
At the University of Kansas in Lawrence, more than 80 students, faculty and community members also protested the decision.
Thanks for reading CBS NEWS.
Create your free account or log in
for more features.