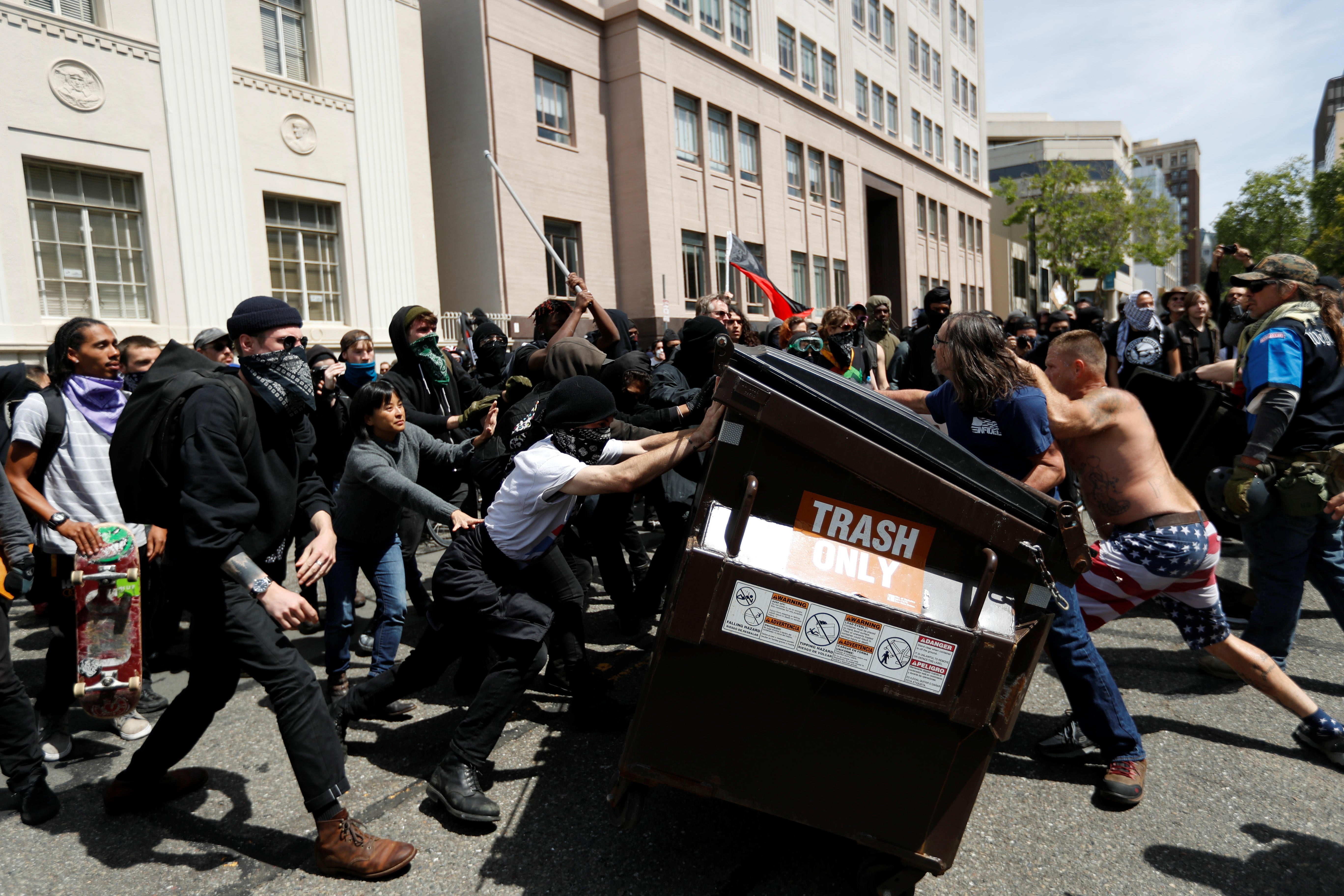 13 arrested as violence breaks out at dueling Trump protests in Berkeley
BERKELEY, Calif. -- Police in Berkeley, California, say 13 people have been arrested and knives and makeshift weapons confiscated after violence erupted at a park where factions that support and oppose President Trump gathered for Tax Day rallies.
Nearly 200 people were at Berkeley's Martin Luther King Jr. Civic Center Park when several people started pushing each other. Dozens of police officers in riot gear were standing nearby and quickly arrested one man.
By 4 p.m. PST, police said demonstrators left the park but are blocking several streets in the city's center.
Officials say officers have confiscated knives, flagpoles, helmets and sticks with signs on them, things that were being used as weapons.
Photographs of the scene published online show at least two men with bloodied faces.
In a statement, the Berkeley Police Department said that a large number of fights continued and that they are anticipating more arrests.
Trump supporters announced they were holding a "Patriot Day" at the park at noon. Counter-demonstrators then said they would hold a rally at the same place at 10 a.m.
Police put in a makeshift barrier of plastic orange poles and orange fence mesh to separate both sides, but that quickly came down as demonstrators started punching and kicking each other, while pepper spray and firecrackers were thrown to the crowd.
A Trump supporter was the first casualty of the day. He had blood streaming out of his face, CBS San Francisco reports.
"Well, they want to hit me with brass knuckles from my blind side, said John Beavers of Washington, his nose gushing blood.
"They hit me twice while I was down, it was sad," said David Fry, from the same state.
Then more fights broke out in front of the officers in Civic Center Park.
The San Francisco Chronicle reports that after the barriers was put back in place, demonstrators shouted at each other from a distance.
"You go back to the '60s," shouted a pro-Trump supporter.
"You go back to the 1400s," someone on the opposing side shouted back.
The rally follows a March 4 confrontation planned by several of the same groups that left several people injured and led to arrests.
In February, protesters threw rocks, broke windows and set fires outside the UC Berkeley student union building, where then-Breitbart News editor and provocateur Milo Yiannopoulos was set to speak. His presentation was cancelled.
Thanks for reading CBS NEWS.
Create your free account or log in
for more features.