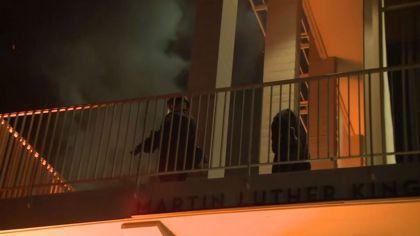 Milo Yiannopoulos event at UC Berkeley canceled after violent protests
BERKELEY, Calif. -- Protesters armed with bricks and fireworks mounted an assault on the building hosting a speech by the polarizing Breitbart News editor Milo Yiannopoulos Wednesday night, forcing the event's cancellation, CBS San Francisco reports
UC Berkeley spokesman Dan Mogulos says officials are advising the campus to shelter in place and to stay away from the student union building, where Yiannopoulos was scheduled to speak.
The Berkeley police tweeted that the campus was "on lockdown" due to the protests, and advised students to stay indoors.
With masked activists joining the already large group of protesters gathered in the area between Sather Gate and the north end of Telegraph Avenue as night fell, campus police were holding their positions near the entrance of the Martin Luther King Jr. Student Union building hosting the event.
As the gathered crowd got more agitated, masked "black bloc" activists began hurling projectiles including bricks, lit fireworks and rocks at the building and police.
Some used police barriers as battering rams to attack the doors of the venue, breaching at least one of the doors and entering the venue on the first floor.
In addition to fireworks being thrown up onto the second-floor balcony, fires were lit outside the venue, including one that engulfed a gas-powered portable floodlight.
The area on Upper Sproul Plaza grew thick with smoke, and later tear gas, as the protest intensified.
Hundreds of protesters were observed at Wednesday evening's event, CBS San Francisco reports. Over 2,100 people responded to a Facebook post that they would be attending.
Yiannopoulos was making the last stop of a tour aimed at defying what he calls an epidemic of political correctness on college campuses.
This is not the first time there has been violence at one of the events from the tour. A person was shot in the crowd outside Yiannopoulos' event in Seattle on Jan. 21. An event with Yiannopoulous and former pharmacy executive Martin Shkreli at UC Davis was canceled after protests.
Thanks for reading CBS NEWS.
Create your free account or log in
for more features.