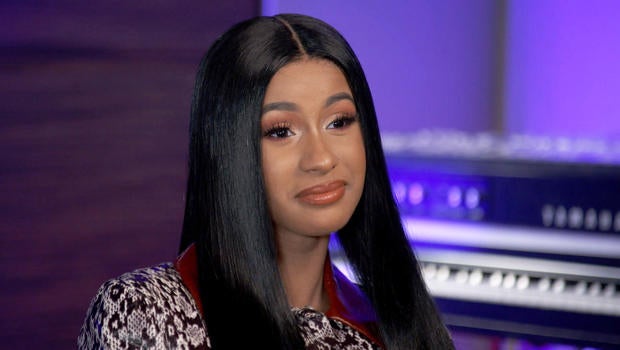 Preview: Grammy-nominee Cardi B says she's successful because people see her as "very reachable"
In a short time, Cardi B catapulted from being a relative unknown to the top of the Billboard charts and a household name – and now she's a Grammy Award-nominee. The 26-year-old rap star credits her success to being relatable to her fans, she said in an interview with Maurice DuBois for CBS' "Sunday Morning" to be broadcast December 9.
"I feel like people feel like I'm very reachable," she said.
In a wide-ranging interview, Cardi B talked with DuBois about her career, how she parlayed a job as an exotic dancer in New York to stardom, and her drive to succeed.
"You just gotta be yourself," she said. "I might say words, and the words are not even in the dictionary. But people still like it. Because you can tell that I'm saying it from the heart."
She agrees her music has to be solid as well. And today, it was announced that Cardi B received five Grammy Award nominations, including for Record of the Year (for "I Like It," featuring Bad Bunny and J Balvin). Her new album, "Invasion of Privacy," was nominated for both Album of the Year and Best Rap Album.
In this Sunday's profile, Cardi B and DuBois visit the New York grocery store where, as a college student, she worked while trying to make ends meet. It was there, after getting fired for being chronically late, the manager suggested she try out at a nearby strip club. She got hired on the spot, and soon found she could make as much money in a few hours as it took her a week to make at the store. Moreover, she learned to love the stage.
"I did gain, like, a passion and love to performing," Cardi B said. "It made me feel pretty."
She said she doesn't regret her time in the club: "I feel like it matured me. My biggest ambition was money. Because that's what these women put in my head. Nothing is important but the money."
She also opens up about her life on social media, her success and more.
"Sunday Morning," hosted by Jane Pauley, is broadcast on CBS Sundays beginning at 9:00 a.m. ET. Executive producer is Rand Morrison. "Sunday Morning" also streams on CBSN beginning at 9:30 a.m. ET and repeated at 1 p.m. ET, and is available on cbs.com, CBS All Access, and On Demand. You can also download the free "Sunday Morning" audio podcast at iTunes and at Play.it.
Be sure to follow us at cbssundaymorning.com, and on Twitter (@CBSSunday), Facebook, and Instagram (#CBSSundayMorning).
For more info:
Thanks for reading CBS NEWS.
Create your free account or log in
for more features.