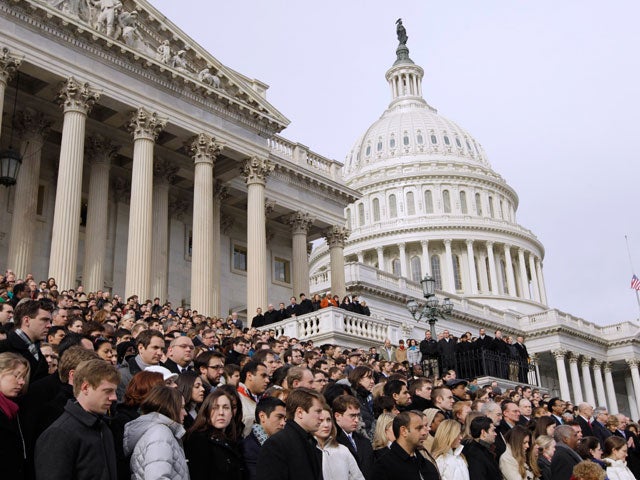 Poll: Most Americans Feel Rhetoric, Tucson Shooting Unrelated
CBS News Poll analysis by the CBS News Polling Unit: Sarah Dutton, Jennifer De Pinto, Fred Backus and Anthony Salvanto.
Nearly six in 10 Americans say the country's heated political rhetoric is not to blame for the Tucson shooting rampage that left six dead and critically wounded U.S. Rep. Gabrielle Giffords, according to a CBS News poll.
Giffords Remains Critical, but Doctors Hopeful
Pawlenty, Kennedy Knock Palin for Gun Imagery
Special Section: Tragedy in Tucson
In the wake of the shooting, much focus has been put on the harsh tone of politics in Washington and around the country, particularly after a contentious midterm election. Rhetoric and imagery from both Republicans and Democrats have included gun-related metaphors, but the majority of the country isn't connecting the shooting to politics.
The lone suspect in the attack, 22-year-old Jared Lee Loughner, had expressed in recent years a deep-seated distrust of the governmentand personal animosity toward Giffords, according to evidence collected by authorities, YouTube videos he made and accounts from former acquaintances.
Overall, 57 percent of respondents said the harsh political tone had nothing to do with the shooting, compared to 32 percent who felt it did. Republicans were more likely to feel the two were unrelated - 69 percent said rhetoric was not to blame; 19 percent said it played a part. Democrats were more split on the issue - 49 percent saw no connection; 42 percent said there was.
Independents more closely reflected the overall breakdown - 56 percent said rhetoric had nothing to do with the attack; 33 percent felt it did.
The telephone poll was conducted Jan 9-10 among 673 adults across the country. The margin of error is +/- 4 percent.
Poll: 45% Say Politics Motivated Jared Loughner
Poll: In the Wake of Arizona Shootings, Americans Split on Gun Control
Read the Complete Poll
---
This poll was conducted by telephone on January 9-10, 2011 among 673 adults nationwide first interviewed by CBS News December 17-20, 2010. Phone numbers were dialed from samples of both standard land-line and cell phones. The error due to sampling for results based on the entire sample could be plus or minus four percentage points. The error for subgroups is higher. This poll release conforms to the Standards of Disclosure of the National Council on Public Poll.
Thanks for reading CBS NEWS.
Create your free account or log in
for more features.