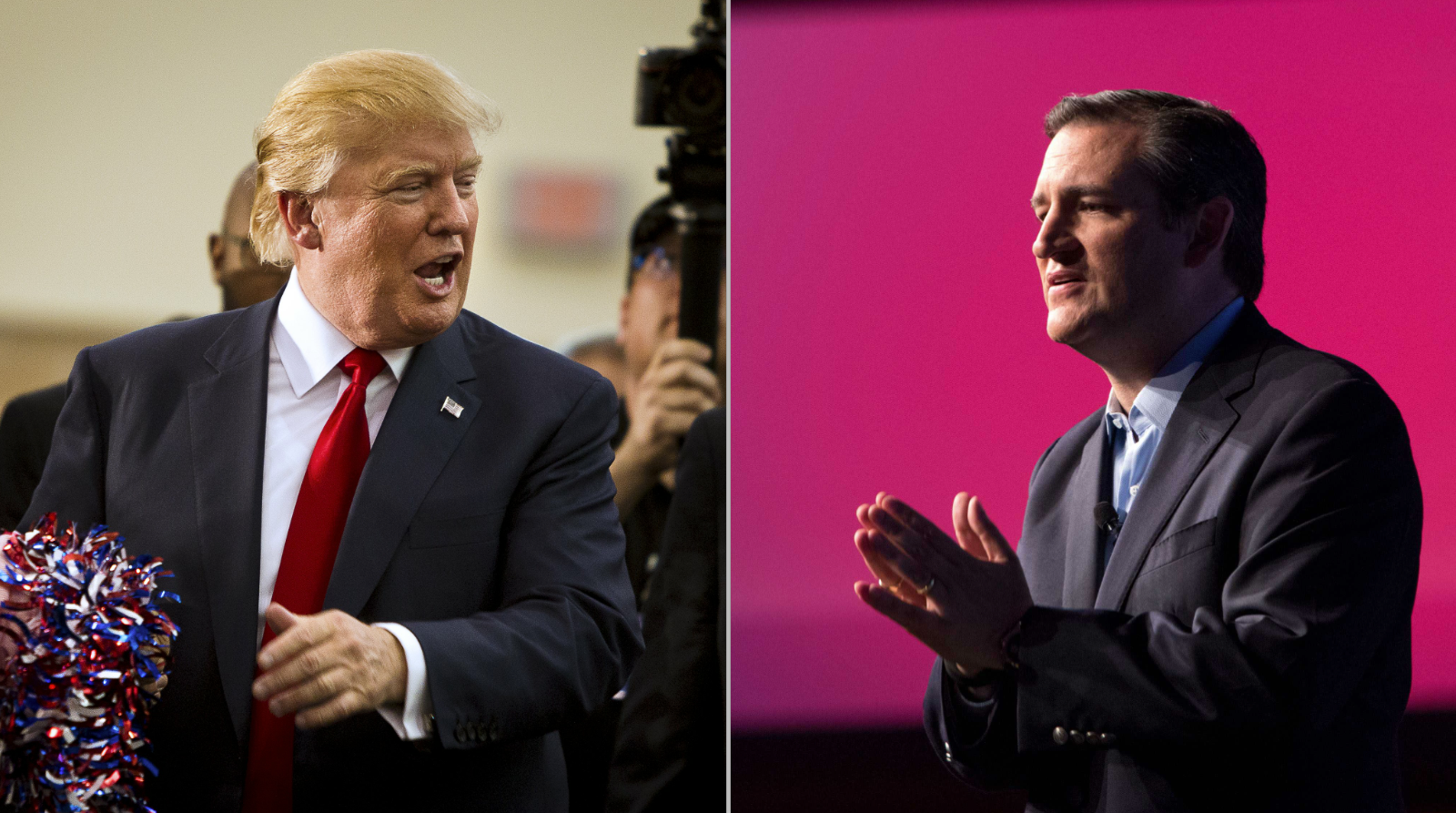 Poll: Donald Trump back on top, with Ted Cruz climbing into second
By Anthony Salvanto, Jennifer De Pinto, Sarah Dutton and Fred Backus
The Republican Race
Thirty-five percent of Republican primary voters support Trump, up 13 points since October, and his highest level of support in CBS News polling. Ted Cruz (16 percent) has moved into second place, while Ben Carson, who led the October poll, has dropped to third.
Marco Rubio is in fourth place with 9 percent. Jeb Bush is getting the backing of just 3 percent of Republican primary voters nationwide, his lowest percentage to date in CBS News polling. Carly Fiorina's support has also dropped; she is at just 1 percent now.
Most of the interviews for this poll were conducted before Trump made statements concerning a ban on Muslims entering the United States.
Trump voters continue to be more firm in their support. Fifty-one percent of his backers say their minds are made up about him, compared to just a quarter of voters who support a candidate other than Trump.
Trump leads among both men and women. He has more than a 20-point lead among non-college graduates (and a smaller lead among those with a college degree).
But Cruz has made inroads with evangelicals. Carson led with this group in October, but now Cruz and Trump are running neck and neck among them; the two candidates are also close among very conservative Republicans.
The Democratic Race
Hillary Clinton continues to lead Bernie Sanders by 20 points: she receives 52 percent of Democratic primary voters' support, while Sanders gets 32 percent. Just 2 percent support Martin O'Malley.
Clinton leads among many voter groups - men, women, liberals, moderates, non-whites and voters over age 45. But Sanders performs better with voters under 45 and independents.
As the first nominating contests grow closer, Clinton's supporters are firmer in their choice (58 percent) than Bernie Sanders' supporters (47 percent).
Voter Enthusiasm
Most registered voters nationwide are paying attention to the presidential campaign and about two-thirds are at least somewhat enthusiastic about voting in 2016, but there is a partisan enthusiasm gap: Republican primary voters are more enthusiastic about voting than those who plan to vote in a Democratic primary.
Looking Past November 2016
While the general election is nearly a year away, the poll asked registered voters nationwide how they would feel if each of the party's current front runners became president. Neither is met with a lot of enthusiasm, but there is somewhat more anxiety about a Trump presidency (64 percent) than a Clinton one (57 percent).
Perhaps not surprisingly, views differ greatly by political party. Seventy-six percent of Democrats would be either excited or optimistic if Hillary Clinton became president, while most would be skeptical about the prospect of a Donald Trump presidency, including 63 percent who say they would be scared.
Republican voters hold contrasting views: sixty-six percent would be excited or optimistic if Donald Trump were to be elected president, but most would be concerned or scared if Clinton won the White House.
Independent voters, a key voting bloc, are not especially enthusiastic about either a Clinton or a Trump in the White House, but more are concerned or scared about Trump (67 percent) than they are about Clinton (59 percent).
---
This poll was conducted by telephone December 4-8, 2015 among a random sample of 1,275 adults nationwide, including 1,053 registered voters. Data collection was conducted on behalf of CBS News and the New York Times by SSRS of Media, PA. Phone numbers were dialed from samples of both standard land-line and cell phones.
The poll employed a random digit dial methodology. For the landline sample, a respondent was randomly selected from all adults in the household. For the cell sample, interviews were conducted with the person who answered the phone.
Interviews were conducted in English and Spanish using live interviewers.
The data have been weighted to reflect U.S. Census figures on demographic variables.
The error due to sampling for results based on the entire sample could be plus or minus three percentage points, and four points for the sample of registered voters. The error for subgroups may be higher and is available by request. The margin of error includes the effects of standard weighting procedures which enlarge sampling error slightly.
The margin of error for the sample of 431 Republican primary voters is 6 percentage points. For the sample of 384 Democratic primary voters the margin of error is 6 percentage points.
This poll release conforms to the Standards of Disclosure of the National Council on Public Polls.
Thanks for reading CBS NEWS.
Create your free account or log in
for more features.