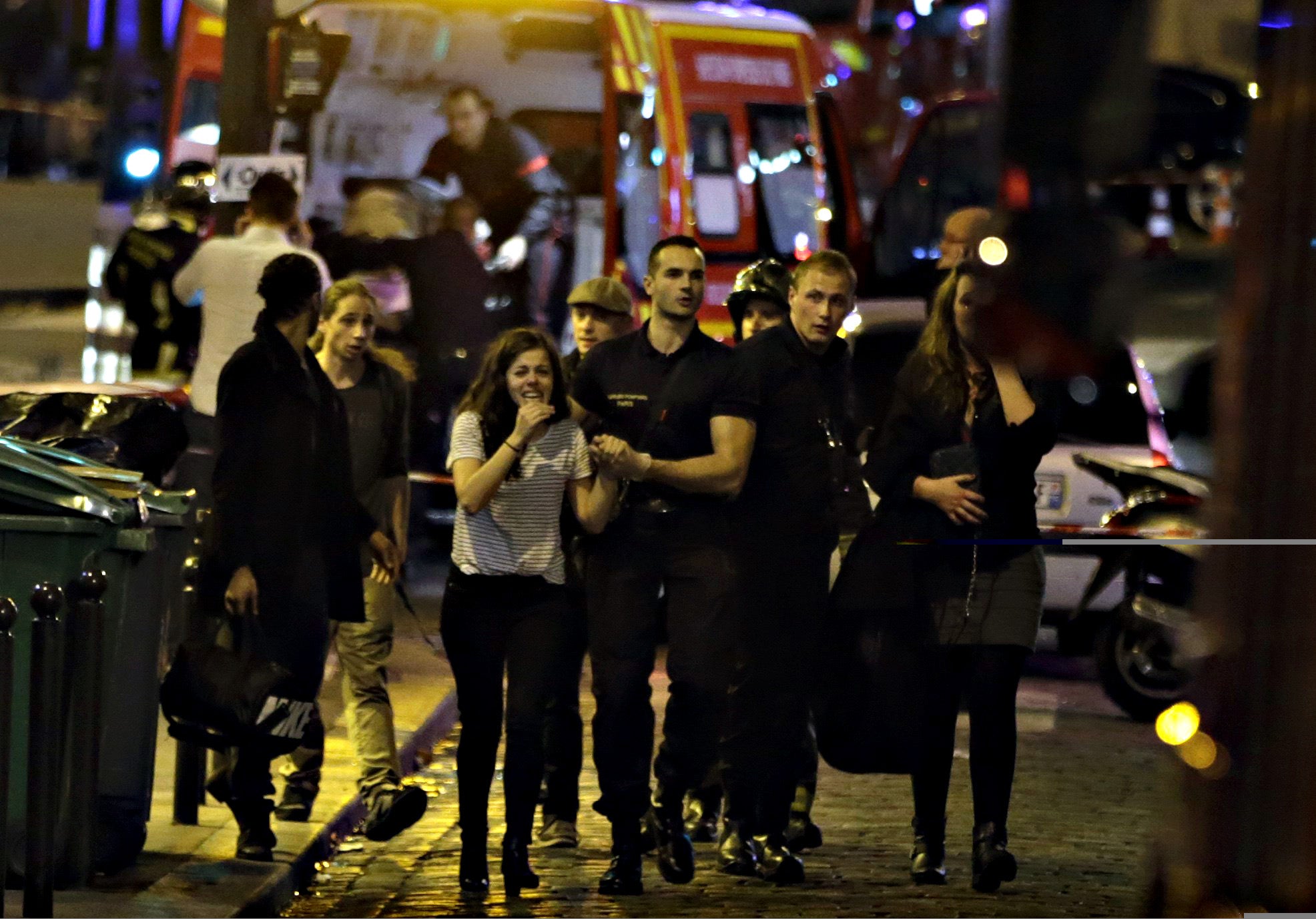 Poll: Concerns about terrorist attack in U.S. rise
By Anthony Salvanto, Jennifer De Pinto, Sarah Dutton and Fred Backus
Concerns About an Attack
In the wake of the terrorist attacks in Paris, Beirut and Mali, more Americans are now concerned about a terrorist attack here in the United States. 69 percent think an attack in the U.S. is very or somewhat likely to occur in the next few months, up 25 points from April, and the highest since May 2011 after the killing of Osama bin Laden.
The majority who think a terror attack is likely includes 28 percent of Americans who now say an attack is "very likely;" that figure is the highest it's been since February 2003 (35 percent), when the U.S. was on high terror alert just before the start of the U.S. invasion of Iraq.
Historically, CBS News polling has found Americans' expectations of a terrorist attack have sometimes risen after terror-related events. After the Boston Marathon bombing in 2013, concerns about an attack grew, as they did a few years earlier in January 2010, soon after the "underwear bomber" attempted to detonate a bomb aboard an airplane. 88 percent thought another terrorist attack was likely after the attacks of September 11th, 2001. And throughout much of 2002 and 2003, the U.S. was on heightened state of alert.
Meanwhile, most Americans are not very concerned about a terrorist attack in the area where they live -- but a quarter (25 percent) is very concerned, up from the spring and the highest it has been since the summer of 2006.
Once a strong point of his presidency, approval of how President Obama is handling the threat of terrorism has dropped to an all-time low. Now just 36 percent of Americans approve of his handling of terrorism - a six-point drop from August and 36 percentage points below his all-time high of 72 percent recorded just after the killing of Osama bin Laden. Fifty-six percent now disapprove of his handling of terrorism - a record high.
More now see terrorism as a pressing issue for the country. In an open-ended question, 14 percent of Americans say terrorism is the most important problem facing the county, up from only 2 percent in a CBS News Poll conducted just two weeks ago. Islamic extremists and ISIS are now in third place (8 percent), followed by immigration (6 percent).
The U.S. Government's Efforts Fighting Terrorism
While President Barack Obama's approval rating on handling terrorism has taken a hit, 63 percent of Americans have at least a fair amount of confidence in the federal government's ability to protect its citizens from terrorism (but just 21 percent have a great deal of confidence). These evaluations are similar to what they were earlier this year.
Democrats (77 percent) and independents (60 percent) are more confident in the government's ability to protect the country from terrorism than Republicans (49 percent).
Amid the recent acts of terrorism overseas, concerns about restriction of civil liberties in the fight against terrorism have lessened some. For the first time in CBS News Polls, Americans are now more concerned that the government will fail to enact strong anti-terrorism laws (46 percent) than they are about the government restricting civil liberties (40 percent).
At the same time, some concerns about personal privacy remain. More than half of Americans (54 percent) express at least some concern about losing their privacy as a result of steps taken by the federal government to fight terrorism, but concerns have dipped slightly since last year and from June 2013, soon after the disclosure of U.S. surveillance programs involving the collection of Americans' phone records.
Americans across party lines express similar levels of privacy concerns.
Syrian Refugees
As large numbers of Syrians flee the violence in their country, Americans are split on whether the U.S. should allow Syrian refugees into the country. Forty-seven percent say they should be allowed to enter as long as they go through a screening process, while 50 percent say they should not be allowed to come to the U.S. at this time.
There is a stark partisan divide on this: most Republicans (68 percent) say Syrian refugees should not be allowed into the country at this time, while most Democrats (63 percent) think they should be allowed.
However, there is widespread agreement on a stricter screening process for Syrian refugees. Nearly eight in 10 Americans (78 percent) - including majorities across party lines -- say it is necessary for Syrian refugees to go through a stricter security process than they do now.
Most Americans (67 percent) think allowing Syrian refugees into the U.S. poses a security threat to the U.S.: 45 percent say it is a major threat, while 22 percent think it is a minor threat. Republicans (45 percent) are more likely to view allowing Syrian refugees into the United States as a major threat to U.S. security.
The President
President Obama's overall approval rating is now at 42 percent. While his approval among Democrats is 71 percent, just 14 percent of Republicans approve. Among independents, more disapprove (47 percent) than approve (37 percent).
On specific measures, more Americans disapprove than approve of President Obama's handling of the economy and foreign policy, and 59 percent disapprove of his handling of the situation with ISIS militants in Syria and Iraq - a new high.
Just 23 percent of Americans think President Obama has a clear plan for dealing with ISIS, the lowest number yet recorded in the CBS Poll. Two-thirds do not think he has a clear plan - a record high.
The Fight Against ISIS
In considering military options in the fight against ISIS, three in four Americans continue to favor airstrikes against ISIS militants in Iraq and Syria. Half now favor sending in U.S. ground troops, an increase from August.
Most Americans think ground troops will be necessary to remove the threat from ISIS militants; just one in five (20 percent) thinks the threat from ISIS can be removed using airstrikes alone. Majorities of Republicans (73 percent), Democrats (59 percent), and independents (60 percent) think ground troops will be necessary.
But there is less agreement about what the U.S. role should be in leading the fight against ISIS. While 44 percent of Americans think the United States should take the leading role among all other countries against ISIS militants, more - 50 percent - do not. Republicans and Democrats hold different views on this - while 58 percent Republicans think the U.S. should take the lead role, an equal ratio of Democrats -- 60 percent -- do not.
And most Americans regardless of political affiliation show at least some concern that U.S. intervention in Iraq and Syria will lead to a long and costly involvement. About eight in 10 Republicans and independents and nine in 10 Democrats are at least somewhat concerned.
By a two to one margin, Americans think the fight against ISIS is going badly. Just 29 percent think it is going well - an increase from two weeks ago but similar to what has been recorded over the past year.
Views of Islam
As they have for years, Americans continue to have net negative views of the Islam religion. Twenty-six percent have at least a somewhat favorable impression of Islam, while more - 37 percent - view the religion unfavorably. Twenty-eight percent haven't heard enough to say. Opinions of the Islam religion haven't changed much from two years ago, when CBS News last asked the question soon after the Boston Marathon bombing.
The CBS News Poll began asking about views of Islam in 2002. Back then, 30 percent viewed the religion favorably, it dipped just below 20 percent in 2006 and 2007 (hitting a low of 15 percent in 2007) and rose again to 30 percent in 2011.
---
This poll was conducted by telephone November 19-22, 2015 among a random sample of 1,205 adults nationwide. Data collection was conducted on behalf of CBS News by SSRS of Media, PA. Phone numbers were dialed from samples of both standard land-line and cell phones.
The poll employed a random digit dial methodology. For the landline sample, a respondent was randomly selected from all adults in the household. For the cell sample, interviews were conducted with the person who answered the phone.
Interviews were conducted in English and Spanish using live interviewers.
The data have been weighted to reflect U.S. Census figures on demographic variables.
The error due to sampling for results based on the entire sample could be plus or minus three percentage points. The error for subgroups may be higher and is available by request. The margin of error includes the effects of standard weighting procedures which enlarge sampling error slightly.
This poll release conforms to the Standards of Disclosure of the National Council on Public Polls.
Thanks for reading CBS NEWS.
Create your free account or log in
for more features.