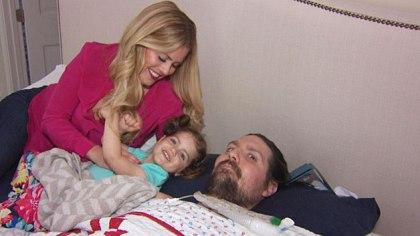 Pete Frates, Ice Bucket Challenge inspiration, struggling financially
BEVERLY, Mass. -- He's credited with raising more than $250 million through the ALS Ice Bucket Challenge. Now 32-year-old Pete Frates, who is still fighting for his life, is also fighting to stay with his family at home.
The Frates family spoke candidly with CBS Boston about the overwhelming financial burden resulting from 24-hour home health care for Pete.
Pete's father, John, says the family faces medical bills of anywhere between $85,000-$95,000 per month.
"Any family would be broke because of this," John said. "After two-and-a-half years of this type of expense, it's become absolutely unsustainable for us. We can't afford it."
Pete is on life support at home. His bedroom has been turned into an intensive care unit, with his daughter and wife by his side.
The family says Pete's wife, Julie, and 2-year-old daughter are what gives him the will to keep fighting. The thought of putting him into a facility away from family is not an option.
When Pete was first diagnosed with ALS, the Frates family made a promise to keep him in the home no matter what. But now that the cost has reached $3,000 per day, the family is reaching out for help.
Longtime family friend and philanthropist Rob Griffin has teamed up with the Frates family and ALS with a new initiative to help raise money specifically for families like the Frateses. The goal is to raise $1 million through the Home Health Care Initiative.
"We hope to start an initiative to help the Frates family and all families that are going through that and hope it takes off on a national basis," Griffin said. "We're trying to kick it off here in Boston."
"Our goal is to raise money to be really impactful for perhaps a few patients each year. It's not like our normal programs where we try to help every single patient in Massachusetts," added ALS Association Executive Director of Massachusetts Lynn Aaronson.
A fundraiser will be held on June 5 in Boston for the former Boston College star athlete.
For more information on the Home Health Care Initiative, including how to donate, visit PeteFrates.com.
Thanks for reading CBS NEWS.
Create your free account or log in
for more features.