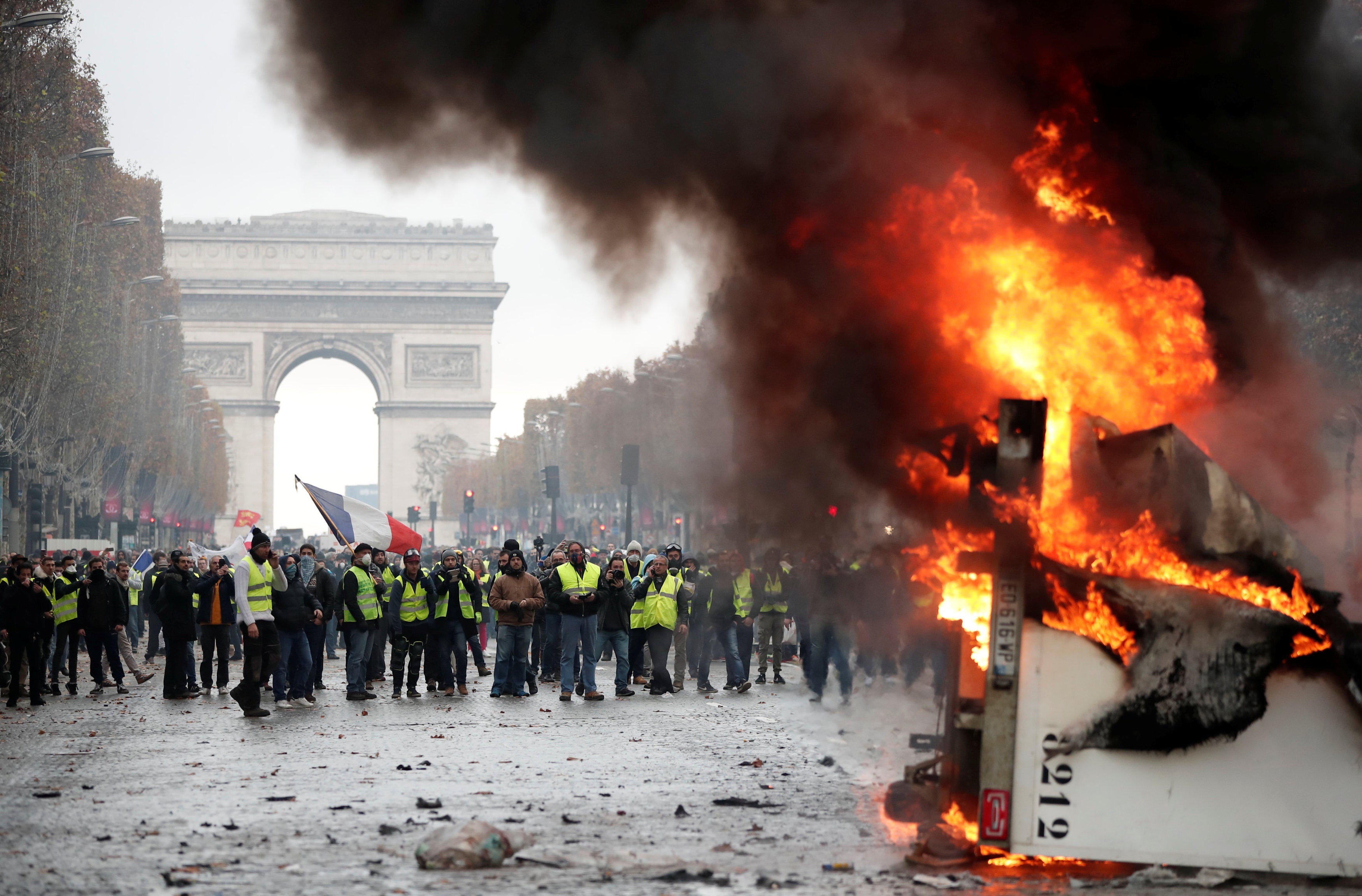 Police fire tear gas and water cannons to disperse protesters in Paris
PARIS -- French police fired tear gas and water cannons to disperse demonstrators in Paris on Saturday as thousands gathered in the capital and staged road blockades across the nation to vent anger against rising fuel taxes and Emmanuel Macron's presidency.
Thousands of police were deployed nationwide to contain the deadly demonstrations that started as protests against tax but morphed into a rebuke of Macron and the perceived elitism of France's ruling class. Two people have been killed since November 17 in protest-related tragedies.
Tense clashes on the Champs-Elysees on Saturday saw police face off with demonstrators who burned plywood, wielded placards reading "Death to Taxes" and upturned a large vehicle. Authorities said that 5,000 protesters flooded the Champs-Elysees at the demonstration's peak. There were nearly 81,000 protesters in total nationwide.
The famed avenue was speckled from the early morning in neon, owing to the color of the vests the myriad self-styled "yellow jacket" protesters don. French drivers are required to keep neon security vests in their vehicles, and now, the vests have become a sort of uniform for the movement against higher fuel costs, BBC News reported.
Over the past 12 months, the cost of diesel, which is the most common type of fuel used in vehicles in France, has spiked by around 23 percent to an average of €1.51 -- the equivalent of $1.71 a liter, according to the BBC.
This year, Macron's government raised its hydrocarbon tax on diesel by 7.6 cents per liter, while the tax on petrol climbed 3.9 cents. An additional increase set to go into effect on January 1 would see an increase of 6.5 cents for diesel and 2.9 cents for petrol.
Macron has insisted that the fuel tax rises are a necessary pain to reduce France's dependence on fossil fuels and fund renewable energy investments, which is a cornerstone of his reforms of the nation.
The unrest, however, is proving a major challenge for embattled Macron, who's suffering in the polls and is the focus of rage for the demonstrators, who accuse the pro-business centrist of indifference to the struggles of ordinary French.
Authorities are struggling because the movement has no clear leader and has attracted a motley group of people with broadly varying demands.
At least eight people, including two police officers, were injured in the day of unrest Saturday across France, according to authorities. Police said that dozens of protesters were arrested or detained in Paris for "throwing projectiles," among other acts.
"It's going to trigger a civil war and me, like most other citizens, we're all ready," said Benjamin Vrignaud, a 21-year-old protester from Chartres.
Demonstrators in Paris faced metal barriers and a perimeter enforced by police that sought to stop them from getting to buildings such as the prime minister's official residence, according to the BBC.
Last weekend, about 280,000 people took part in demonstrations at over 2,000 locations across France. Two people died, more than 600 were injured and at least 50 were arrested, the BBC reported.
Thanks for reading CBS NEWS.
Create your free account or log in
for more features.