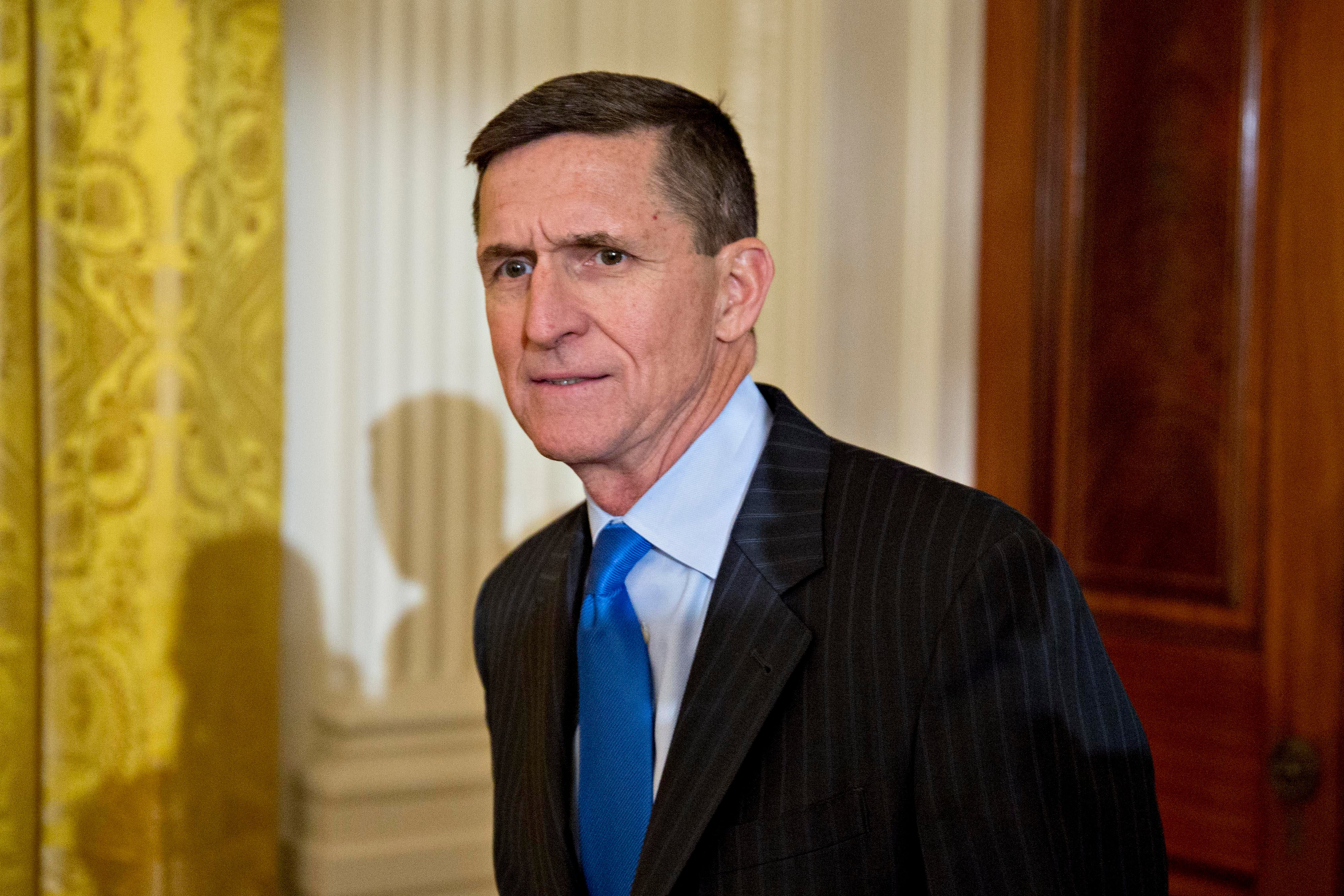 Oversight committee: Flynn investigation to be launched by DOD inspector general
The ranking member of the House Oversight Committee said he doesn't understand why the White House is "covering up for Michael Flynn" after President Trump fired him.
At a Thursday morning press conference with members of the House and Senate, Rep. Elijah Cummings, D-Maryland, said that the office of the Defense Department inspector general will be launching its own investigation into former National Security Adviser Michael Flynn's dealings with the Russian government, specifically his apparent failure to disclose payments by a foreign source.
"General Flynn's attorney says he discussed his trip to Moscow with the DIA (Defense Intelligence Agency), but we have no evidence, not a shred, that he disclosed his payments which is what he emoluments clause is all about, from RT, the Kremlin-backed propaganda outlet. And we have no evidence -- zilch -- that he obtained permission from the secretary of the Army and secretary of State to accept any foreign government payments as required by law," said Cummings.
"[The White House] should be bending over backwards to help us. It does not make any sense, and it makes the American people think the White House has something to hide," he said. "Here is a paper trail that the White House does not want our committee to follow, but let it be known we will follow it and we will follow it with everything we got."
At Thursday's briefing, White House Press Secretary Sean Spicer said he felt it was "appropriate" for the Inspector General to look into "any wrongdoing."
But when asked about the details surrounding Flynn's initial security clearance, Spicer placed blame on the Obama White House.
"The issue is he was issued a security clearance under the Obama administration in the spring of 2016, the trip and transactions that you're referring to occurred in December of 2015 from what I understand, so obviously there's an issue that the Department of Defense Inspector General is looking into, we welcome that, but all of that clearance was made under the Obama administration and apparently with knowledge of the trip that he took," said Spicer
Spicer added that he felt the president made the "right call at the right time and clearly it's paid off" in regards to Flynn's departure from the Trump White House.
When asked if he had any regrets about Flynn during a memorandum signing at the White House on Thursday, Mr. Trump paused and dodged the line of questioning.
Earlier this week, House Oversight Chairman Rep Jason Chaffetz, R-Utah, told reporters that Flynn "had a duty and obligation to seek and obtain permission to receive money from foreign governments prior to any engagement with them." Chaffetz has left Washington for a few weeks while he undergoes emergency surgery on his foot.
Cummings released two other letters including one sent directly to Gen. Flynn on October 8th, 2014 from the Office of General Counsel at the DIA.
"This letter explicitly warned General Flynn as he entered retirement that the Constitution prohibited him from accepting any foreign government payments without advanced permission," Cummings said, adding, "The Pentagon's warning to Gen. Flynn was bold, italicized and could not have been clearer."
The other letter, sent to the House Oversight Committee on April 7, 2017, counters suggestions made by Flynn's attorney on Tuesday that Flynn followed the appropriate procedures when he accepted foreign funds for his trip to Moscow in 2015 and dined with Russian President Vladmir Putin.
The letter stated that "DIA did not locate any records referring or relating to Lt. Gen. Flynn's receipt of money from a foreign source," and that the agency could "not locate any records of Lt. Gen. Flynn seeking permission or approval for the receipt of money from a foreign source."
Sen. Richard Blumenthal, D-Connecticut, echoed Cummings sentiments, saying that the "evidence is powerful in showing Gen. Flynn broke significant criminal laws," and that they all testify to a "flagrant violation of federal criminal statute that must be investigated and prosecuted."
Flynn's lawyers responded to Cummings in a statement, saying that they "respectfully disagree" with the April 7th letter from the DIA to the Oversight committee.
"DIA's letter actually confirms, in a terse section that is partly redacted, that General Flynn provided information and documents on a thumb drive to the Department of Defense concerning the RT speaking event in Moscow, including documents reflecting that he was using a speakers bureau for the event. General Flynn provided two briefings to the Department -- one before and one after the event. The Department was fully aware of the trip," wrote Robert Kelner, Counsel to General Mike Flynn.
The statement called for the full, un-redacted release of the letter.
Thanks for reading CBS NEWS.
Create your free account or log in
for more features.