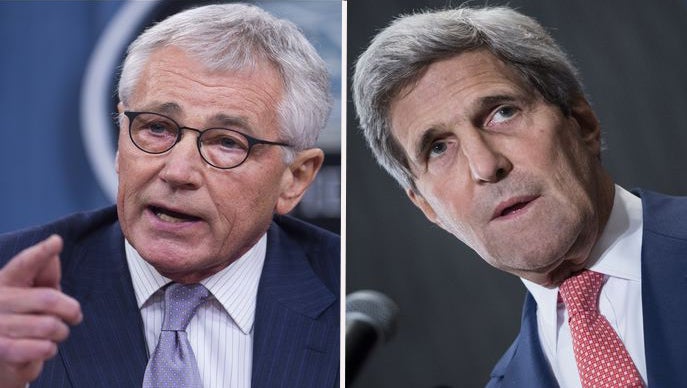 Obama's ISIS plan faces a grilling from all sides
Congress has a critical week ahead as it prepares to debate President Obama's request to train and equip moderate Syrian rebels in the fight against the Islamic State of Iraq and Syria (ISIS).
The leaders in both chambers have been largely supportive of what the president wants, although there's dissension within the ranks among both Democrats and Republicans. And with the clock ticking to yet another congressional break next week, there's little time for the administration to rally more support for the authorization Mr. Obama is seeking, as well as his overall strategy.
That task will fall to Secretary of State John Kerry and Secretary of Defense Chuck Hagel, who head to Capitol Hill this week to answer lawmakers' questions for three days of grilling before four different congressional committees.
"[Kerry] needs to tell us what the goals are, what the plans are, why this can work with no boots on the ground," Rep. Eliot Engel, the top Democrat on the House Foreign Affairs Committee, told CBS News.
"I think there's just a general skepticism as to why this would work, as to why this is different, as to why this wouldn't just be mission creep where we would wind up with boots on the ground. There are all good reasons to give to that."
Though Engel, whose committee hears from Kerry on Thursday, expressed confidence that there are good answers to the questions Kerry will face, skepticism is a broad theme among members of Congress these days when it comes to the president's strategy.
Even House Speaker John Boehner, R-Ohio, who said he believes Congress should approve Mr. Obama's request, said after the president's speech last Wednesday that he remains concerned the plans to equip Iraqi and Syrian forces could take years to implement.
Moreover, he told reporters last week, many House Republicans "don't feel like the campaign that was outlined ... will accomplish the mission that the president says."
Though the administration sent top officials to brief members of Congress on the president's plans last week, Hagel and Joint Chiefs of Staff Chairman Gen. Martin Dempsey, who is also testifying before the Senate Armed Services Committee Tuesday, will likely be asked to provide more details.
Sen. Roger Wicker, a Mississippi Republican on the Armed Services Committee took to the Senate floor with his laundry list of questions for the administration: "How long will it take to win? How long will it take to crush ISIS? ... What is the definition of victory in this case? If we accomplish our objectives, will we once again abandon our gains as we did after the scourge in Iraq? What is the plan to eliminate the terrorist group's financial network?"
The questions won't just come from Republicans. At least two Democrats on the Armed Services Committee, Sens. Joe Manchin of West Virginia and Kirsten Gillibrand of New York, have expressed skepticism about the president's proposal to arm moderate Syrian rebels.
Manchin said after the president's speech that he would be "cautious" about arming anyone in the region because he remains unconvinced "that they can identify friend or foe in that part of the world right now." He said the arms could be used against the U.S.
And in an interview on CBS News' "Face the Nation" Sunday, Gillibrand said she didn't believe arming the rebels "is necessarily going to be productive," pointing to the speed at which ISIS was able to neutralize Iraqi Security Forces the U.S. had helped train.
Kerry, fresh off a trip to the Middle East and Europe to help build a coalition of nations to tackle ISIS, has been tight-lipped about what various countries have offered to do until the "whole package" is ready, as he says. He may face frustrated lawmakers who want more details at the hearings.
He will also have to defend the administration's refusal to put combat troops on the ground in Syria, as well as the decision to decline offers of ground troops from other nations in the region.
"There are some who have offered to do so. But we are not looking for that, at this moment anyway," Kerry said in an interview on "Face the Nation" Sunday.
One Republican, House Homeland Security Committee Chairman Mike McCaul, said in a separate "Face the Nation" interview Sunday that was "unwise." Recalling a meeting two days ago in which Jordanian Prince Feisal Bin Al-Hussein said he is ready to send his own troops into Syria to fight ISIS, McCaul said, "I don't know why we wouldn't consider that option."
McCaul, who is also a member of the House Foreign Affairs Committee, will come face to face with Kerry again Thursday. So will Engel, who told CBS News, "one of the alternatives I would look at is boots on the ground from the Arab countries" before there is a discussion about putting American troops in combat.
Other lawmakers will push the secretaries to use American troops. House Armed Services Committee Chairman Buck McKeon, R-California, laid out his own strategy to combat ISIS.
"There's no way around it; American boots will be standing on sand. Americans will be shot at, and they will be shooting back. There's simply no other way to do this," he said during a speech to the American Enterprise Institute last week.
And Sen. Lindsey Graham, R-South Carolina, a member of the Senate Armed Services Committee, said on "Fox News Sunday", "There is no way in hell you can form an army on the ground to go into Syria, to destroy [ISIS] without a substantial American component."
Bill Galston, a senior fellow at the Brookings Institution, said the hearings offer Kerry and Hagel an opportunity to win over more of the administration's critics if they can offer new and thoughtful information.
"Kerry and Hagel can have an impact on the debate if, and this is a big if, they are prepared to provide the members of these committees with evidence and considerations that Congress has not previously been apprised of or has not previously considered or deliberated," he told CBS News.
"If they come up there and deliver boilerplate and don't have thoughtful answers to the hard questions, and there will be many hard questions, they will forfeit what I regard as an opportunity to influence the debate."
Thanks for reading CBS NEWS.
Create your free account or log in
for more features.