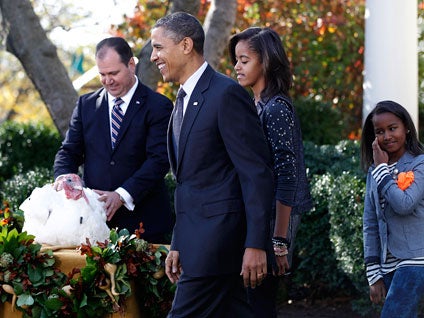 Obama Turkey Pardon: "It Feels Pretty Good to Stop at Least One Shellacking this November"
Updated 12:19 p.m. Eastern Time
President Obama on Wednesday morning pardoned a pair of turkeys - Apple and "feathered understudy" Cider - quipping that "it feels pretty good to stop at least one shellacking this November."
The reference, of course, was to the Democrats' midterm election losses that he earlier this month dubbed a shellacking.
Flanked by daughters Malia and Sasha in the Rose Garden, Mr. Obama jokingly called the turkey pardon "one of the most important duties that I carry out as president." He discussed the process for selecting the turkeys earning a presidential pardon, which involves contestants "strutting their stuff" before judges as music plays.
"It's kind of like a turkey version of 'Dancing With the Stars,' except the stakes for the contestants was much higher," said the president."Only one pair would survive and win the big prize: life."

Mr. Obama maintained a lighthearted tone throughout the proceedings, at one point laughing at the notion that the turkeys had been staying at the W Hotel in Washington.
"The W Hotel's really putting them up? It's great advertising," he joked to audience laughter. "It makes you want to stay at the W."
The two pardoned turkeys will spend the rest of their lives at Mount Vernon, George Washington's estate near Alexandria, Virginia. Two less lucky turkeys, Mr. Obama noted, would be given by the first family later today to Martha's Table, a charity that feeds the homeless.
While turkeys have been coming to the White House for more than 50 years, they have only been pardoned for the last couple decades. Mr. Obama noted that both Presidents Eisenhower and Johnson ate the turkeys presented to them, while President Kennedy's turkey came with a sign that said, "Good Eatin', Mr. President" around its neck. Last year, Mr. Obama suggested he was reluctant to pardon the turkey, quipping that he "was planning to eat this sucker" before his daughters intervened.
(Check out CBS News White House correspondent Mark Knoller's history of the presidential turkey pardon here, and CBS News correspondent John Blackstone's related report on the pardon above. You can also watch Knoller talk turkey pardon here.)
Mr. Obama spent a portion of his speech addressing Thanksgiving , calling it "a holiday that asks us to be thankful for what we have, and generous to those who have less." He said it was an opportunity to spend time with family and think about those in need, calling on Americans to take "some time during this holiday season to give back."
He also thanked members of the U.S. military, saying, "You and your families are in our thoughts and in our prayers and you make me so very proud to be your commander in chief."
The pardon itself came toward the end of Mr. Obama's remarks.
"As president of the United States," he told the turkeys, "you are hereby pardoned from the thanksgiving dinner table. May you have a wonderful and joyful life at Mt. Vernon." (It should be noted that while the president doesn't mind pardoning turkeys, he has yet to pardon any actual people.)

Apple made a contented-sounding noise following the pardon, which Mr. Obama was quick to note. He and his children then approached the turkey; the president petted Apple on the back of the head, but Malia and Sasha declined to do so.
The president then asked, "Can somebody explain to me what the whole wattle is about?" Told that the wattle allows the birds to dissipate heat, he commented, "I guess we're glad we have sweat glands."
The president walked away from Apple soon after that, telling the turkey, "All right, have a good life, man." He then shook hands with members of the crowd. Heading back into the White House with a wave as the event ended, he told those assembled, "Happy Thanksgiving, everybody. Happy Thanksgiving."
---
Brian Montopoli is senior political reporter for CBSNews.com. You can read more of his posts here. Follow Hotsheet on Facebook and Twitter.
Thanks for reading CBS NEWS.
Create your free account or log in
for more features.