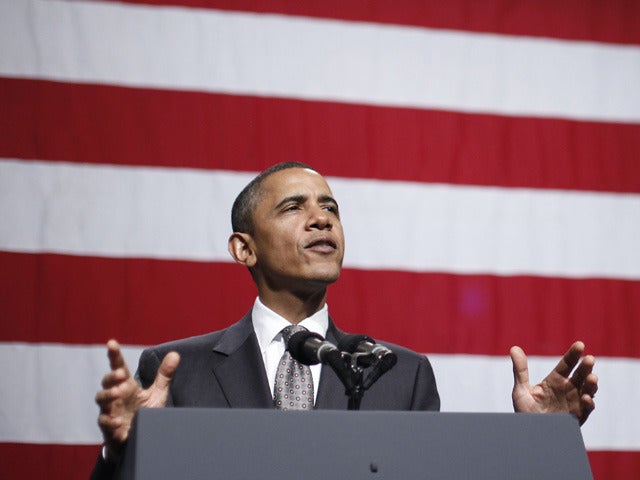 Obama's 2010 "Shellacking" is Like Bush's 2006 "Thumping"
In a rare display of vulnerability, President Obama spoke openly today about last night's Democratic "shellacking" in the midterm elections, and took responsibility for what he described as "humbling" losses.
In a press conference addressing the aftermath of an election that has been framed by many as a referendum on Mr. Obama's presidency, the president confessed that the lessons learned during Tuesday night's election - during which Republicans gained an incredible amount of political ground nationwide - would guide him in the future.
"This is something that I think every president needs to go through, because you know, the responsibilities of this office are so enormous and so many people are depending on what we do," Mr. Obama said, pointing out that former Presidents Bill Clinton and Ronald Reagan both found themselves in similar positions at this point in their first terms. "In the rush of activity, sometimes we lose track of... the ways that we connected with folks that got us here in the first place."
Why Democrats Lost the House to Republicans
Ominous Signs For Obama In 2012
Why Key Midwest Swing States Flipped to the GOP
How the Party of No Became the Party of Yes
"Now, I'm not recommending for every future president that they take a shellacking like I did last night," he continued with a laugh. "I'm sure there are easier ways to learn these lessons. But I do think that, you know, this is a growth process. And an evolution."
Former president George W. Bush made a similar concession in 2006, after Republicans took what he called a "thumping" in the congressional midterm elections.
Still, Mr. Obama said that seeing so many of his allies defeated was difficult. "It feels bad," Mr. Obama said to ABC's Jake Tapper. "You know, the toughest thing over the last couple of days is seeing really terrific public servants not have the opportunity to serve anymore... There are just some terrific members of congress who took really tough votes, because they thought it was the right thing, even though they knew this could cause them political problems."
"The amount of courage that they showed and conviction that they showed is something that I admire so much. I can't overstate it," Mr. Obama continued. "There's also a lot of questioning on my part in terms of could I have done something differently or done something more so that those folks would still be here. It's hard. And I take responsibility for it in a lot of ways."
Mr. Obama also said that he struggled to get out of what he described as the White House "bubble."
"You know, there is an inherent danger in being in the White House," he said to a Reuters reporter who asked Mr. Obama whether or not he might consider changing his leadership in light of the perception that he was out of touch with the electorate.
Obama: People Saw "Overreach" in My Actions
Obama: I'll Talk to GOP on Health Care, But...
What's Next for Obama and Congress?
"Slurpee Summit" on Horizon for Obama & Boehner?
"The track record has been that when I'm out of this place, that's not an issue," he said. "When you're in this place, it is hard not to seem removed."
"I mean, folks didn't have any complaints about my leadership style when I was running around Iowa," Mr. Obama continued. "They got a pretty good look at me up close and personal. And they were able to lift the hood and kick the tires and, you know, I think they understood that my story was theirs."
Below, watch a discussion of the moment on today's episode of "Washington Unplugged."
---
Lucy Madison is a political reporter for CBSNews.com. You can read more of her posts here. Follow Hotsheet on Facebook and Twitter.
Thanks for reading CBS NEWS.
Create your free account or log in
for more features.