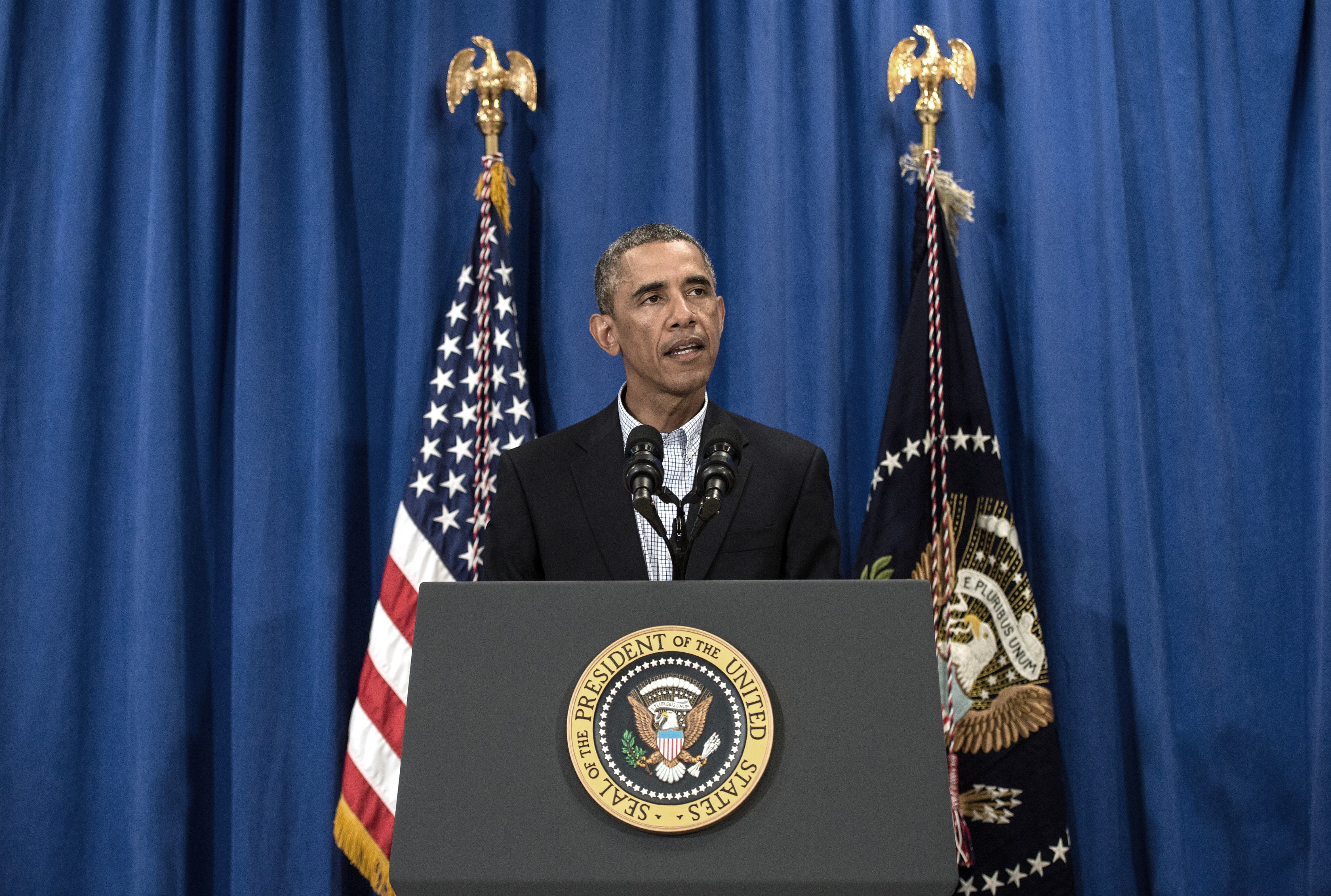 Obama on racial tension in Missouri: "Now's the time for healing"
"Now's the time for healing" in Ferguson, Missouri, President Obama said Thursday, following a night of ugly confrontations between police and protesters who were demonstrating against the weekend shooting of unarmed 18-year old Michael Brown.
Acknowledging that "emotions are raw" and that there are differences of opinion regarding the nature of the recent events in Ferguson, Mr. Obama said it's time for the nation to move forward together.
"Now's the time for peace and calm," the president said from Martha's Vineyard, where he is on vacation. "Now's the time for an open and transparent process to see that justice is done."
He noted that he's asked the Justice Department and the FBI to assist in investigating the shooting. The FBI said Monday that it is looking into possible civil rights violations arising from the 18-year-old's death.
"We lost a young man, Michael Brown, in heartbreaking and tragic circumstances," Mr. Obama said. "The local authorities .. have a responsibility to be open and transparent about how they are investigating that death and how they are" keeping people safe.
The president has been receiving frequent updates about the events in Ferguson, the St. Louis suburb that has erupted in the wake of Brown's shooting. Mr. Obama was briefed Wednesday night by Senior Advisor Valerie Jarrett and Attorney General Eric Holder, according to White House spokesman Eric Schultz. He also had a briefing scheduled for Thursday morning, and he spoke to Missouri Gov. Jay Nixon.
"I expressed my concern over the violent turn events have taken on the ground," Mr. Obama said. He called Nixon a "good man and a fine governor."
"I'm confident that... he's going to be able communicate his desire that justice is done and that public safety is maintained in an appropriate way," he said.
Tensions between protesters and police escalated in the past several days, as police -- armed in riot gear -- have turned to tear gas and smoke bombs to repel crowds they say are throwing Molotov cocktails. Some reporters were also detained by police for apparently failing to leave quickly enough from a McDonalds.
Mr. Obama said there is no excuse for behavior such as looting or violence against police. However, he added, there is also "no excuse for police to use excessive force for peaceful protests."
Furthermore, he said, "Police should not be arresting or bullying journalists just trying to do their jobs. We all need to hold ourselves to a high standard, particularly those in positions of authority."
Holder later on Thursday released a statement saying that "at a time when we must seek to rebuild trust between law enforcement and the local community, I am deeply concerned that the deployment of military equipment and vehicles sends a conflicting message."
Mr. Obama also addressed the shooting Tuesday with a statement that called Browns' death "heartbreaking."
This is not the first time the president has spoken out in response to the shooting death of an unarmed black teenager. After Florida teenager Trayvon Martin was shot in 2013 by neighbor George Zimmerman, Mr. Obama said when he first heard of the shooting he thought, "this could've been my son. Another way of saying that is, Travyon Martin could have been me 35 years ago."
Thanks for reading CBS NEWS.
Create your free account or log in
for more features.