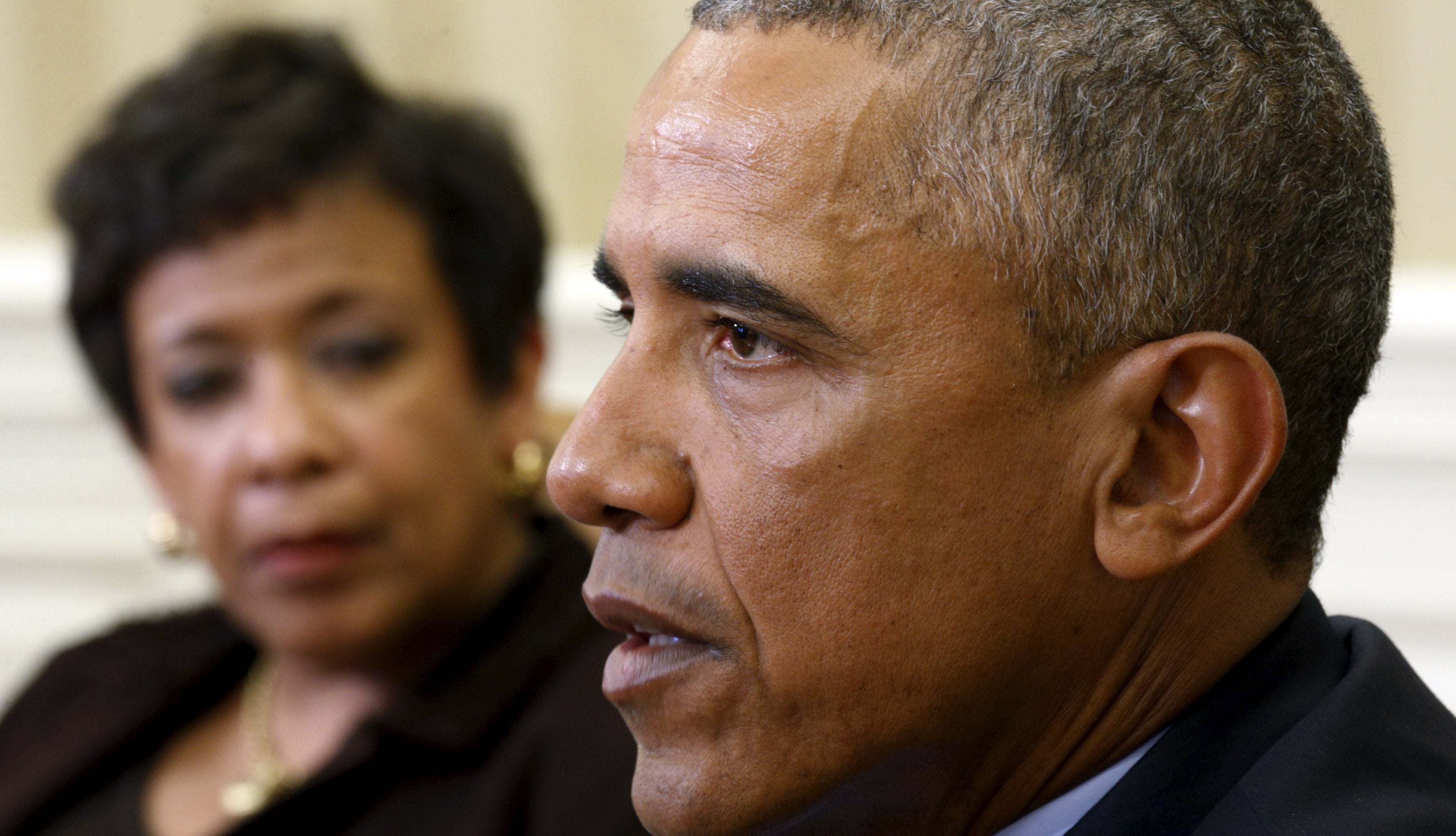 Obama meets with Loretta Lynch on gun violence
President Obama said Monday he will begin rolling out initiatives to prevent guns from falling into the wrong hands over the next several days and that every recommendation made by members of his cabinet are "well within my legal authority."
The president's remarks came after a meeting with Attorney General Loretta Lynch -- who was developing recommendations for potential ways he could use his executive authority -- along with FBI Director James Comey, White House staff, and the deputy director of the Bureau of Alcohol, Tobacco, Firearms and Explosives.
"It is my strong belief that for us to get our complete arms around the problem Congress needs to act," the president said. But in the meantime, he has requested that his team "see what more we can do to strengthen our enforcement and prevent guns from falling into the wrong hands."
"We'll be making sure that people have a very clear understanding of what can make a difference and what we can do," the president said, but he added, "We have to be very clear that this is not going to solve every violent crime in this country, it's not going to prevent every mass shooting, it's not going to keep every gun out of the hands of a criminal."
He said the actions will potentially save lives and spare families some of the pain and loss they have felt from losing a loved one to gun violence.
The president said he was confident that the recommendations "are ones that are entirely consistent with the Second Amendment and people's lawful right to bear arms."
"We've been very careful recognizing that although we have a strong tradition of gun ownership in this country that even those who possess firearms for hunting, for self protection and for other legitimate reasons want to make sure that the wrong people don't have them for the wrong reasons," he said.
Mr. Obama will participate in a town hall on gun violence with CNN's Anderson Cooper this Thursday at 8 p.m. He is also meeting Monday with members of the House Gun Violence Prevention Task Force. All of the task force's vice chairs, who are Democrats, have been invited.
The president's actions are already facing stiff opposition from Republicans. House Speaker Paul Ryan, R-Wisconsin, said Monday that the president's forthcoming actions were a "dangerous level of executive overreach." Several GOP presidential candidates have pledged to undo them if they are elected president.
In early October, shortly after the mass shooting at an Oregon community college, the president assigned White House and Department of Justice lawyers to comb the law in search of any unused administrative authority available to him.
One proposal under consideration: make a clear distinction between gun collectors and gun sellers. Under current law, background checks are required for anyone buying a firearm from someone "engaged in the business" of selling guns (like a federally-permitted gun store or dealer). Sales made out of a person's private collection, many of which are done online, are not subject to background checks.
The president could order a threshold be established such that anyone selling a certain number of guns annually would no longer qualify as a collector, but as someone "in the business" of firearm sales. Those buyers would then be subject to background checks.
Adopting this proposal would not eliminate the so-called "gun show loophole," but gun control advocates argue it would be easier to prosecute offenders if the gun seller law is better defined.
Everytown for Gun Safety, a gun control advocacy group backed by Michael Bloomberg, has also recommended better reporting and tracking of lost and stolen guns. It is unclear whether that will be included in the president's executive action.
In the wake of the 2012 Sandy Hook massacre that left 20 six-year olds dead, the president mounted a legislative push to enact tighter gun laws. That effort -- which would have resulted in more far-reaching gun safety laws than any executive action -- failed in Congress. The White House recognizes the bleak political realities of another legislative push in an election year.
President Obama said in July that he has been "most frustrated and most stymied" by the country's inability to enact "sufficient, common sense gun safety laws."
The Obama family returns from their Hawaiian vacation this weekend. The president will deliver his final State of the Union address on January 12th.
CBS News Producer Arden Farhi contributed to this story
Thanks for reading CBS NEWS.
Create your free account or log in
for more features.