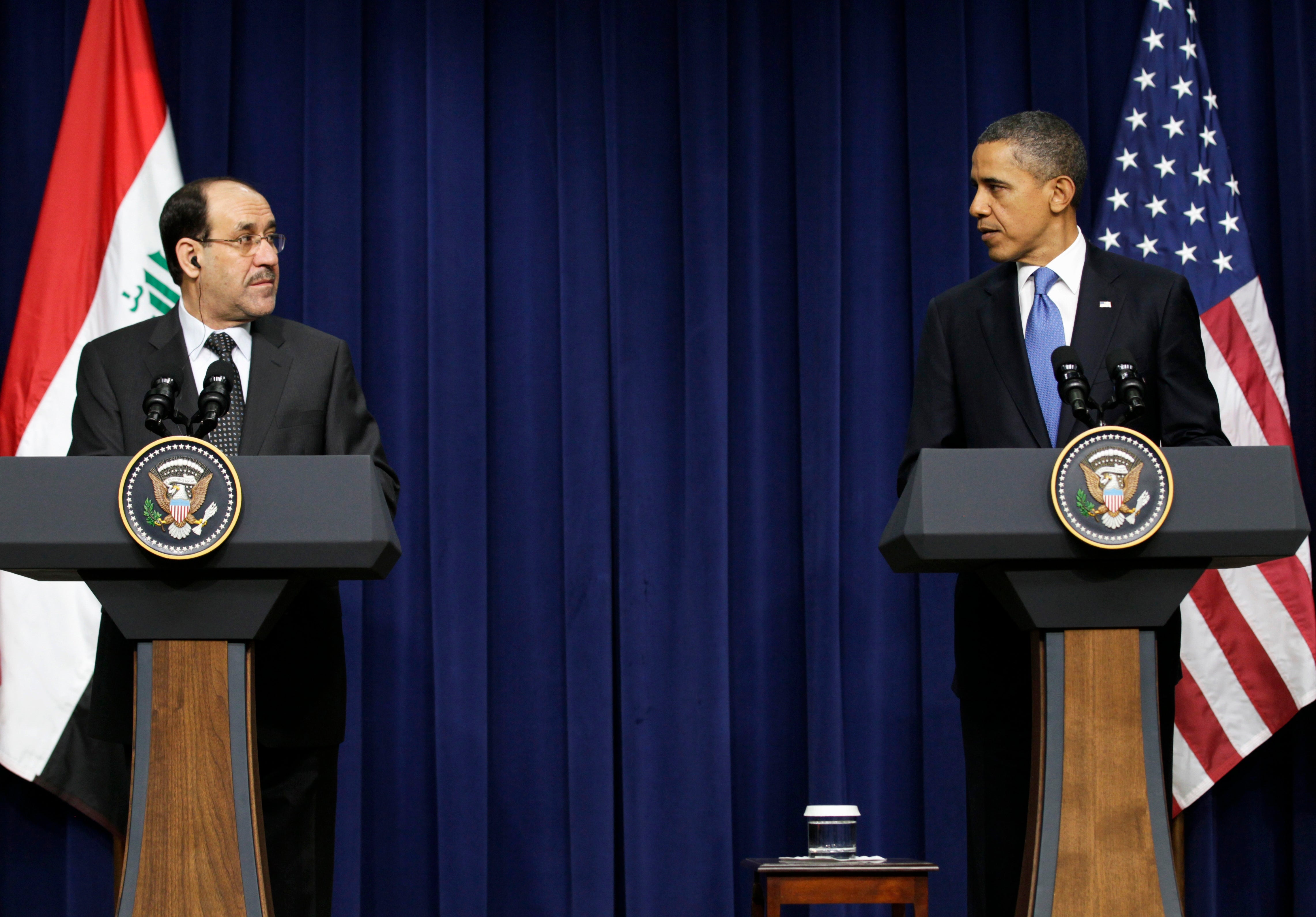 Obama: Iraq's response to Syria not influenced by Iran
The Iraqi government has been far less forceful than the United States in its criticism of the Syrian government's violent crackdown against anti-government protesters. However, President Obama said today that the difference between the U.S. response and the Iraqi response is simply "tactical."
"We share the view that when the Syrian people are being killed or are unable to express themselves that's a problem," Mr. Obama said today at a White House press conference with Iraqi Prime Minister Nouri al-Maliki. "There's no disagreement there."
Mr. Obama and al-Maliki met at the White House today to discuss how the U.S. and Iraq can maintain a comprehensive relationship even as the U.S. winds down its military presence, with troops slated to be out by the end of the year. The two leaders today they remain committed partners, even though their responses to the violence in Syria has differed.
Obama: "History will judge" if Iraq was a "dumb" war
Obama: We leave Iraq with "heads held high"
The Obama administration has called for Syrian President Bashar Assad to step down amid the government crackdown that has killed more than 4,000 people, according to the United Nations. However, al-Maliki has warned that civil war may break out if Assad falls. He abstained from Arab League votes suspending Syria's membership and imposing sanctions, putting him more in line with Iran -- a Syrian ally -- than the United States.

Iran: U.S. cannot have its drone back
Arab Spring's uprisings reshape U.S. influence
Mr. Obama today reiterated his "outrage" toward the Assad regime for choosing a "path of repression" and said that Assad has deeply eroded his legitimacy there. He acknowledged, however, that Iraq -- which borders Syria -- is "in a tough neighborhood."
In spite of their "tactical disagreements," Mr. Obama said, "I have absolutely no doubt these decisions are being made based on what Prime Minister Maliki believes is best for Iraq, not based on considerations of what Iran would like to see."
Mr. Obama said al-Maliki "has been explicit... [in] his interest in maintaining Iraqi sovereignty and preventing meddling by anybody, and I believe him."
He added that al-Maliki "has shown himself able to make very tough decisions in the interest of Iraqi nationalism even if they cause problems with his neighbor."
Al-Maliki confirmed that his position is based on his concerns for his own nation's security.
"Iraq is a country that is bordering on Syria, and I am concerns about the interest of Iraq and the security of the region," he said.
Given the success Iraq has made in building up a democracy, al-Maliki said his nation represents "the aspirations of the Syrian people." Still, he said he does not have the right to call on any president to step down.
When asked whether he was concerned Iran's custody of a U.S. drone could threaten Iraq's security, Mr. Obama said he would not comment on classified intelligence matters.
"We have asked for it back," he said. "We'll see how the Iranians respond."
On Sunday, a senior commander of Iran's Revolutionary Guard said Iran will not return the drone.
Thanks for reading CBS NEWS.
Create your free account or log in
for more features.