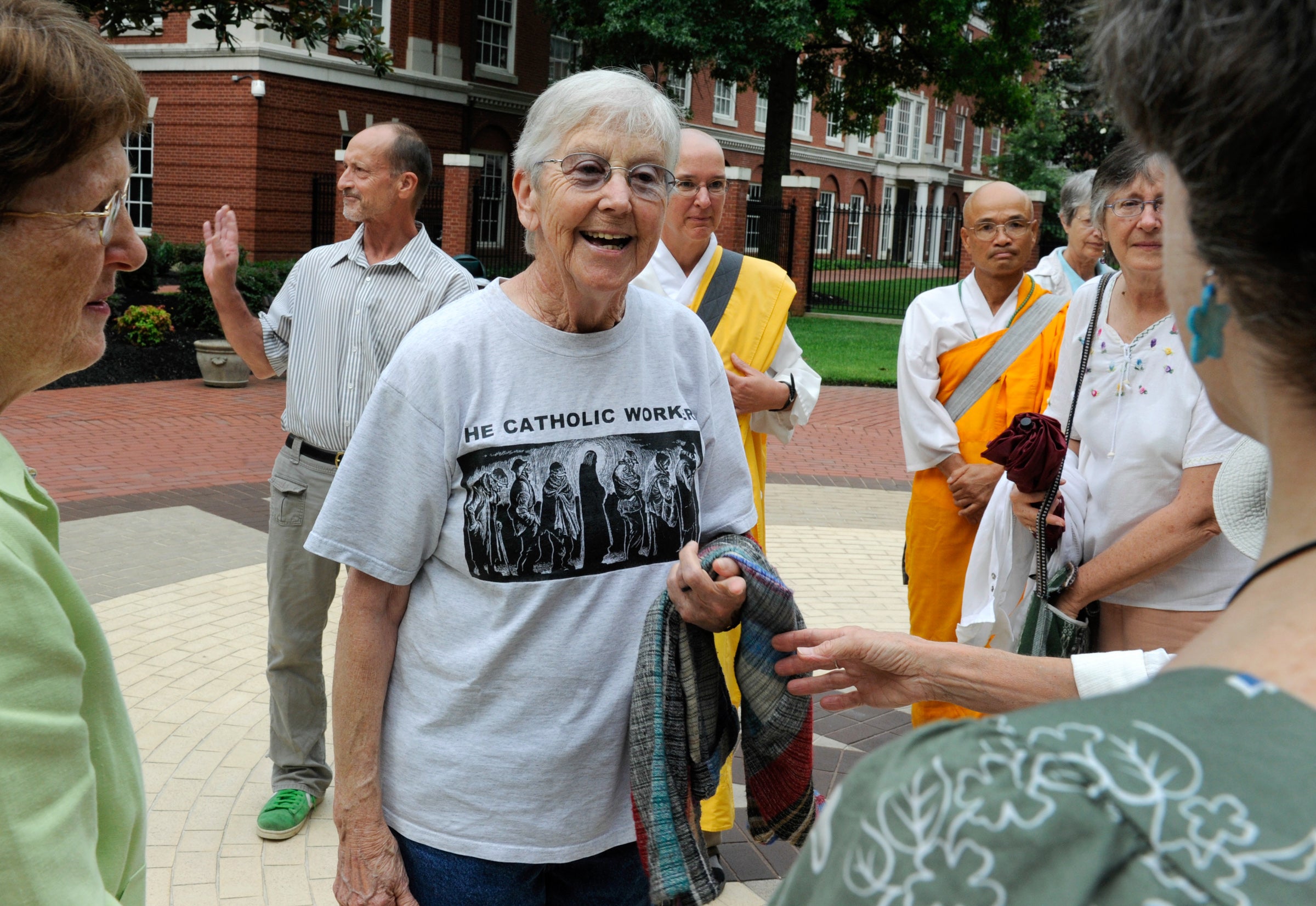 Nun who broke into nuclear weapons complex resentenced
NASHVILLE, Tenn. -- An 85-year-old nun and two fellow Catholic peace activists have been resentenced to time served for vandalizing a storage bunker that held much of the nation's bomb-grade uranium.
Sister Megan Rice, Michael Walli and Greg Boertje-Obed were originally convicted of felony sabotage for their 2012 actions in Oak Ridge, Tennessee, where they cut through fences and sneaked into the most secure area of the Y-12 National Security Complex. Once there, they hung banners, prayed and hammered on the outside wall of the bunker to symbolize a Bible passage that refers to the end of all war: "They will beat their swords into ploughshares."
Rice was sentenced to nearly three years in prison while Walli, 66, and Boertje-Obed, 60, were each sentenced to just over five years.
The 6th U.S. Circuit Court of Appeals threw out the sabotage charge in May, leaving a conviction on the lesser charge of injuring government property. When they were released from prison in June, the anti-nuclear activists had already served two years.
Government prosecutors had asked U.S. District Judge Amul Thapar to put the activists on supervised released.
Defense attorney Judy Kwan said the judge on Tuesday ordered two years of unsupervised release instead. During that time the activists are prohibited from going onto the grounds of any nuclear facilities.
The activists asked the judge to reduce the amount of restitution they were ordered to pay for damage at Y-12, nearly $53,000. He denied that request, Kwan said.
Rice and Walli, who live in Washington, D.C., and Boertje-Obed, who lives in Minnesota, are part of a loose network of activists who oppose the spread of nuclear weapons through provocative non-violent protests they call ploughshares actions. In the aftermath of their break-in at Y-12, federal officials implemented sweeping changes, including new management and a new defense security chief to oversee all of the National Nuclear Security Administration's sites.
Thanks for reading CBS NEWS.
Create your free account or log in
for more features.