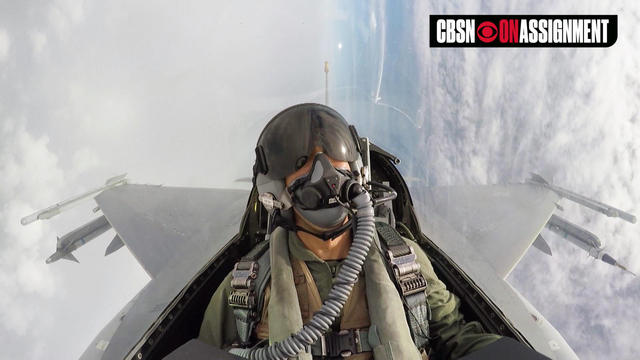 "Ready to fight": The U.S. forces facing down North Korea
"CBSN: On Assignment" airs Mondays at 10 p.m. ET/PT on CBS and on our streaming network CBSN.
---
As North Korea's Kim Jong Un continues his relentless quest for a nuclear weapon capable of reaching the United States, military officials in U.S. Pacific Command work daily to project force in the region and deter the young dictator. The threat his regime poses to the United States and its treaty ally, South Korea, grows more credible with each missile launch.
North Korea successfully launched two intercontinental ballistic missiles this summer. They each flew more than a thousand miles into space before landing in waters near Japan. Experts say either one could have hit the United States had it been launched on a flatter trajectory -- the most recent, potentially reaching as far as Chicago.
And in another alarming development, CBS News' David Martin reported last week that U.S. intelligence believes North Korea has developed the ability to build a nuclear warhead small enough to fit on top of a ballistic missile, including an ICBM capable of striking the United States.
It's a menace that President Trump has threatened to meet with "fire and fury like the world has never seen" -- an escalation of rhetoric in a war of words backed up by massive military force on both sides.
"North Korea remains the most urgent threat to regional stability," said Gen. Terrence J. O'Shaughnessy, Pacific Air Forces commander, in a statement following the July 28 missile test. "If called upon, we are ready to respond with rapid, lethal, and overwhelming force at a time and place of our choosing."
But what would this response look like? CBS News correspondent Vladimir Duthiers traveled to bases all around U.S. Pacific Command for "CBSN: On Assignment" to find out. He met with Air Force, Army and Navy personnel to learn how the U.S. would counter a nightmare scenario -- or better yet, deter it from coming to pass.
The toll of such an assault would be staggering: perhaps a million people dead, a trillion dollars in property damage, the entire global military, political and economic order destabilizied. And that's before the unthinkable, nuclear retaliation, which could rapidly escalate out of control.
South Korea's capital, Seoul, with some 25 million residents and thousands of U.S. troops stationed nearby, lies just 35 miles from the border, well within range of North Korea's arsenal.
If Kim Jong Un's regime ever launched an attack on the United States or one of its allies in the region, Kunsan Air Base in South Korea -- a short 200 miles from the border -- would become one of the most strategically important installations in the conflict. Airmen who serve with the 8th Fighter Wing -- known as "The Wolfpack" -- train for their three-prong mission to defend the base, accept follow-on forces and take the fight north.
"During wartime operations, we transition to an airbase defense posture, which includes patrols on and off the base," said Senior Airman Brent Pico, who serves with the 8th Security Forces Squadron. These security forces, made up of about 300 airmen, train daily to prepare for scenarios in which an enemy might try to gain control of the base. Stopping such an advance to keep the base secure is critical, because Kunsan would become a staging area for U.S. forces and partners and allies with a stake in the fight against North Korea.
Duthiers rode along with the 8th Security forces in a simulated attack on the base. The security forces made their way to the highest point on Kunsan, a hill called Big Coyote, where troops demonstrated tactical use of combined-arms intended to beat back any advance against the installation. With a full view of the base at Big Coyote, security forces would be able to defend the runways so F-16 fighter jet pilots from The Wolfpack could safely take off to conduct bombing missions and engage North Koreans in air-to-air combat.
Duthiers sat in the backseat of an F-16 to see how the jet could be employed to take out enemy targets. Taking over the controls briefly to perform a barrel roll, he experienced firsthand how nimbly the aircraft moves. He also conducted a wingtip-to-wingtip interview with Col. David Shoemaker, the commander of Kunsan, to ask him about the capabilities of the F-16.
Shoemaker said the men and women who serve under him all hope for peace on the Korean peninsula. "We prefer for this to be a deterrent," he said as his fighter jet roared through a simulated bombing run.
But, should their efforts at deterring the dictator to the north fall short, "May God have mercy on the Wolfpack's prey."
Duthiers' next stop was the island of Guam, a strategically located U.S. territory in the western Pacific that shot to the top of the headlines last week when North Korea threatened to attack it with "enveloping fire."
Air Force Col. Sam White, the commander of the 36 operations group at Andersen Air Force Base on Guam, explained the importance of the base. "It's uniquely positioned to project combat power in all places across the Pacific," he said.
A key piece of that defense is the B1 Lancer -- a strategic bomber distinguished by its combination of "speed, persistence and payload" that would be a primary weapon against North Korea in combat.
White said the B1 -- nicknamed "The Bone" -- delivers a greater payload of 2,000-pound bombs or guided weapons than any other bomber in the U.S. arsenal. The intimidating sight and sound of a B1 also makes it ideal to project power in a region like the Korean peninsula for the mission of deterrence. Two of these aircraft were dispatched to fly along the Korean border following each of the two recent missile tests by Kim Jong Un.
The strategic value of the B1 is especially tied to its range.
"We're in Guam, far away from anyone, but really we can hold almost any target worldwide at risk here from Andersen Air Force Base," White said.
The enormous range White describes is possible because of service members who specialize in mid-air refueling, such as Air National Guard Technical Sgt. Jonathan Myers. Myers is a boom operator -- meaning his job is to extend a boom pool during flight from a tanker aircraft to bombers and fighter jets.
"Those airplanes are only able to take off with so much gas and get a certain distance, so … it's critical for us to extend their range," Myers said.
Duthiers went airborne with the U.S. Air National Guard on a KC-135 and watched Myers performing the highly sophisticated mid-air refueling process. From the rear of this fuel tanker aircraft, Duthiers witnessed a refuel of a B1 Lancer flying at 21,000 feet in the air at more than 300 nautical miles per hour.
The "CBSN: On Assignment" team also filmed inside a classified air operations center where 52 percent of the world's skies are monitored in real time.
Finally, Duthiers spoke with a unified combatant commander, Admiral Harry Harris, at Pearl Harbor following the commissioning of a ship with missile defense capabilities.
"As North Korea's most recent ICBM test demonstrates, the USS John Finn couldn't come to the Pacific at a more pivotal moment in our nation's history," Harris said.
Regarding Kim Jong Un, Harris told Duthiers, "He's one of these leaders, dictators, that is not afraid to fail in public, so he continues to refine his technology."
That's a challenge U.S. military leaders appear more than ready to meet if needed. With tensions escalating between the U.S. and North Korea, this all-access look at U.S. military operations demonstrates the gravity of the threat coming from the Korean peninsula, and the power the U.S. has marshaled to counter it.
Thanks for reading CBS NEWS.
Create your free account or log in
for more features.