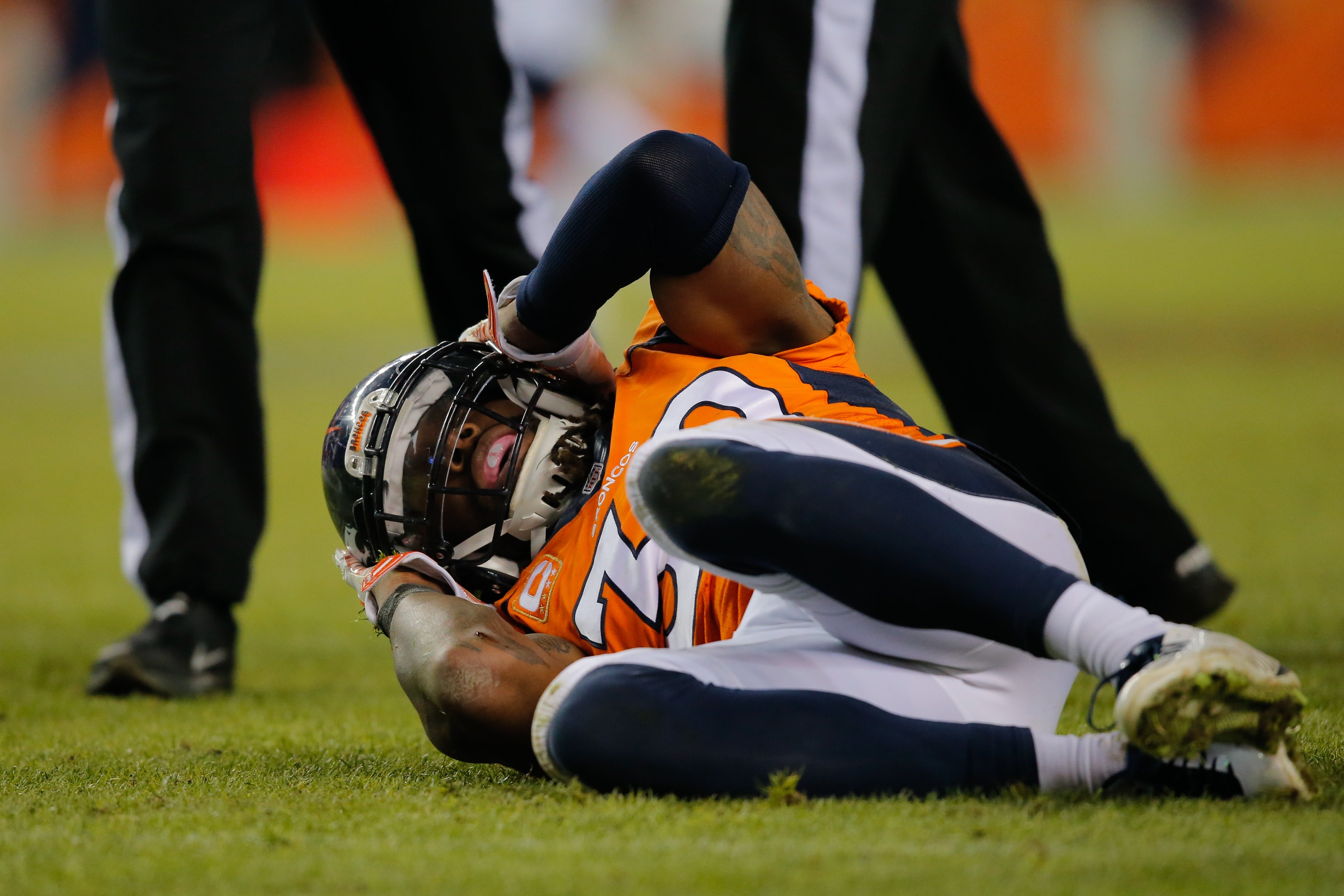 ​NFL says concussions were way up in 2015
The NFL says reported concussions rose 58 percent in regular-season games to the highest number in any of the past four years.
The league issued its concussion data for 2015 on Friday, a little more than a week before the Super Bowl, and it showed that helmet-to-helmet hits were also way up.
Jeff Miller, the NFL's senior vice president of health and safety policy, said during a conference call the league will study what might have caused the incidence of head injuries to rise so much this season.
Among the possible explanations mentioned by Miller were a doubling in the number of players screened for possible concussions, "unprecedented levels of players reporting signs and signals of concussions," and the fact that trainers who work as spotters or independent neurologists on sidelines "are much more actively participating in identifying this injury."
According to the NFL, there were 182 reported concussions from 2015 regular-season games, reversing a recent downward trend. There were 115 in 2014, 148 in 2013, and 173 in 2012.
A year ago, the league touted those decreases as a reflection of players changing the way they play.
Researchers have been studying an Alzheimer's-like disease called chronic traumatic encephalopathy, or CTE, that appears to be linked to repeated head injuries and concussions. In September, doctors said they found evidence of CTE in 87 out of 91 former NFL players who had donated their brains to science after they died.
The degenerative disease is largely believed to stem from repeated head trauma. It can lead to memory loss, confusion, impaired judgment, impulse control problems, aggression, depression and, eventually, progressive dementia.
Additionally, they found that CTE has been identified in the brain tissue of a total of 131 out of 165 individuals who played football either professionally, semi-professionally, in college or in high school before their deaths.
Since last year, concerns about brain health prompted NFL players Chris Borland and Sidney Rice to announce their early retirements from the game.
Rather than a discussion about the possibility that there were simply more concussions this season and what could have led to that, the emphasis during Friday's call was on what the league and doctors touted as more efficient identification of head injuries during games.
"I see coaches report players and pull them out of the game. I see players report themselves. I see players report each other," said Richard Ellenbogen, co-chairman of the NFL's head, neck and spine committee.
"Clearly," Ellenbogen added, "we've lowered the threshold for diagnosing concussion, for pulling players out and evaluating them."
While reports of concussions from helmet-to-helmet impacts sank from 91 in 2012, to 72 in 2013, to 58 in 2014, that figure climbed back up to 92 this season, a 58 percent rise that mirrors the overall increase in head injuries.
Looking at all sorts of injuries, there were a total of 1,672 during regular-season games in 2015 that resulted in missed time, the NFL told The Associated Press on Friday. That works out to roughly one per player leaguewide.
Thanks for reading CBS NEWS.
Create your free account or log in
for more features.