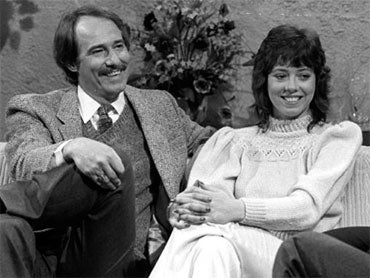 New Bombshell from Mackenzie Phillips
Mackenzie Phillips claims her rock legend father, John Phillips, might have impregnated her.
The former child star and daughter of the front man of the '60s super group The Mamas and the Papas discusses the possibility in her new memoir, "High on Arrival," and talked about it on "The Oprah Winfrey Show."
Phillips, who starred for years in the sitcom "One Day at a Time," says she had an almost decade-long affair with her father, during which she became pregnant. She says she was also sleeping with her boyfriend at the time, and wasn't sure who the father was, so she had an abortion, which her father paid for, knowing the child could be his.
Her allegations have drawn heavy backlash from some family members.
Phillips says the affair started out as rape, then became something else.
"The word 'shocking' is appropriate!," Winfrey exclaimed to her.
On Winfrey's show, Phillips read a portion of her book that says, "I woke up that night from a blackout to find myself having sex with my own father."
Then she added to Winfrey, "It became a consensual relationship."
"What struck me most about Mackenzie Phillips' interview," psychotherapist Robi Ludwig told CBS News "is that she's still protecting her father. By calling incest consensual incest, she's still protecting the person who abused her. ... But you can't say it's consensual, because there's always a power imbalance when it comes to a parent and child."
In the memoir, Phillips also claims her father began to romanticize their relationship, saying, "We were lying in bed, in a stupor, when Dad said, 'We could just run away to a country where no one would look down on us. There are countries where this is an accepted practice. Maybe Fiji?' My father was completely delusional."
Fellow former "One Day at a Time" co-star Valerie Bertinelli showed up on Winfrey's show in support of Phillips.
But John Phillips, who died in 2001 after a lifelong battle with drugs and alcohol, has his supporters.
In a statement to Us Weekly magazine, ex-wife Michelle Phillips, Mackenzie's stepmother, said, "You should take with a grain of salt anything that's said by a person who has had a needle stuck in their arm for 35 years. The whole story is disgusting."
Mackenzie has a long history of drug abuse, and pleaded guilty in 2008 to one count of felony cocaine possession and entered rehab. Her drug use led to her being dumped in 1982 by the hit sitcom "One Day at a Time," which aired from 1975-1983. She alleges John Phillips introduced her to cocaine.
But despite that reaction, Mackenzie Phillips ended the interview with Winfrey saying she's ready to move on, no matter how difficult that may be. "In finding redemption and freedom from myself," Phillips said, "maybe I'm gonna be giving a little piece of it to somebody else to hold onto."
In a statement to CBS News, Michelle Phillips added, "Whether her relationship with her father is delusional or not, it is an unfortunate circumstance and very hurtful for our entire family."
Mackenzie Phillips also told Winfrey she still loves her father, calling him a very tortured man who passed that torture down to her.
Thanks for reading CBS NEWS.
Create your free account or log in
for more features.