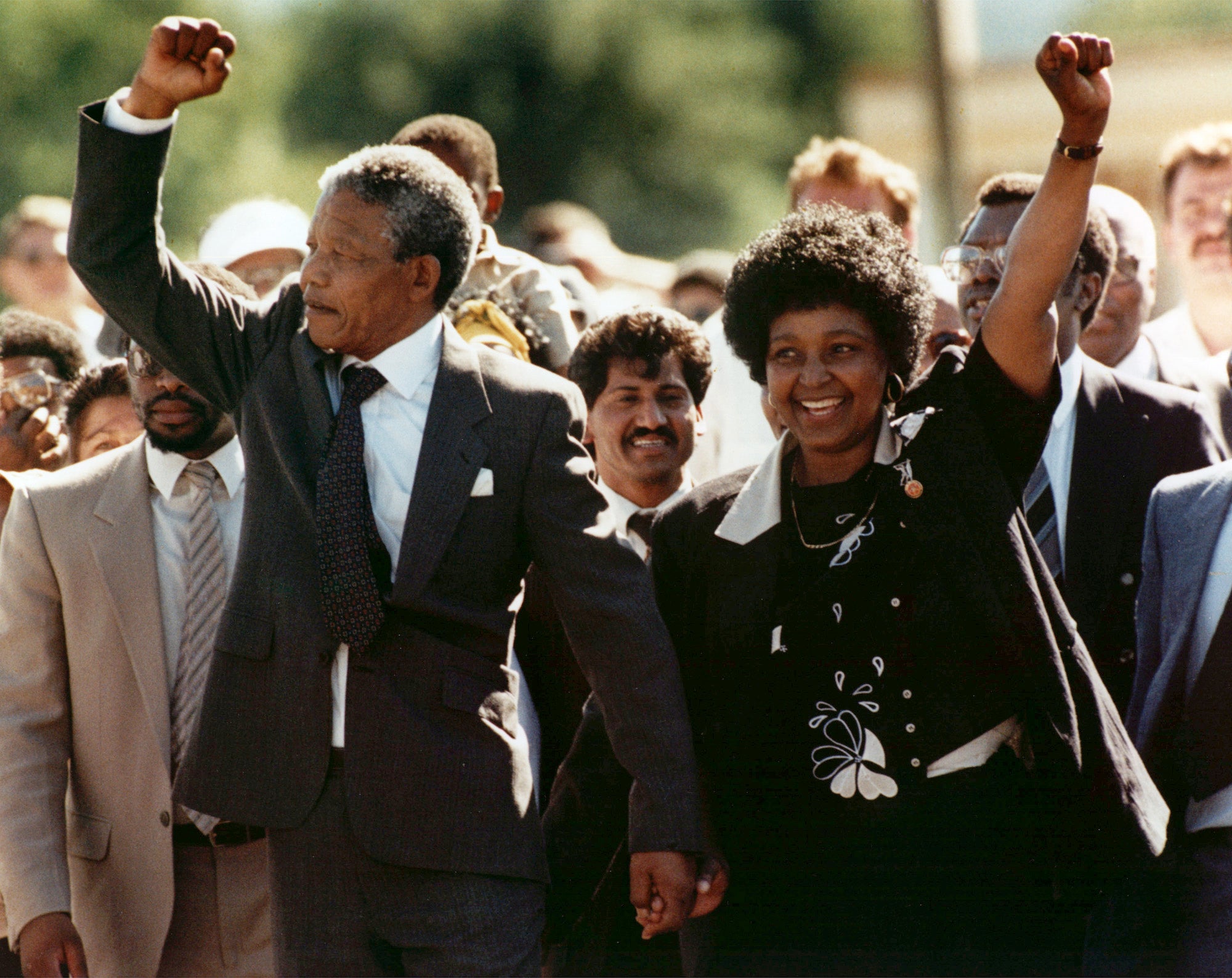 Nelson Mandela quotes: A collection of memorable words from former South African president
Nelson Mandela, the iconic political prisoner who became president of post-apartheid South Africa, died Thursday at his home in South Africa after several months of ongoing health problems. He was 95.
Below are some memorable quotes and writings from Mandela:
The struggle is my life. I will continue fighting for freedom until the end of my days.
-- Nelson Mandela's autobiography Long Walk to Freedom, published in 1994
There are many people who feel that it is useless and futile for us to continue talking peace and non-violence — against a government whose only reply is savage attacks on an unarmed and defenseless people. And I think the time has come for us to consider, in the light of our experiences at this day at home, whether the methods which we have applied so far are adequate.

--1961 interview

I hate race discrimination most intensely and in all its manifestations. I have fought it all during my life; I fight it now, and will do so until the end of my days. Even although I now happen to be tried by one whose opinion I hold in high esteem, I detest most violently the set-up that surrounds me here. It makes me feel that I am a black man in a white man's court. This should not be.

-- First court statement, 1962

During my lifetime I have dedicated myself to this struggle of the African people. I have fought against white domination, and I have fought against black domination. I have cherished the ideal of a democratic and free society in which all persons will live together in harmony and with equal opportunities. It is an ideal which I hope to live for. But, my lord, if needs be, it is an ideal for which I am prepared to die.

--Trial statement, 1964

Only free men can negotiate; prisoners cannot enter into contracts. Your freedom and mine cannot be separated.

--Refusing to bargain for freedom after 21 years in prison, as quoted in TIME, Feb. 25, 1985
I stand here before you not as a prophet but as a humble servant of you, the people. Your tireless and heroic sacrifices have made it possible for me to be here today. I therefore place the remaining years of my life in your hands… Our march to freedom is irreversible. We must not allow fear to stand in our way.

-- Speech on the day of his release, Cape Town, Feb. 11, 1990

A good head and good heart are always a formidable combination. But when you add to that a literate tongue or pen, then you have something very special.

--Nelson Mandela, Higher Than Hope (authorized biography), 1991
We speak here of the challenge of the dichotomies of war and peace, violence and non-violence, racism and human dignity, oppression and repression and liberty and human rights, poverty and freedom from want. We stand here today as nothing more than a representative of the millions of our people who dared to rise up against a social system whose very essence is war, violence, racism, oppression, repression and the impoverishment of an entire people.

-- Nobel prize acceptance speech, Dec. 12, 1993

The calm and tolerant atmosphere that prevailed during the elections depicts the type of South Africa we can build. It set the tone for the future. We might have our differences, but we are one people with a common destiny in our rich variety of culture, race and tradition.

--ANC victory speech, May 2, 1994
Today we are entering a new era for our country and its people. Today we celebrate not the victory of a party, but a victory for all the people of South Africa… The task at hand on will not be easy. But you have mandated us to change South Africa from a country in which the majority lived with little hope, to one in which they can live and work with dignity, with a sense of self-esteem and confidence in the future.

--Inaugural speech, May 9, 1994

Out of the experience of an extraordinary human disaster that lasted too long, must be born a society of which all humanity will be proud… The time for the healing of the wounds has come. The moment to bridge the chasms that divide us has come. The time to build is upon us.

--Inauguration celebration speech, May 10, 1994

No one is born hating another person because of the color of his skin, or his background, or his religion. People must learn to hate, and if they can learn to hate, they can be taught to love, for love comes more naturally to the human heart than its opposite.

--Long Walk to Freedom

There is nothing like returning to a place that remains unchanged to find the ways in which you yourself have altered.

-- Long Walk to Freedom

For to be free is not merely to cast off one's chains, but to live in a way that respects and enhances the freedom of others.

--Long Walk to Freedom

I learned that courage was not the absence of fear, but the triumph over it. The brave man is not he who does not feel afraid, but he who conquers that fear.

--Long Walk to Freedom

The greatest glory in living lies not in never falling, but in rising every time we fall.

--Long Walk to Freedom

No one truly knows a nation until one has been inside its jails. A nation should not be judged by how it treats its highest citizens but its lowest ones.

--Long Walk to Freedom

There is no easy walk to freedom anywhere, and many of us will have to pass through the valley of the shadow of death again and again before we reach the mountaintop of our desires.

--Long Walk to Freedom

I have walked that long road to freedom. I have tried not to falter; I have made missteps along the way. But I have discovered the secret that after climbing a great hill, one only finds that there are many more hills to climb. I have taken a moment here to rest, to steal a view of the glorious vista that surrounds me, to look back on the distance I have come. But I can rest only for a moment, for with freedom comes responsibilities, and I dare not linger, for my long walk is not yet ended.

--Long Walk to Freedom

If you want to make peace with your enemy, you have to work with your enemy. Then he becomes your partner.

--Long Walk to Freedom

The UN took a strong stand against apartheid; and over the years, an international consensus was built, which helped to bring an end to this iniquitous system. But we know too well that our freedom is incomplete without the freedom of the Palestinians.

--Address at the International Day of Solidarity with the Palestinian People, Dec. 4, 1997

The United States has made serious mistakes in the conduct of its foreign affairs, which have had unfortunate repercussions long after the decisions were taken… If you look at those matters, you will come to the conclusion that the attitude of the United States of America is a threat to world peace.

--On Iraq, Newsweek, Sept. 10, 2002

These numbers are staggering, in fact incomprehensible. By all accounts, we are dealing with the greatest health crisis in human history.

-- Mandela on AIDS, Cape Times, July 15, 2003

I remember we adjourned for lunch and a friendly Afrikaner warder asked me the question, "Mandela, what do you think is going to happen to you in this case?" I said to him, "Agh, they are going to hang us." Now, I was really expecting some word of encouragement from him. And I thought he was going to say, "Agh man, that can never happen." But he became serious and then he said, "I think you are right, they are going to hang you."

--Interview on All Things Considered, NPR broadcast, April 27, 2004

Don't call me. I'll call you.

--Mandela on retiring from public life, June 1, 2004

We recall the joy and excitement of a nation that had found itself, the collective relief that we had stepped out of our restrictive past, and the expectant air of walking into a brighter future.

-- Mandela, National Geographic News, June 2, 2004
Thanks for reading CBS NEWS.
Create your free account or log in
for more features.