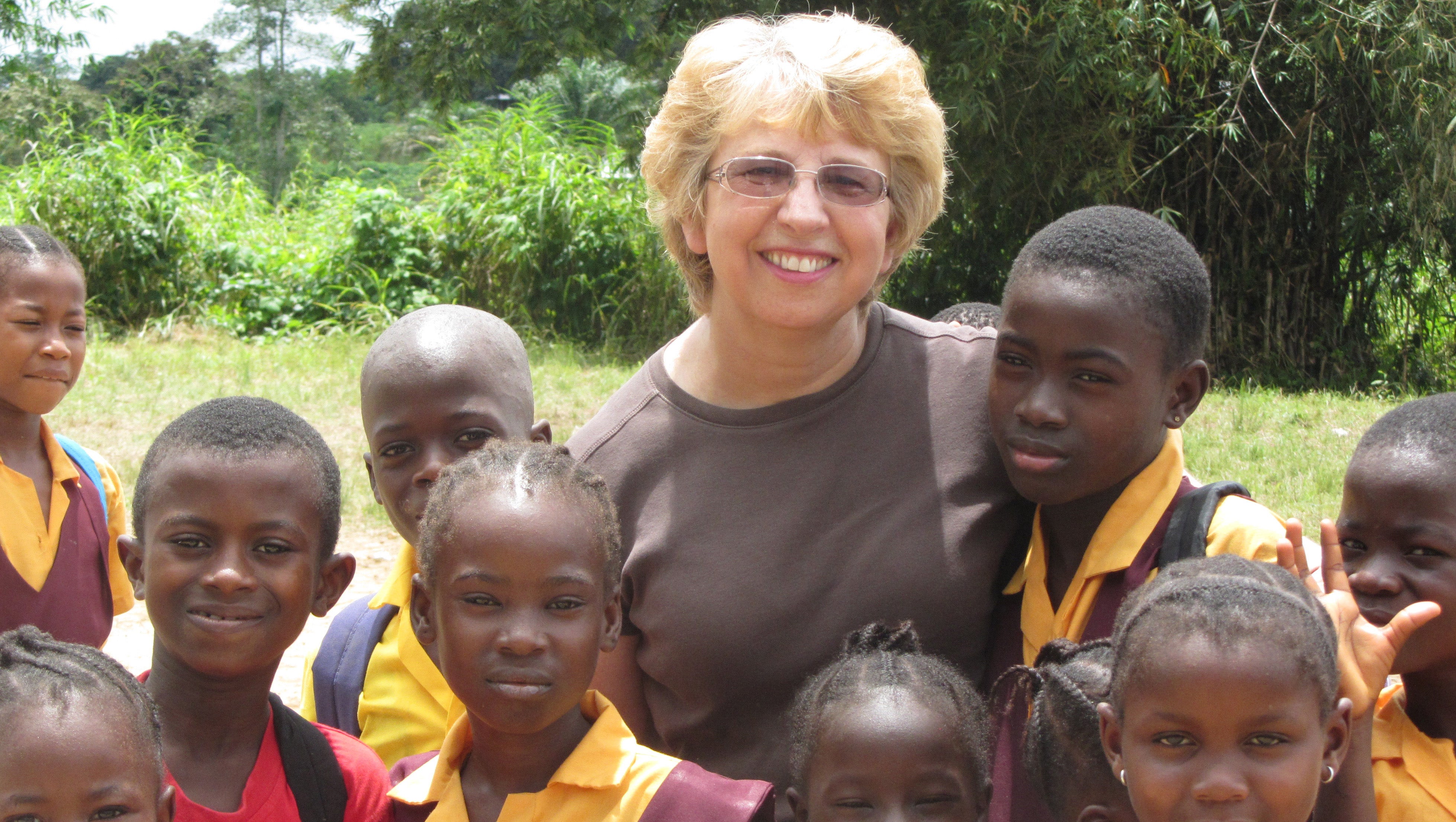 Plane leaves Liberia with second American infected with Ebola
MONROVIA, Liberia - The second American missionary to contract Ebola in West Africa left Liberia early Tuesday en route to the United States, authorities said.
A chartered evacuation plane arrived late Monday afternoon in Monrovia, the capital of Liberia, and took off Tuesday at 1:12 a.m. local time, The Associated Press reported.
Nancy Writebol, 59, from Charlotte, N.C., will be treated at Emory University Hospital in Atlanta, the same facility where her colleague Dr. Kent Brantly, 33, of Fort Worth, Texas, is also a patient.
Before leaving Liberia, Writebol received a second dose of an experimental serum. Although still seriously ill, she is able to walk with assistance and has regained her appetite, said Bruce Johnson, president of SIM USA, the North Carolina-based group that she works for in Africa.
Johnson was hesitant to credit the treatment for her improvement.
"Ebola is a tricky virus and one day you can be up and the next day down. One day is not indicative of the outcome," he said. But "we're grateful this medicine was available."
Brantly, who was flown to the Atlanta hospital Saturday, also received the experimental treatment before he left Africa.
Writebol's son, Jeremy, told CBS affiliate WBTV in Charlotte that he is "cautiously optimistic" about his mother's condition.
"We're trying to be cautious in our hearts about how mom's condition will be. We don't know exactly if she'll be able to walk off like Dr. Brantly did or not, but we're eager for her," he said.
Ebola has killed at least 887 people in four West African countries. Symptoms of the virus include fever, sore throat, muscle pains and headaches. Often nausea, vomiting and diarrhea follow, along with severe internal and external bleeding in advanced stages of the disease. The virus, which is spread through contract with bodily fluids, has a fatality rate of as high as 90 percent.
Jeremy Writebol said he hoped the attention focused on his mother's case "might help develop a cure and resources to help those who are suffering. I am sure hopeful for that."
A third American, Patrick Sawyer, who had been working for the Liberian government, died of Ebola on July 25 after arriving in Lagos, Nigeria, from Liberia.
The American cases are making headlines as dozens of African heads of state converged on Washington for the Monday opening of the U.S.-Africa Leaders Summit, a three-day gathering hosted by President Barack Obama. Among the stated purposes: discussing how to help African nations overcome systemic challenges, including disease.
Brantly and Writebol contracted Ebola after working on the same medical mission team treating victims of the virus around Monrovia, Liberia.
Emory, where Brantly already is quarantined, boasts one of the nation's most sophisticated infectiousdisease units. Patients are sealed off from anyone not in protective gear. Lab tests are conducted inside the unit, ensuring that viruses don't leave the quarantined area. Family members see and communicate with patients through barriers.
Brantly's wife released a statement Sunday saying she had gotten to see her husband, a physician with the international relief group Samaritan's Purse.
"Our family is rejoicing over Kent's safe arrival, and we are confident that he is receiving the very best care," Amber Brantly said.
Writebol and her husband, David, had been in Liberia since August 2013. They were sent to the West African nation by SIM USA and sponsored by their home congregation at Calvary Church in Charlotte.
"They take the Great Commission literally," said their pastor, the Rev. John Munro, referring to the instruction from Jesus Christ to "make disciples of all nations."
At the hospital where Brantly treated patients, Nancy Writebol worked as a hygienist whose role included decontaminating those entering or leaving the Ebola treatment area. Munro said David Writebol fulfilled administrative and technical duties.
A few weeks before Nancy Writebol was diagnosed, her son said, a doctor visited the Monrovia hospital where she worked and praised the decontamination procedures as the best he'd seen. Jeremy Writebol said she was "really pleased by knowing that" and never thought she would be infected, despite her proximity to the virus.
Nancy and David Writebol have engaged in foreign missions for 15 years, spending five years in Ecuador and nine years in Zambia, where Munro said they worked in a home for widows and orphans.
Munro recalled speaking with the couple when the Ebola outbreak began.
"We weren't telling them to come back; we were just willing to help them come back," he said. "They said, 'The work isn't finished, and it must continue.'"
Monro told WBTV he understands there has been some criticism of the decision to bring Writebol home, but said she would never have agreed if it would put other people at risk.
"The Writebols would be the last people that would put someone in jeopardy. They rely on the best medical advice. If there were any possibility that through Nancy this virus would spread, she certainly would not come home," Munro said.
Thanks for reading CBS NEWS.
Create your free account or log in
for more features.