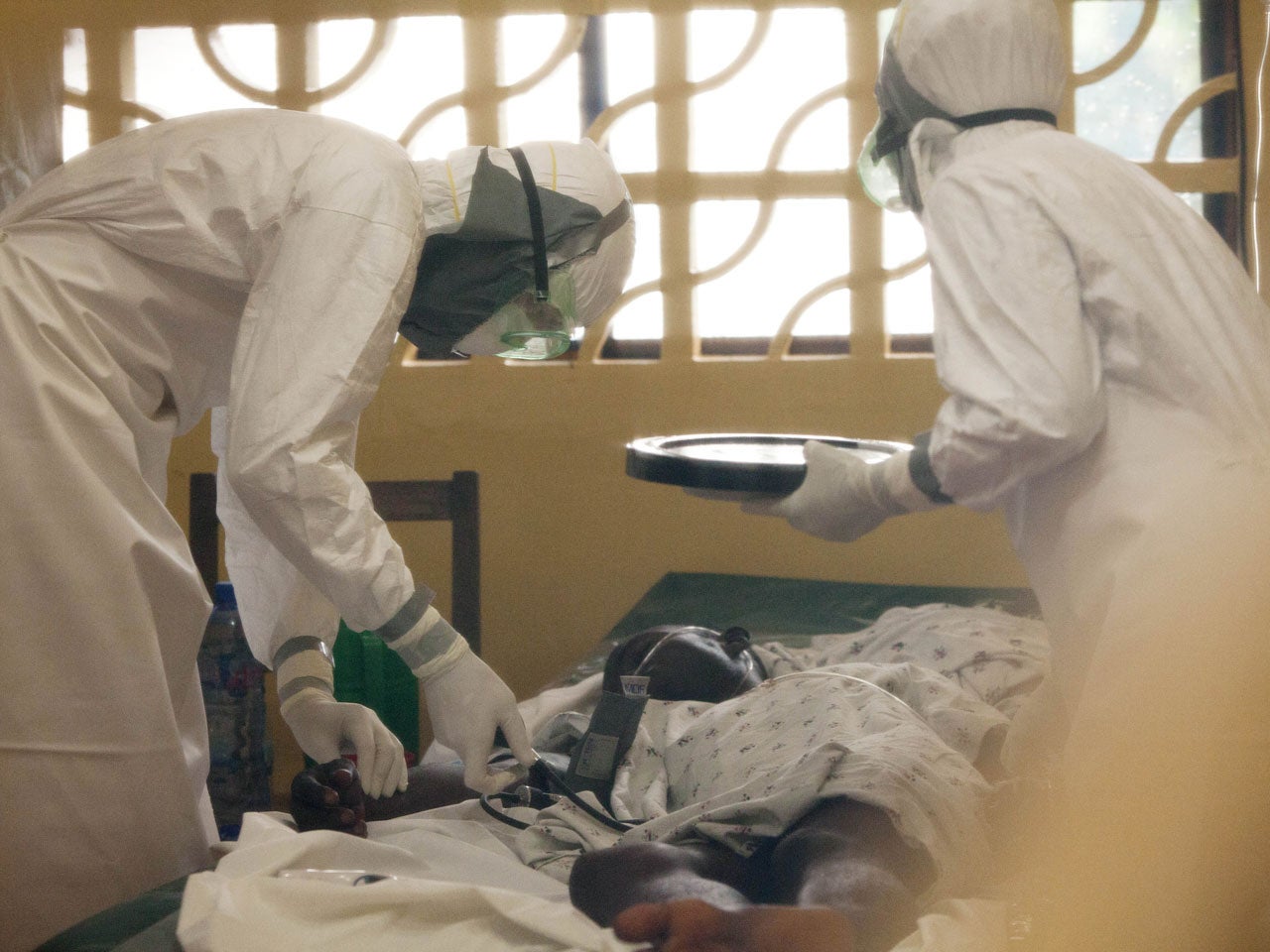 Two Americans infected with deadly Ebola virus in West Africa
BOONE, N.C. - An American doctor and another U.S. aid worker helping to combat an outbreak of the deadly Ebola virus in West Africa are now infected with disease.
The first American reported to have contracted the disease is Dr. Kent Brantly, 33, from Fort Worth, Texas, the North Carolina-based charity Samaritan's Purse said.
Brantly, the medical director for the relief group's Ebola care center on the outskirts of the Liberian capital of Monrovia, was stable but in very serious condition, said Ken Isaacs, a vice president of Samaritan's Purse.
The second American to contract the disease was identified as Nancy Writebol of Charlotte, N.C. Isaacs said she was a worker with an allied aid group SIM, or Serving in Mission, which runs the hospital where Samaritan's Purse has an Ebola care center on the grounds. He said she was in stable and serious condition.
"She is showing full symptoms of the disease," Isaacs said.
He said that Writebol had been working as a hygienist who decontaminated those entering and leaving the Ebola care area at the hospital.
Writebol and her husband, David, who is also employed by SIM, have been working in Monrovia since last August, CBS affiliate WBTV in Charlotte reported. The Writebols have two children.
David Writebol broke the news of his wife's illness to members of their church in North Carolina via Skype.
"It's just devastating news," the Rev. John Munro, Calvary Church's senior pastor, told the Charlotte Observer.
"He's devastated," Munro said of David Writebol. "He can't really be with his wife. She's in isolation. Ebola is very contagious. ... She's not doing well. It's grim news."
Brantly, originally from Indianapolis, has been working with Samaritan's Purse in Liberia since October 2013 as part of the charity's post-residency program for doctors, said the group's spokeswoman Melissa Strickland. The organization's website says he had worked as a family practice physician in Fort Worth, Texas.
Strickland said Brantly's wife and children had been living with him in Africa, but they are currently in the U.S.
In Fort Worth, the marquee at the Southside Church of Christ read "Pray for Kent." The doctor and his family are members of the church, the Fort Worth Star-Telegram said.
Strickland said Brantly has been talking to his medical team and working on his computer since entering treatment.
Isaacs told CBS News that Samaritan's Purse is investigating how the two aid workers contracted the virus.
"Dr. Brantly and Nancy are both in stable condition tonight," Isaacs said. "They have fevers, they have body aches and pains. They are not out of the woods yet. So our prayer is that they survive and tonight they're in stable condition."
Ebola can have up to a 90 percent fatality rate, although a patient's chances of survival increase when the disease is spotted and treated early, which was the case with both Brantly and Writebol.
The highly contagious virus is one of the most deadly diseases in the world. The current outbreak is the largest ever recorded.
Photos of Brantly working in Liberia show him in white coveralls made of a synthetic material that he wore for hours a day while treating Ebola patients.
Brantly was quoted in a posting on the organization's website earlier this year about efforts to maintain an isolation ward for patients.
"The hospital is taking great effort to be prepared," Brantly said. "In past Ebola outbreaks, many of the casualties have been health care workers who contracted the disease through their work caring for infected individuals."
Ebola has killed at least 672 in several African countries since this outbreak began earlier this year.
There is no known cure for Ebola, which begins with symptoms including fever and sore throat but then escalates to vomiting, diarrhea and internal and external bleeding.
"It is a very dangerous infection and every medical person who takes care of these people understands, there is a risk, even if you are perfect in using all the gear," said William Schaffner, an infectious disease expert at Vanderbilt University.
Fears of the outbreak have prompted neighboring Nigeria to screen incoming airline passengers for symptoms of the illness.
"The risk from casual contact from people who have come back from Africa is really zero, " Schaffner said. "It is the fact that you have to have very intimate contact with peoples' bodily fluids that puts you at risk."
Still, just this week a group of doctors and nurses from in Minneapolis canceled a medical mission to Liberia to provide free surgeries for 200 kids. The group decided the danger is just too great.
One of Liberia's highest-profile doctors died of Ebola, a government official said Sunday, highlighting the risks facing health workers trying to combat the deadly disease.
Dr. Samuel Brisbane is the first Liberian doctor to die in an outbreak the World Health Organization says has killed 129 people in the West African nation. A Ugandan doctor working in the country died earlier this month.
The WHO says the outbreak has also killed 319 people in Guinea and 224 in Sierra Leone.
Brisbane, who once served as a medical adviser to former Liberian President Charles Taylor, was working as a consultant with the internal medicine unit at the country's largest hospital, the John F. Kennedy Memorial Medical Center in Monrovia.
After falling ill with Ebola, he was taken to a treatment center on the outskirts of the capital, where he died, said Tolbert Nyenswah, an assistant health minister.
Nyenswah said that another doctor who had been working in Liberia's central Bong County was also being treated for Ebola at the same center where Brisbane died.
The situation "is getting more and more scary," Nyenswah said.
Thanks for reading CBS NEWS.
Create your free account or log in
for more features.