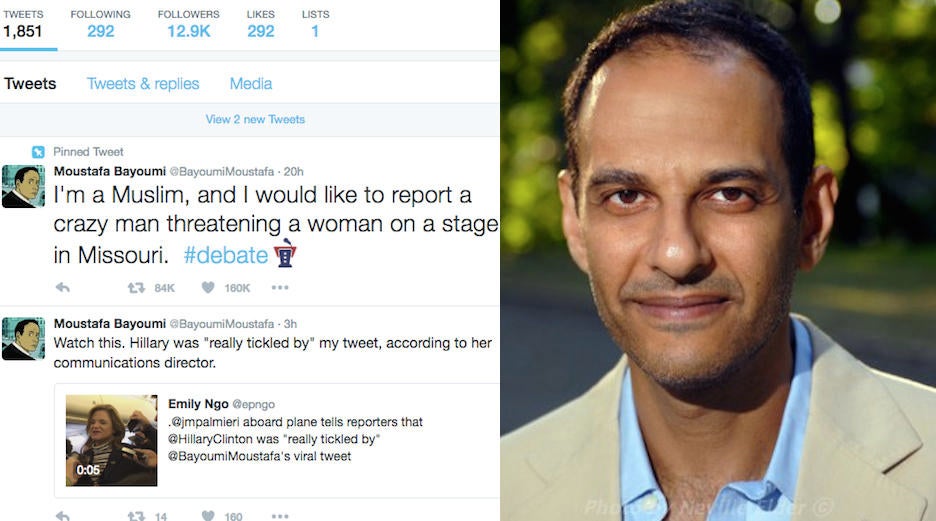 Muslim American professor pens most viral tweet of debate night
The second presidential debate was a fiery clash of titans, in which Republican nominee Donald Trump pulled no punches. He announced that, if elected, he'll see to it that Democratic nominee Hillary Clinton is thrown in jail. He invited three women who accused former President Bill Clinton of sexual assault to sit in the debate hall. And he doubled down on his insistence that Muslim Americans should be policing each other for terrorist threats.
This last statement sent shockwaves through the Muslim American community. However, rather than taking to social media in outrage, one Muslim American professor tried a different tactic to get his point across... loaded humor.
"The idea that Muslims have to report things is what prompted me to write the tweet," Moustafa Bayoumi tells CBS News. "As if Muslims have some special knowledge of terrorism. I certainly don't. I'm not a terrorist. I don't know any terrorists. As if we somehow need to prove our legitimacy to stay in the country. I think those are the sorts of prevailing assumptions behind the statements Donald Trump is constantly making."
Bayoumi was born in Switzerland, raised in Canada, and moved to the United States as a young man to pursue his Ph.D. at Columbia University. He now teaches Postcolonial Literature and American Studies at Brooklyn College. Watching the debate on Sunday night, he says that he was struck by Donald Trump's body language.
"He just looked so menacing, loitering over Hillary Clinton," Bayoumi observed, "almost bestial. So, not only is it the way that he's treated women, but also the way that he's treated Muslims. I was trying to connect both of those ideas in the tweet through humor."
And it worked. Bayoumi's tweet struck a chord with hundreds of thousands of Americans, scoring 84k retweets and 160k favorites in under 24 hours.
In fact, Twitter reported that Bayoumi's post was the single most popular tweet of debate night.
The tweet's viral success may lie in its mixture of cutting undertones and ostensibly lighthearted humor. It is a way of saying, "I'm offended," without actually having to say it.
"When he comes out and declares that we have to have a ban on Muslims entering the country, that's completely offensive," Bayoumi tells CBS News. "But I'm equally offended by him calling Mexicans criminals and rapists. I don't want to be seen as only having outrage for my particular group. I think we should all be offended by Donald Trump."
Bayoumi has written a number of books, including "This Muslim American Life" and "How Does It Feel To Be A Problem," about what it's like to be a Muslim living in America these days. And he feels the situation has gotten a lot worse, due to the election.
"We're living in an environment that's increasingly polarized and sees Muslims more and more as outsiders and as a threat to this country," Bayoumi explains.
And he cautions that this situation is even more difficult for Muslim American youth.
"I think that if you are a young person of any stripe today, it's always difficult. You're at that point where you're trying to determine what your values are, how you're different from your parents, who you are as a person. But it's another thing entirely when there's a rising hostility against your very presence in the country where you live," he says. "Being a young American Muslim these days is a very difficult prospect."
And it's a very difficult idea to communicate to the masses. Yet, last night, Bayoumi somehow managed to do it in the span of 140 characters.
Thanks for reading CBS NEWS.
Create your free account or log in
for more features.