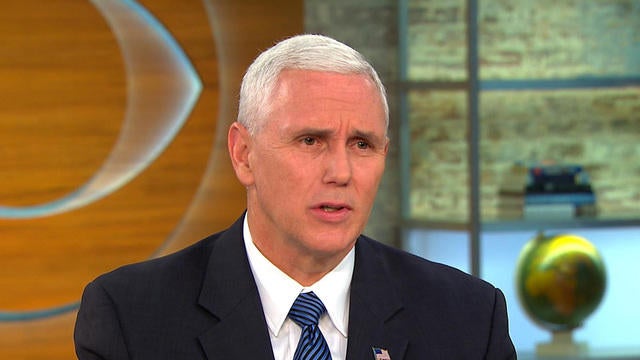 Mike Pence: "I don't understand" Michelle Obama's critique of Trump
Mike Pence, the Republican party's vice presidential nominee, questioned First Lady Michelle Obama's fiery denunciation of Donald Trump in a Friday morning interview, saying he couldn't "understand" the critiques she gave at a New Hampshire rally earlier this week.
"Look I have a lot of respect for the first lady," Pence told "CBS This Morning" early Friday. "But I don't understand the basis of her claim."
"You don't believe his language was 'sexually predatory?'" co-host Norah O'Donnell asked Pence, quoting Obama's words when she slammed Trump for "bragging about sexually assaulting women."
Pence, who just last week said in a statement that he was "offended" by Trump's lewd 2005 recordings and "cannot defend" them, added this: "I already spoke about my concerns in the language he used in that 11-year-old video, but what he's made it clear is that was talk. Regrettable talk on his part. But that there were no actions."
Of the latest wave of sexual assault accusations alleging that Trump did commit some of the acts he described in the 2005 tape, Pence said that while the campaign takes them "seriously," he believed Trump when his running mate claimed they were lies.
"Donald Trump has -- has asserted that all of these recent unsubstantiated allegations are categorically false and I do believe him," Pence said, affirming that he "absolutely" spoke to Trump personally about the accusations.
Pence went further and suggested that the New York Times and other media outlets were irresponsible in repeating these stories, assuring viewers that "before the day is out there will be more evidence that calls into question these allegations."
When asked if there was a "red line" Trump could cross that would lose him the support of his running mate, Pence guaranteed that he would weather the storm with the GOP nominee.
"We're in this campaign and we're in it to win this for the American people," he said. "Donald Trump made it clear, he apologized for what he said 11 years ago. He showed humility. He showed heart."
On campaign issues, Pence seemed to take a harder line than the top of his ticket on whether Russians were interfering with the presidential election.
Pence noted that "there is more and more evidence" of Russian actors' involvement in cyber attacks on election databases -- an issue that Trump has refused to acknowledge on the trail.
"I've already condemned Russia for any potential involvement or compromise in the cyber security in this country, whatever their motivations are," Pence said. He added, in an allusion to Hillary Clinton and her foundation's involvement with foreign donors while the Democratic nominee was still secretary of state, "the involvement of any foreign government in American politics should be troubling to the American people."
Pence also hit Clinton over some recently published State Department communications, claiming that the emails showed that "friends of the Clintons were given preferential treatment for contracts for the reconstruction of haiti after an earthquake."
But earlier this week, a State Department spokesperson, John Kirby, refuted that claim, saying they "found no evidence that preferential treatment was given to any particularly organization or entities" in Haiti.
Thanks for reading CBS NEWS.
Create your free account or log in
for more features.