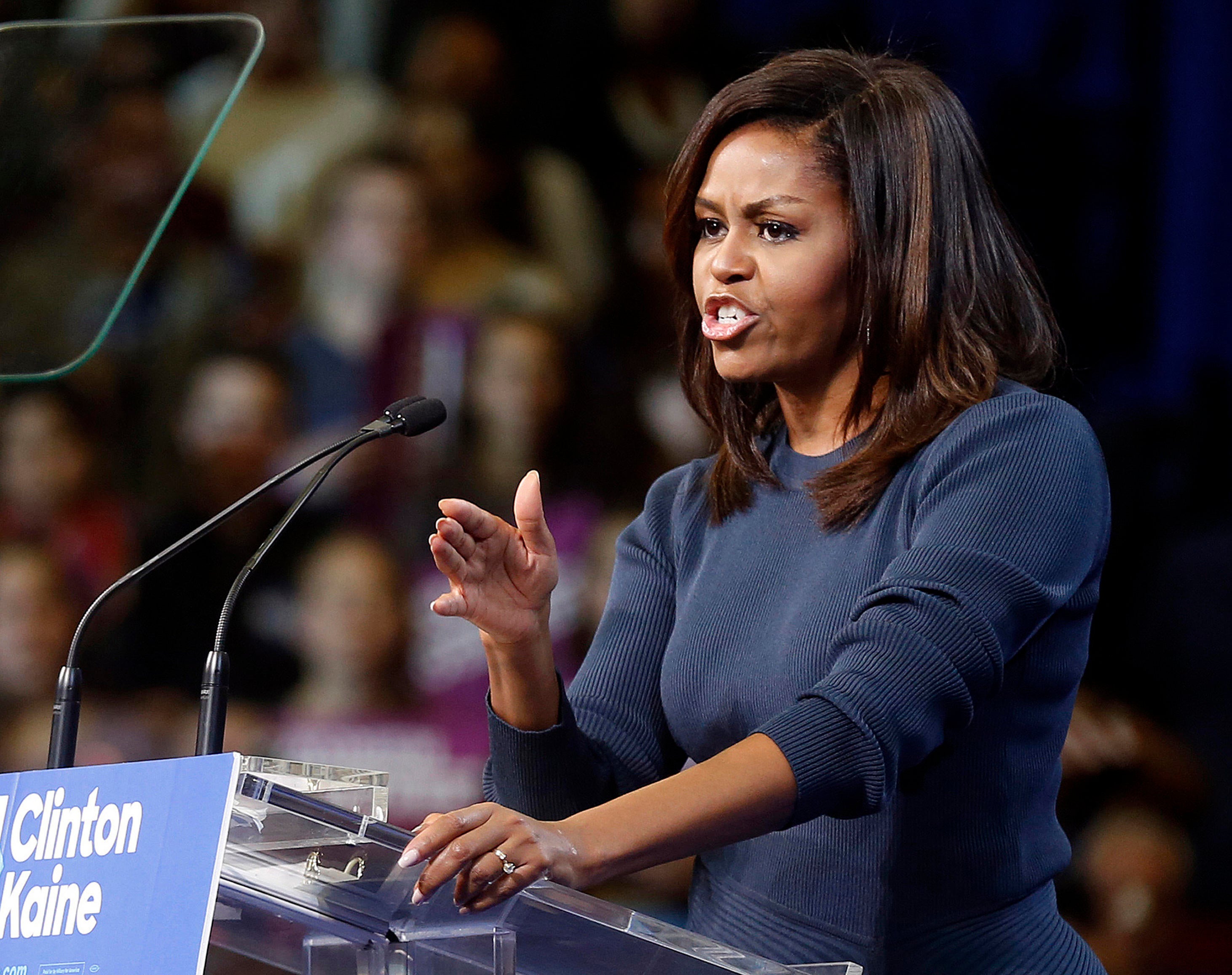 Michelle Obama denounces Trump for "bragging about sexually assaulting women"
First Lady Michelle Obama delivered a blistering denunciation of Donald Trump's lewd 2005 remarks at a rally in Manchester, New Hampshire Thursday, repudiating his "locker room talk" excuse and expressing disgust at his "bragging about sexually assaulting women."
"Too many are treating this as just another day's headline. As if our outrage is overblown or unwarranted," Obama said, her voice trembling with emotion as she alluded to the recent flood of sexual harassment accusations against the GOP nominee. "As if this is normal. Just politics as usual."
The first lady reiterated to the crowd in the battleground state of New Hampshire, where she was campaigning for Democratic presidential nominee Hillary Clinton: "Be clear. This is not normal."
"This is not politics as usual," she continued. "This is disgraceful. This is intolerable. It doesn't matter what party you belong to. Democrat. Republican. Independent. No woman deserves to be treated this way."
Though she never mentioned him by name -- referring to him only as Clinton's "opponent" -- Obama expressed shock and disbelief at Trump's "demeaning" behavior.
"I can't stop thinking about this," she said of the 2005 "Access Hollywood" tape recording, where Trump boasted about being about to "grab [women] by the p****" because "you can do anything" when you're a star. "It has shaken me to my core in a way I could not have predicted."
"I know this is a campaign, but this isn't about politics," she added. "It's about basic human decency."
"If all of this is painful to us as grown women, what do you think this is doing to our children," she asked. "What messages are our little girls hearing about who they should look like, how they should act?" And, she went on, "How do you think this is affecting men and boys in this country? Because I can tell you that the men in my life do not talk about women like this. To dismiss this as 'everyday locker room talk' is an insult to decent men everywhere."
Trump, for his part, has apologized for the decade-old recording, later dismissing it as "locker room talk" during Sunday's second presidential debate. But in the days following the St. Louis town hall, several women have come forward with stories of how Trump had made unwanted sexual advances towards them. At a West Palm Beach Florida rally shortly after Obama's remarks, Trump denied the latest claims, calling them "fabricated" and "pure fiction."
The first lady, on stage in New Hampshire, berated Trump over his "locker room" excuse.
"This was not just a lewd conversation," she said. "It was not just locker room banter. This was a powerful individual talking freely and openly about sexually predatory behavior."
"If we have a president who routinely degrades women -- how can we maintain our moral authority in the world?" she added.
Obama also pushed for women to fight back: "We need you to do what women have always done in this country. We need to roll up our sleeves and get to work."
And as for a "protest vote" against either candidate, the first lady urged against it: "If you vote for someone other than Hillary... you are helping to elect her opponent."
Thanks for reading CBS NEWS.
Create your free account or log in
for more features.