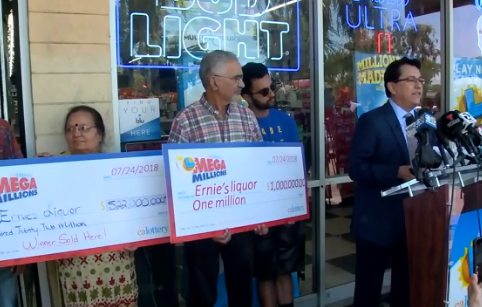 Mega Millions $522 million jackpot: Single ticket takes top prize
One winning ticket was sold for the whopping $522 million Mega Millions jackpot, with a one-time cash option of $308 million, Mega Millions officials said. The ticket for the fifth-largest jackpot in Mega Millions history was purchased in Ernie's Liquors in San Jose, California, where a crowd of well-wishers gathered after the announcement, reports CBS San Francisco.
The winning numbers drawn Tuesday night were 1, 2, 4, 19 and 29, with the Mega Ball number 20.
Owner Kawal Sachdev told the station he was taking a nap when one of his employees called and congratulated him.
"I jumped and came right over (to the store)," he said.
At a Wednesday afternoon press conference, Sachdev expressed his happiness that one of his customer's won and that he and his family get to share in the celebration. He said the America is truly a place where dreams can come true.
In addition to the $522 million winner, eight tickets matched the five white balls to win the game's second prize. Six, worth $1 million each, were sold in Arizona, Massachusetts, Michigan, Minnesota and two in New Jersey. Two, sold in Massachusetts and Texas, included the optional Megaplier (a $1 purchase available in most states) and are worth $3 million each.
Tickets cost $2. Sales time cut-offs vary by state but are usually one to two hours before the drawing.
Overall, even with more options for giant payouts, the odds of winning a jackpot remain abysmal at 1 in 258.9 million for Mega Millions and 1 in 292.2 million for Powerball.
The odds of winning both jackpots are one in 75 quadrillion -- that's 15 zeros -- according to data scientists at Allstate.
The average American spends about $200 a year on lottery tickets, though residents of some states spend far more. According to a study by LendEDU, the average Massachusetts resident spends $735 annually on lottery tickets. Rhode Islanders plop down $514 a year. And if you live in Delaware or New York, you're likely spending about $400 a year, or $33 per month (see map below).
The odds of winning "scratchers" -- those little instant winning tickets that you can buy for prices ranging from $1 to $50 -- are better, but it's still no way to get rich.
Thanks for reading CBS NEWS.
Create your free account or log in
for more features.