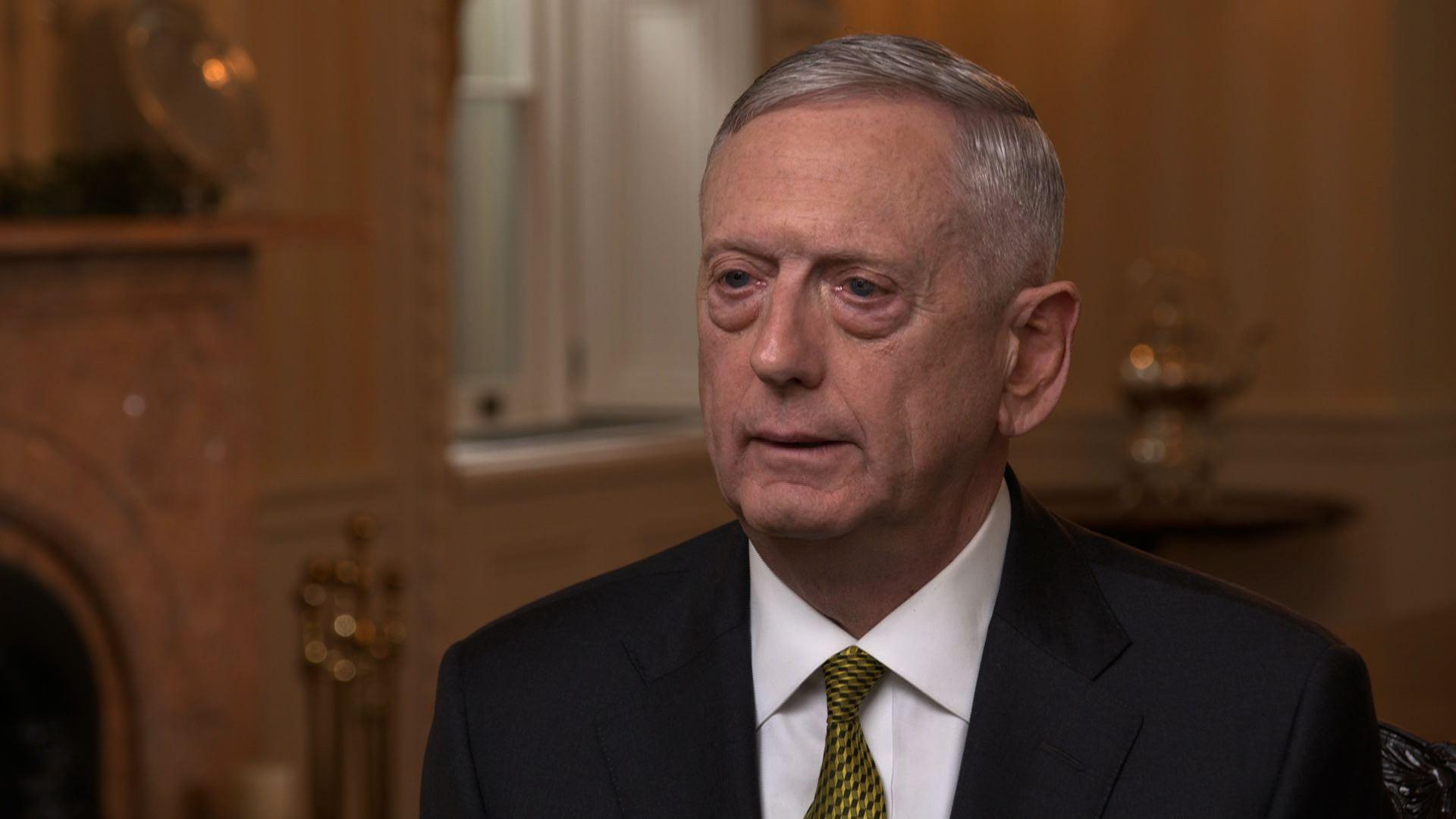 Mattis scolds Iran for destabilization, echoing Trump's tough talk
Secretary of Defense James Mattis said in an interview with "Face the Nation" Saturday that Iran is at the center of dysfunction in the Middle East and remains a threat around the world, echoing President Trump's tough talk on the country.
"Face the Nation" host John Dickerson asked the retired Marine Corp general, a veteran of the wars in Iraq and Afghanistan, if he still stands by comments he made in 2011, when he ranked Iran as his top priority while he was the head of U.S. Central Command under President Barack Obama.
"I had a more -- let's just say, a narrower portfolio in those days," Mattis said. "And in the U.S. Central Region, what we find is wherever there are challenges, wherever there is chaos, wherever there is violence, whether it be in Lebanon, in Syria, in Iraq, in Yemen, the attempts to unsettle Bahrain. We always find Iran and the IRGC [Islamic Revolutionary Guard Corps] at it."
"It's not the Iranian people," Mattis added. "We are convinced it's a regime that is conducting itself in order to stay in power in Tehran as a revolutionary regime, not as a proper nation-state. They are not looking out for the best interests of their own people."
On the topic of Iran's overall international threat, Mattis resurrected the story of an assassination attempt in 2011 in Washington of Saudi Arabian diplomat Adel al-Jubier by an Iranian American with close links to the Quds Force, an Iranian paramilitary organization known for its ties to terrorism.
"You have got this revolutionary cause that causes them to then go around creating mischief everywhere, to include trying to murder an Arab ambassador fewer than two miles from the White House a couple years ago," Mattis said.
He continued: "And I've seen the intelligence. This was not a rogue agent. This was an operation approved at the highest levels. And so, you know, ambassadors are men and women of peace. And for someone to try to murder an ambassador in Washington D.C., you can understand why President Obama was committed to stopping the nuclear program."
Mattis' revisiting of old hostilities between the U.S., Saudi Arabia and Iran follows a historic $110-billion arms deal. President Trump and Saudi officials signed the deal this month during Mr. Trump's visit to the country's capital, Riyadh -- the first stop of Mr. Trump's first trip abroad as president.
In a largely scripted speech before prominent Muslim leaders, Mr. Trump used his position to mend sectarian differences and lambaste Iran, tying the country directly to terror groups as well as addressing its government's failures.
"The Iranian regime's longest-suffering victims are its own people," Mr. Trump said. "Until the Iranian regime is willing to be a partner for peace, all nations of conscience must work together to isolate Iran, deny it funding for terrorism."
Thanks for reading CBS NEWS.
Create your free account or log in
for more features.