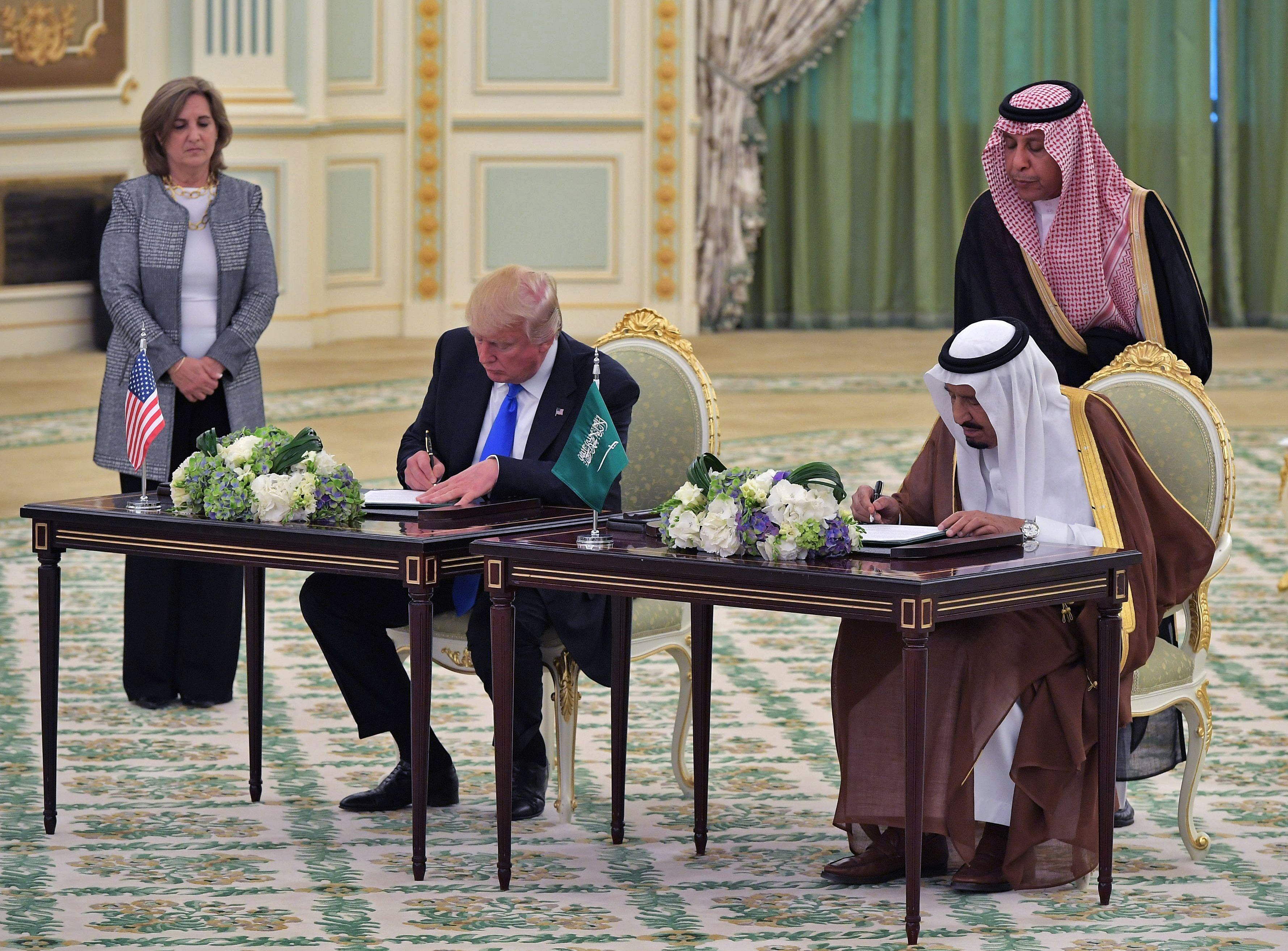 Trump signs $110 billion arms deal with Saudi Arabia
President Trump signed a multi-billion-dollar arms and economic deal with Saudi Arabia Saturday in a move intended to strengthen the U.S.-Saudi Arabian alliance against ISIS on the president's first foreign trip.
The agreement is worth $110 billion effective immediately and $350 billion over 10 years, in an effort to equip Saudi Arabia and Persian Gulf partners in the fight against ISIS. The agreement will provide fighter jets, tanks, combat ships and anti-missile defense systems and create defense-sector jobs in the U.S., according to the White House. The deal includes additional private-sector agreements and a joint vision statement with Saudi Arabia, one of the world's largest oil producers.
"That was a tremendous day," Mr. Trump told reporters. "Tremendous investments in the United States."
"Hundreds of billions of dollars of investments into the United States and jobs, jobs, jobs." he continued.
The agreement signals a strengthening relationship between the U.S. and Saudi Arabia, and distances the U.S. from Iran, Saudi Arabia's adversary. Mr. Trump is reportedly preparing to announce his support for an "Arab NATO" to counter a growing Iranian influence in the region.
White House economic adviser Gary Gohn told reporters traveling with the president that the deal will "invest a lot of money in the U.S. and have a lot of U.S. companies invest and build things over here."
"They're going to hire U.S. companies ... a bunch of infrastructure related things," Cohn continued, adding that the deal means "big dollars."
Saudi Arabia is the first country Mr. Trump is visiting on his first-ever foreign trip as president. The president is scheduled to give a speech about Islam and host a Twitter forum with young people in notoriously closed Saudi Arabia Sunday. After visiting Saudi Arabia, Mr. Trump will head to Israel, followed by a meeting with Pope Francis at the Vatican. The final portion of his trip will include a NATO meeting in Brussels, Belgium, and a G-7 economic summit in Sicily, Italy.
Mr. Trump's first foreign trip comes amid turbulence back at home.
Moments after Air Force One took off Friday, reports broke that the president told Russian diplomats firing that "nut job" FBI Director James Comey relieved pressure on him, and that a current senior White House adviser is a person of significant interest in a law enforcement investigation into possible ties between Russia and Trump associates.
That was just Friday. Earlier in the week, reports emerged that Mr. Trump told Comey to drop his investigation into former national security adviser Michael Flynn, and that the president revealed potentially highly classified information about ISIS to the Russians.
CBS News White House and senior foreign affairs correspondent Margaret Brennan contributed to this report.
Thanks for reading CBS NEWS.
Create your free account or log in
for more features.