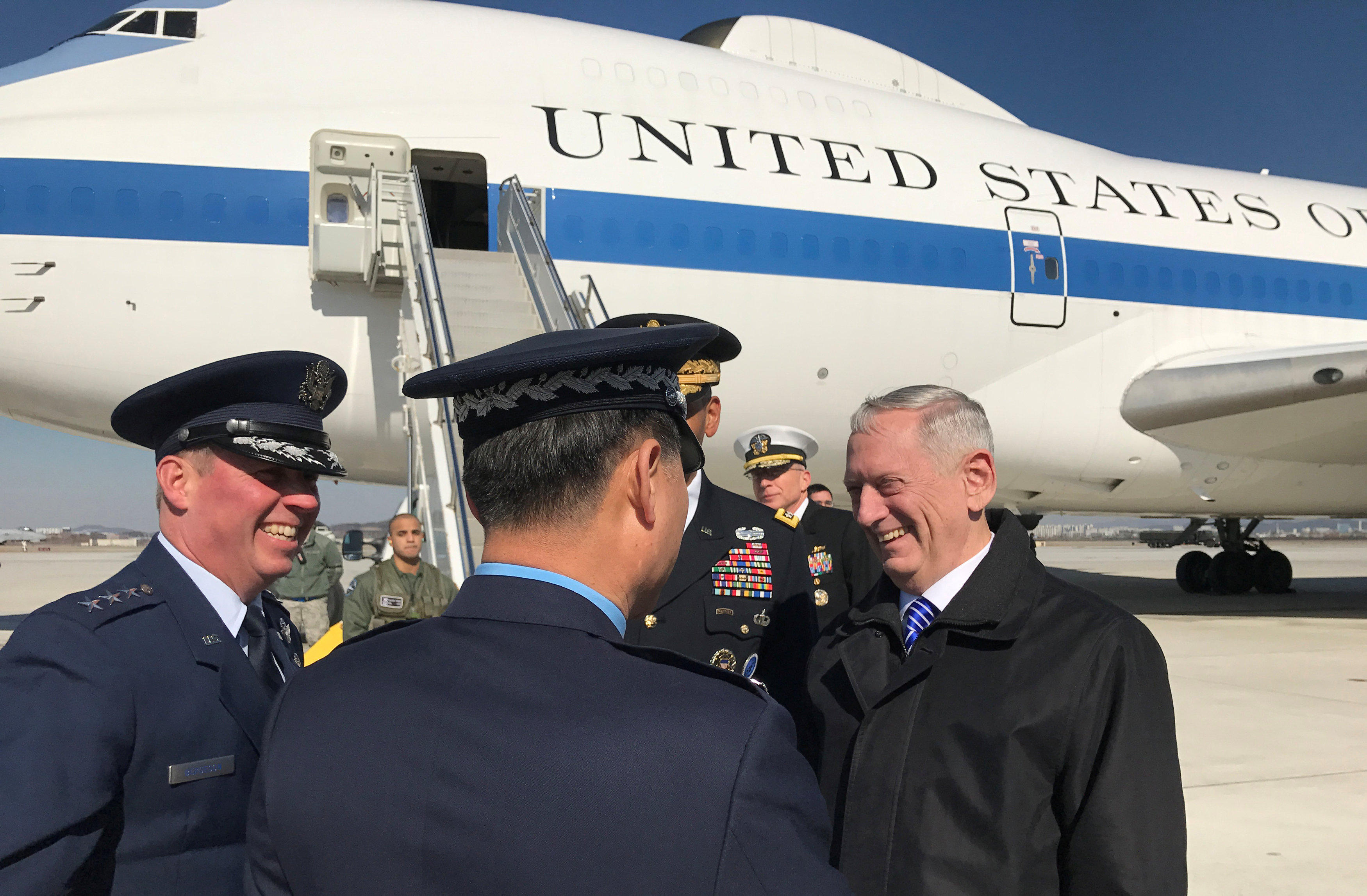 Mattis criticizes N. Korea on first foreign trip
SEOUL, South Korea -- In his first public remarks abroad as U.S. defense secretary, Jim Mattis on Thursday criticized North Korea for provocative acts and said he would consult with South Korean and Japanese officials about whether the current strategy for getting the North to curtail or eliminate its nuclear and missile programs is adequate.
Mattis spoke to reporters aboard his military plane en route to Osan air base from Washington. In the brief interview, he said he would be discussing the plan to install a new U.S. missile defense system, called Thaad, in South Korea as a means of deterring the North's ballistic missile threats against South Korean and Japan.
North Korea also has said it is nearly ready to test-launch a ballistic missile of intercontinental range, meaning it could theoretically threaten the United States.
"Were it not for the provocative behavior of North Korea, we would have no need for Thaad out here," Mattis said.
It's no accident that Mattis picked South Korea for his first foreign trip, as the North has continued to test nuclear weapons, giving South Korea a case of the jitters, CBS News' Adriana Diaz reports.
South Korea, meanwhile, is still trying to guage how President Trump will handle security on the peninsula, Diaz reports.
Alluding to China's objections to having Thaad deployed in South Korea, Mattis said, "Thaad should be a worry to no nation other than North Korea."
After a series of meetings in Seoul on Thursday and Friday, Mattis was scheduled to fly to Tokyo for further consultations.
In Washington this week, the Senate Foreign Relations Committee held its first policy hearing since President Trump took office to discuss North Korea. There were more questions than answers.
Last month, Mr. Trump fueled speculation of possible U.S. military action to pre-empt North Korea's weapons development. In response to Kim's threat, Trump tweeted, "It won't happen!" But he didn't elaborate how he could be so sure.
"Does that mean we have drawn a red line?" Sen. Ben Cardin, D-Md., asked at Tuesday's Senate hearing.
Those questions and more will be posed to Mattis when he meets top officials in Seoul on Thursday and Tokyo later in the week, two jittery allies that host nearly 80,000 U.S. troops.
During the campaign, Trump complained that defense treaties disadvantaged the U.S. and that he would not rule out abandoning signatories if they refuse to pay more for their defense. He also suggested that South Korea and Japan, which are already within the range of North Korean missiles, might acquire their own nuclear weapons rather than rely on U.S. deterrence.
Thanks for reading CBS NEWS.
Create your free account or log in
for more features.