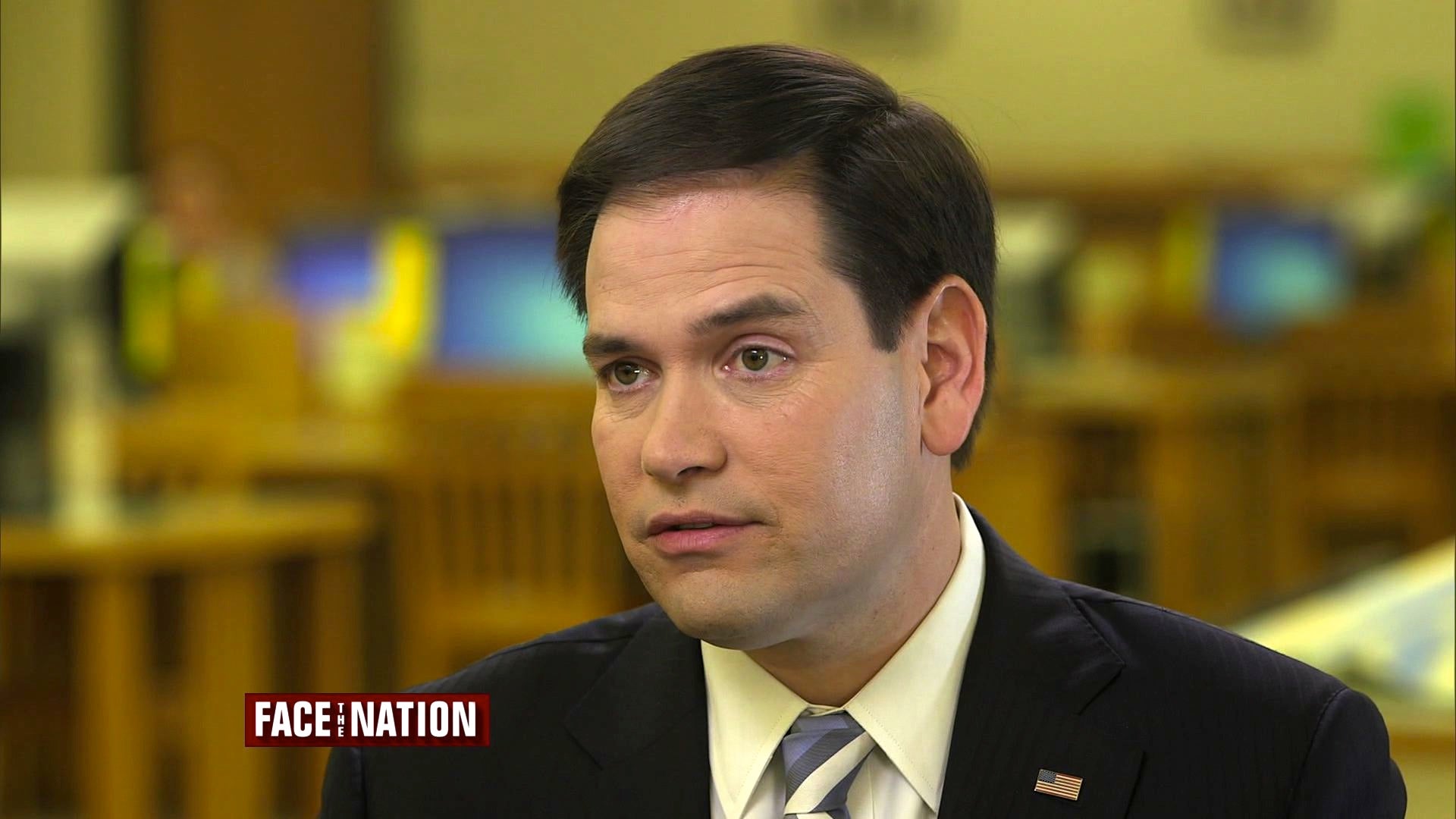 Marco Rubio: People "born with" sexual preference
Marco Rubio said he believes that sexual preference is decided at birth, but still believes that states should be able to decide if they want to define marriage as anything other than involving a man and a woman.
"It's not that I'm against gay marriage. I believe the definition of the institution of marriage should be between one man and one woman," Rubio said in an interview on CBS' "Face the Nation." "States have always regulated marriage. And if a state wants to have a different definition, you should petition the state legislature and have a political debate. I don't think courts should be making that decision."
"I don't believe same-sex marriage is a Constitutional right," Rubio added. "I also don't believe that your sexual preferences are a choice for the vast and enormous majority of people. In fact...I believe that sexual preference is something that people are born with."
Rubio sparked a debate on the issue last week after he said in an interview with Fusion's Jorge Ramos that he would attend the same-sex wedding of a gay family member or staffer even if he would "disagree with a choice they've made."
Rubio sat down for a wide-ranging interview with "Face the Nation" host Bob Schieffer at the Manchester Community College, where he was campaigning. In addition to same-sex marriage, Rubio weighed in on immigration, his potential rivals in the 2016 race, the foreign policy landscape, and climate change.
The Florida senator still believes that immigrants who are in the U.S. illegally should be allowed to one day apply to become citizens, but only after several other lengthy steps to reform the immigration process. He was part of a bipartisan group of eight senators that authored a comprehensive immigration bill in 2013 that dealt with border security, reforms to the legal system and the illegal population all at once. The bill passed the Senate with bipartisan support but quickly died in the House, and Rubio said he now believes that approach does not work.
"I know because I tried," he said. When Schieffer asked if he would sign the bill he helped write if he were president, Rubio said, "that's a hypothetical that will never happen."
"We understand that we have to deal with 12 million human beings that are in this country, that have been here for longer than a decade...We know we have to deal with this. We are not prepared to deal with it until first you can prove to us this will never happen again," Rubio said.
If he were president, he said he would ask Congress to "pass a very specific bill" that implements an electronic employment verification system, entry and exit tracking system to prevent visa overstays and strengthens border security. Then, he said, he believes the U.S. should modernize its legal immigration system to prioritize merit over family ties. Only then, he said, would he pass a bill that deals with people who came to the U.S. illegally.
"If they've been here for longer than a decade, they have to pass a background check, they have to learn English, they have to pay taxes, they have to pay a fine. And they would get a work permit. And after a substantial period of time in that status, assuming they haven't violated any of the conditions of that status, they would be allowed to apply for legal residency. Just like anybody else would. Not a special process," Rubio said. "After you're a legal resident, after a number of years by law, you're allowed to apply for citizenship. It's a long process, it's a reasonable process. It's a fair process. But it has to happen in that order. And it begins with serious enforcement measures."
Rubio also talked about why he believes there is a "dramatic difference" between his own experience and the experience President Obama had when he ran for the White House during his first term as a U.S. Senator.
"I'm actually the only candidate thinking about running for president that's served at the local, state, and federal level," Rubio said, noting he was in the Florida legislature for nine years and rose to become Speaker of the House. He said he will also have completed a full term in the Senate by the time voters elect a new president in 2016.
"The presidency's a big job and I'm prepared for that," he said.
By comparison, Mr. Obama had served eight years in the Illinois Senate and had served just four years of his six-year U.S. Senate term when he was elected in 2008.
Like most Republicans, Rubio is already focusing on attacking former Secretary of State Hillary Clinton, the only declared Democratic nominee and undisputed front-runner for the nomination.
"I believe a Clinton presidency would basically be another four years of Barack Obama. Up to this point I've not seen her distinguish herself on a single issue from what the president is doing now," he said, saying that foreign policy during her term as secretary of state was "a disaster for America."
But Rubio has also had to answer questions about one of the presumed Republican candidates, former Florida Gov. Jeb Bush.
Rubio said his relationship with Bush - who was seen as his political mentor in Florida - presents a "unique situation" in the race.
The opportunity to run for president was "an opportunity I had to take seriously. And I did," Rubio said. "At the end of the day it won't change how I feel about Governor Bush. He'll remain my friend, and someone I admire, both personally and politically."
He maintains that he is not running against Bush specifically, and said that the GOP is going to be a better party because of the crowded Republican field.
Rubio said he believes that foreign policy will be a critical issue in the presidential race because securing the country is the most important obligation of the federal government. With spots on the Senate Foreign Relations and Intelligence Committees, Rubio is positioning himself as one of the Republicans with the most experience on those issues.
Ticking off a list of issues ranging from China to the U.S. Russia relationship to fighting jihadist groups in the Middle East, he said, "I don't think we're doing as well as we could be on any of these fronts."
He does not rule out the use of American military forces, either in the fight against the Islamic State of Iraq and Syria (ISIS) or to prevent Iran from obtaining a nuclear weapon.
On Iran, Rubio said he does not believe that the framework deal to limit the country's nuclear program will be successful because it leaves too much nuclear infrastructure in place. But he said the U.S. "absolutely" must ensure Iran does not get a nuclear weapon.
"The best way to have achieved that is to leave in place both the unilateral sanctions, and the international sanctions," Rubio said. "You combine that with a very clear demarcation to the Iranian regime. And that is this: if you cross this threshold, you will face military action on the part of the United States."
"We don't want that to happen. But the risk of a nuclear Iran is so great that that option must be on the table," he added.
He said if the U.S. does not take military action to prevent Iran from getting a nuclear bomb, he believes that another country like Saudi Arabia or Israel will.
On the fight against ISIS, he said that using American troops is "not the ideal outcome" but that there are circumstances where it might be necessary. The best option, he said, is to confront the group with a Sunni Arab army that combines troops from Egypt, Saudi Arabia and Jordan. That should be bolstered with U.S. air support, logistical and intelligence support, and some U.S. special operations forces embedded with the troops.
Rubio also reiterated his skepticism that humans are solely responsible for the pace of climate change and should take action to try to slow it.
"I believe the climate is changing because there's never been a moment where the climate is not changing. The question is what percentage of that, or what is due to human activity," Rubio said. "If we do the things they want us to do, cap in trade, you name it. How much will that change the pace of climate change, versus how much will it cost our economy? Scientists can't tell us what impact it would have on reversing these changes. But I can tell you with certainty it would have a devastating impact on our economy."
Thanks for reading CBS NEWS.
Create your free account or log in
for more features.