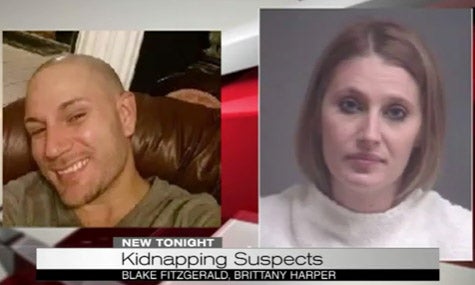 Manhunt for modern-day "Bonnie and Clyde" ends with gunfire, chases
The "Clyde" in a Missouri couple nicknamed by some as a modern-day "Bonnie and Clyde" is dead and the "Bonnie" is in custody in a hospital after two high-speed chases and gunfire in the Pensacola, Florida area early Friday, authorities said.
Blake Fitzgerald and Brittany Nicole Harper are suspected in a crime spree spanning at least 4 states.
The U.S. Marshals Service in Birmingham, Alabama tells CBS News Fitzgerald and Harper were shot in Santa Rosa County, Florida after a high-speed chase.
Police responded to a report of a shoe store robbery and chased the suspects into a heavily wooded area, the service said. The suspects fled and stole a vehicle, which led to a second chase. That ended with officers shooting both suspects.
A spokesperson for Escambia County, Florida says Fitzgerald was killed and Harper suffered non-life-threatening wounds.
Authorities say Fitzgerald and Harper were linked to a series of robberies and abductions in Alabama and Georgia fitting the same pattern: People were robbed, kidnapped and freed unharmed, usually after vehicles were stolen.
Police say they believe the couple stole guns from a Missouri house a few days before committing their their crimes.
Police in Joplin, Missouri, wanted to interview them about the Jan. 22 break-in "but they obviously left the area," Cpl. Chuck Niess told The Associated Press Thursday.
Details of the Missouri burglary were reported by the Alabama news site Al.com.
U.S. Marshals announced Thursday they were offering a reward of up to $10,000 for information leading to the arrest of the couple, said spokesman Martin Keely of the Northern District of Alabama office.
Keely said the couple is suspected in two Florida robberies in Walnut Hills and Destin on Wednesday. They were seen driving a black Ford F-150 truck with a broken rear, right window.
"Thankfully, no innocent member of the public has been physically harmed by this modern-day Bonnie and Clyde, but the couple is armed and dangerous," Keely said in announcing the reward.
Fitzgerald and Harper were charged with robbing and abducting a hotel clerk in Tuscaloosa, Alabama, and taking his car to the Birmingham area. The clerk was let go in the upscale suburb of Vestavia Hills, where a woman was briefly abducted by two people who stole her family's Ford Edge SUV.
On Monday night, a gunman held up a young clerk at a Murphy Express station along Interstate 75 in south Georgia, taking money from the safe and cigarettes before forcing the clerk into an SUV where his female accomplice waited, authorities said. The couple drove about 15 miles before releasing the clerk unharmed, Perry police Lt. Ken Ezell said.
The hotel clerk who was abducted, Kyle Dease, told Al.com that he spoke with his captors during the nearly two hours he was held on the drive from Tuscaloosa to metro Birmingham. Dease said they told him they hoped to make it to Florida to get married and start a new life together.
Fitzgerald also told Dease that he did not plan on going back to prison.
"I'm afraid if the cops corner them, they're going to go out shooting because he definitely doesn't want to go back to prison," Dease said.
Missouri records show that in 2013, Fitzgerald and an accomplice were charged with burglarizing a Joplin woman at knifepoint in her home and making off with her purse, jewelry, electronics and a car. Fitzgerald entered an Alford plea - not admitting guilt but acknowledging the prosecutors had sufficient evidence for a conviction - and was sentenced in 2014 to a suspended seven-year prison term.
Fitzgerald also was sentenced in southwestern Missouri's Jasper County to a simultaneous 120-day term in a drunken-driving case. Last July, Fitzgerald pleaded guilty in a Missouri assault case and was sentenced to a suspended five-year prison term.
Thanks for reading CBS NEWS.
Create your free account or log in
for more features.