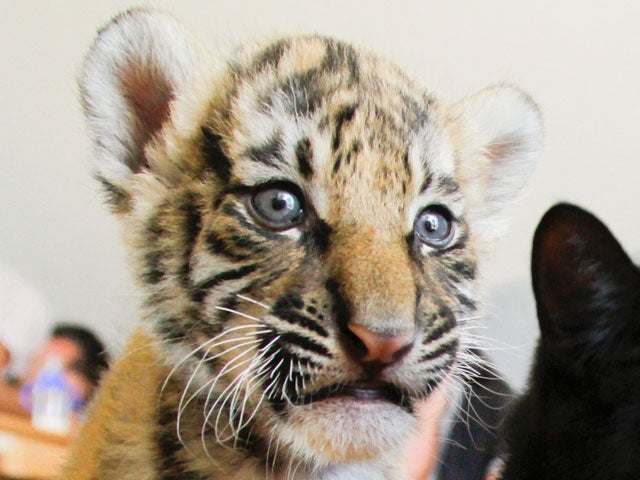 Lumber chain sold wood from Siberian tiger habitat
Lumber Liquidators (LL) pleaded guilty Thursday to illegally importing hardwood flooring made from timber illegally logged in the habitat of endangered Siberian tigers and Amur leopards, federal officials said.
The flooring retailer agreed to pay more than $13 million in fines in entering the plea in federal court in Norfolk, Virginia, the Justice Department said in a statement. The flooring had been manufactured in China from illegally logged timber from far eastern Russia.
"Lumber Liquidators' race to profit resulted in the plundering of forests and wildlife habitat that, if continued, could spell the end of the Siberian tiger," Assistant Attorney General John Cruden for the Justice Department's Environment and Natural Resources Division said in a statement.
About 500 Siberian or Amur tigers are left in the wild, with 95 percent of them in the Russian Far East, according to the Wildlife Conservation Society. There are an estimated 57 Amur leopards remaining in Russia, with the species the rarest big cat.
"The illegal timber trade represents a grave threat to the welfare and conservation of critically endangered wild tiger populations, and we applaud the Department of Justice for working to protect the habitats of wildlife," Elizabeth Hogan, U.S. Oceans and Wildlife Campaign Manager, World Animal Protection, said in a statement.
Lumber Liquidators did not return a call for comment. The retailer, with 370 stores and headquarters in Toana, Va., reported $63.4 million in income last year on sales of $1.1 billion. Its stock price fell 1.7 percent to $15.28 on Thursday.
The company was charged earlier in the month with one felony count of importing goods through false statements and four misdemeanor violations of the Lacey Act. The Lacey Act prohibits importing timber obtained by violating laws of another country and transporting falsely labeled timber into the United States.
According to a joint statement of facts filed with the court, Lumber Liquidators from 2010 to 2013 repeatedly failed to follow its own internal procedures and failed to take action on self-identified "red flags."
For example, Lumber Liquidators was aware that timber from the Russian Far East was considered, within both the flooring industry and the company, to carry a high risk of being illegally sourced due to corruption and illegal harvesting in that remote region. Despite that risk, Lumber Liquidators increased its purchases from Chinese manufacturers using timber sourced in the Russian Far East.
The felony conviction is the first related to the import or use of illegal timber and the largest criminal fine ever under the Lacey Act.
In May, Lumber Liquidators said it would stop selling laminate flooring from China after a "60 Minutes" report in March found some of the flooring contained unacceptable levels of formaldehyde, a chemical known to cause cancer.
The company on Wednesday said it would release third-quarter results on Nov. 4, two weeks after it was initially expected to issue its quarterly earnings report.
Thanks for reading CBS NEWS.
Create your free account or log in
for more features.