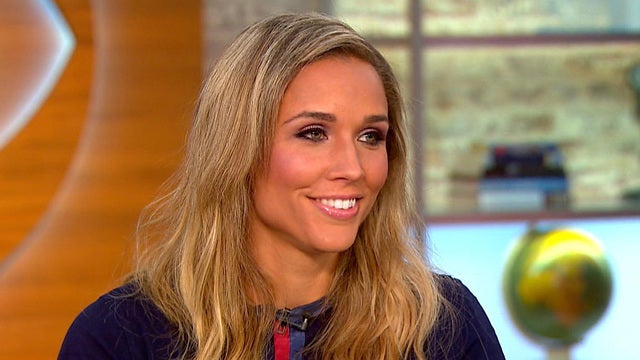 Lolo Jones running towards fourth Olympics appearance
Olympic track and field star Lolo Jones is one of 10 American athletes to compete in both the summer and winter games. Only 130 athletes worldwide can make that claim, of which just 25 are women.
For more than half her life, Lolo Jones has been clearing hurdles on and off the track. After what she calls her "worst year professionally," the 33-year-old hurdler and bobsledder is now on the road to a comeback in the Rio summer games, reports "CBS This Morning" co-host Gayle King.
"This last season I had two surgeries within a year," Jones told "CBS This Morning" Tuesday. "They were very tough to come back from and I was like, 'Man, is this a sign to give up or is this just a sign of me to get healed?'"
The photogenic Olympian and Iowa native is an 11-time all-American. She began her racing career as a student at Louisiana State University, where she won national titles in both sprint relays and hurdles.
In 2008, Jones entered the Beijing summer Olympics as a gold medal favorite in the 100-meter race. Ahead of the pack with the gold in her grasp, Jones hit the second to last hurdle, resulting in a seventh place finish.
She was sidelined in 2011 after spinal injury, but her determination and quick recovery led to a spot on the U.S. team for the 2012 summer games in London.
"How your attitude is when you cross the finish line is how you'll enter your next race. So if I get down on myself, that's how I'll carry it into the next race, so every Olympics I failed at, I have to look at the good side," Jones said.
There, an Olympic medal still proved to be just out of reach with a fourth place finish.
In 2014, Jones traded her track sneakers for a helmet, joining the U.S. bobsled team in Sochi.
The track star has yet to win an Olympic medal, but that hasn't stopped her from becoming one of Team USA's biggest stars.
"Always remember when you're pursuing a goal, if you fail - you will fail on that path to that goal - make sure that you adjust your attitude because when you try again, you don't want to have that negativity when you attempt it," Jones said.
The athlete's bigger than life personality and magazine-worthy good looks have secured deals with some of the biggest brands - with it, criticism of whether she deserves the spotlight. But Jones brushes off the critics.
"It's hard because I can tell them my stats, I could tell them I'm a three-time world champion, I could tell them I'm the fastest American indoor record holder - that means nothing to them," Jones said. "Anyone's going to face criticism when they're going after a goal... You just have to tell yourself, 'I can do this,' and look at where you started from - take joy in the small things that you have overcome to get where you're at."
Less than three months out of hip surgery and seven months before the summer Olympics, she's working had to find her stride. She is currently training for the Rio Olympics, doing the Orange theory fitness workouts, for which she is also a spokesman.
"Track is essentially who can work out the best. There's no game involved... it's who is in the best condition," Jones said. "Every year I have to try out something new and this one is just the one that fit and worked well with the post-surgery that I needed."
If Jones makes the U.S. team in Rio, it would make her fourth Olympic appearance.
"The best feeling in my life -- when I crossed that finish line when I made my first Olympic team, and nobody could take that way," Jones said. "Every American who's made an Olympics and has the chance to represent their country in the Olympics knows there's no greater honor."
Thanks for reading CBS NEWS.
Create your free account or log in
for more features.